"Oklahoma!", Wyndham's Theatre
Mark Shenton in the West End
1 March 2023
"And when we say;
Ee-ee-ow! A-yip-i-o-ee-ay!
We're only sayin',
You're doin' fine, Oklahoma!
Oklahoma, O.K.!"
The new London revival of Oklahoma! is doin' more than fine: it's giving new life, fresh meaning, and a blistering dark energy to a landmark 1943 musical that has long become mired in hokey tradition.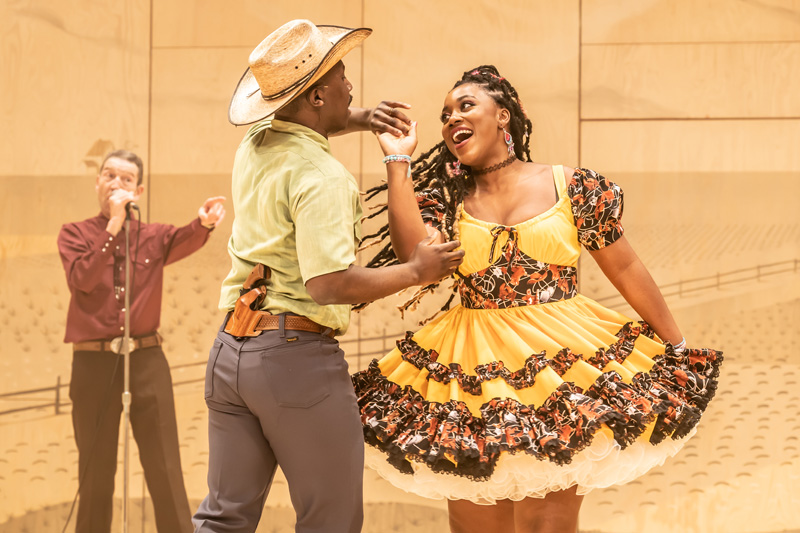 Greg Hicks, Philip Olagoke and Georgina Onuorah.
Photo credit: Marc Brenner.
Revisionist productions of classic musicals are sometimes called revisals: next up amongst these on Broadway is Camelot, with a new book by Aaron Sorkin (based on Alan Jay Lerner's original), opening in April. But director Daniel Fish's extraordinary and revelatory production of Oklahoma!, which began its life as a student production at New York's Bard College in 2006 before going on to a professional life that included runs at St Ann's Warehouse in Brooklyn in 2018 and then Broadway the following year, is something else. It leaves the text entirely intact, but blasts it open with a staging of such radical invention (and intervention) that it's virtually unrecognizable as this much-loved portrait of rural folk in the emerging state of Oklahoma that gives the show its exclamation-marked title.
It's raw, sometimes cruel, and ultimately shockingly violent – there are guns lined up surrounding all the walls of the set, and one will be used in a terrifying climax. But even if the production unsettles regularly, the show it still a delight, with its rich and thrilling score of Rodgers and Hammerstein's first collaboration.
Both Rodgers and Hammerstein were innovative artists – later shows like South Pacific and The Sound of Music tackled racism and the rise of the Nazis, both set in the Second World War, set against famously tuneful scores. But here the glorious songs sound entirely freshly minted, too, thanks to being rearranged for a small, tight bluegrass band of eight musicians, led by Huw Evans on accordion, situated in a row at the foot of the stage, with Arthur Darvill's Curly playing his own mean guitar like a strutting C&W troubadour.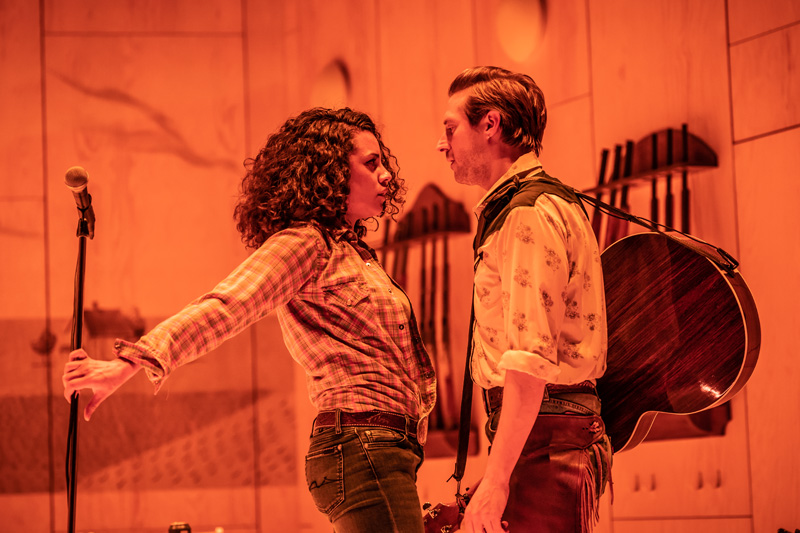 Anoushka Lucas and Arthur Darvill. Photo credit: Marc Brenner.
Curly is usually the golden-haired (and voiced) sweetheart of the show, whose romancing of Laurey propels the action; but here he is portrayed as an entitled bully of the vulnerable farmyard hired help Jud Fry, whose interest Laurey openly courts. To watch the utterly marvellous Patrick Vaill – who has played Fry since the production's inception – give him an uncharacteristic depth of feeling is one of the singular triumphs of reinvention that the production achieves so effortlessly; as he warily watches everyone distrustfully from the very beginning of the show, my heart broke for him.
It's a change of focus that brings the show to startling, and much deeper, life. Every character burns with an inner as well as outer life, whether its Anoushka Lucas's conflicted Laurey, the outstandingly frank and fearless Liza Sadovy as Aunt Eller, Georgina Onuorah as a flirty, earthy Ado Annie, Greg Hicks – a former RSC stalwart – as Ado Annie's sternly disapproving father, and Stavros Demetraki as an unusually sexy peddler Ali Hakim.
This London transfer first played at the intimate Young Vic in 2022; its move to the West End's Wyndham's, whose stalls have been completely reconfigured to accommodate it, is an even more radical transformation to the show than Cabaret at the Playhouse achieves. It feels less imposed by directorial and scenic intervention, but entirely organic to the show. It's difficult to imagine a conventional production anymore.
Even the extensive use of blackouts and close-up live video of the actors' faces – which owe something to the work of Belgian theatrical innovator Ivo van Hove – feels like it belongs. Though I'm still not convinced, on what is now my fourth viewing of the production (previously at both of its New York homes and then at the Young Vic), that the strange dream ballet makes sense, even if Marie-Astrid Mence's stomping solo around the stage in an ever-more urgent style is a powerful image.
But that is my sole doubt for a production that sets a new gold standard for musical theatre reinvention. Lael Jellinek and Grace Laubacher's blond-wooded set enfolds the stage to give it an earthy vibe. If Scott Zielinksi's stadium-like lighting is occasionally deliberately blinding as it drenches the auditorium in hot, bright light, it is another effect that intentionally disorientates in a production of sheer and dazzling theatrical exhilaration.
Patrick Vaill as Jud Fry in Joshua Thorson's video projection.
Photo credit: Marc Brenner.