"Constellations": Vaudeville Theatre, London
John Russell Taylor in the West End
2 July 2021
Nick Payne's award-winning two-hander Constellations (starring Rafe Spall and Sally Hawkins) premiered at the Royal Court Theatre Upstairs in 2012, before transferring to the West End. The Broadway production featured Jake Gyllenhaal and Ruth Wilson. This summer the play has been revived by Michael Longhurst, the original director and now Donmar Warehouse artistic director, at the Vaudeville Theatre while the Donmar is being refurbished. But this revival has a clever new twist.
Zoe-Wanamaker and Peter Capaldi in Constellations.
Photo credit: Marc Brenner.
As the press release says: "In an innovative producing model, devised in response to the pandemic, four brand new casts will take turns to journey through the multiverse exploring the infinite possibilities of a relationship; each refracting the play afresh." Played in turn by Sheila Atim and Ivanno Jeremiah, Zoë Wanamaker and Peter Capaldi, Omari Douglas and Russell Tovey, Anna Maxwell-Martin and Chris O'Dowd, the diverse casting in terms of age, sexuality, and ethnicity very much fits in with the themes of a drama revolving around alternative realities.
Three of the four couples are male/female, though otherwise they differ markedly from one another, and consequently in the significance of what they say and how they say it. The same words can take on a subtly different meaning in the mouths of an ethnic minority couple, a young white couple, and an older white couple. The fourth, the one I happened to see, is male/male, one of whom is white (Tovey), the other black (Douglas) – both of whom have recently starred in highly successful Russell T. Davies TV drama serials (respectively, Years and Years and It's a Sin).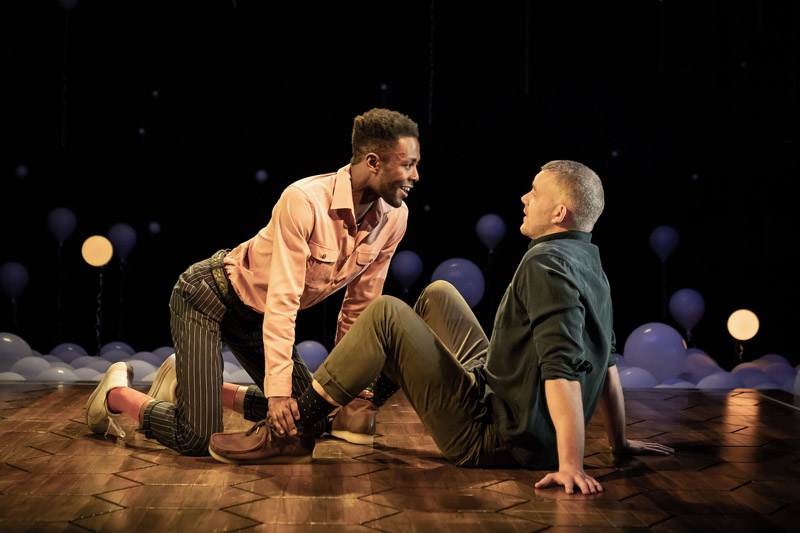 Omari Douglas and Russell Tovey in Constellations.
Photo credit: Marc Brenner.
Does this lay a great weight on the two actors, or entail a lot of modification of the text? Hell no. On the contrary, it works so well in a gay setting that I am tempted to go and see one of the other versions to find out if it works as well in a heterosexual context. The pick-up at a barbecue, the tentative first night of passion, the living together, the admission of infidelity, the separation followed by reconciliation, and all that comes after all that: the way it is all phrased and timed seems to me at least as at home in a gay world as a straight one. Ultimately, though, the particular sexuality of this performance is secondary to the fundamental dynamics of any romantic relationship.
Constellations is a tragic love story that focuses on the developing intimacy between two individuals – rough but idealistic beekeeper Roland (Tovey) and the more delicate, intellectual cosmologist Manuel, renamed from Marianne (Douglas). Much of the play is made up of the varying consequences of saying the same words in a different tone or from a different standpoint and the two actors vividly make us see why they would find each other attractive.
But the play also has a metaphysical/scientific bent as the title implies. There is much discussion of quantum mechanics, string theory, and multiple universes ("multiverses"). And Payne's kaleidoscopic-style shifting of perspective which questions the legitimacy of one objective reality is reflected in the very structure of the play in which brief scenes are repeated, often with different outcomes. Time is not linear in this fragmented narrative, with Payne suggesting simultaneous parallel events prompting a strong "what might have been" feeling. As Manuel says: "Every choice, every decision you've ever and never made exists in an unimaginably vast ensemble of parallel universes." Tom Scutt's elegantly abstract setting of variously sized whiteish balloons – evoking molecular cells or planets in the solar system – reinforces the sense of mind-bending permutations at play in Longhurst's excellent production.