"The Walworth Farce", Southwark Playhouse Elephant
Neil Dowden in South London
1 March 2023
It seems highly appropriate for Enda Walsh's The Walworth Farce to officially open Southwark Playhouse's new venue Elephant. Not only is it set in Walworth Road, a stone's throw from the theatre in Elephant and Castle, but it was premiered in the same year that the theatre was originally conceived – way back in 2006. (The building that the theatre company has been using for the last ten years which was intended to be temporary – now called Borough – will continue until at least 2026, when Southwark Playhouse's second purpose-built theatre is due to open at London Bridge where the venue used to be before the station's redevelopment.) With an industrial chic and flexible two-level auditorium boasting a 310-seat capacity, the new basement theatre at the bottom of a tower block is a welcome addition to London's theatrical scene.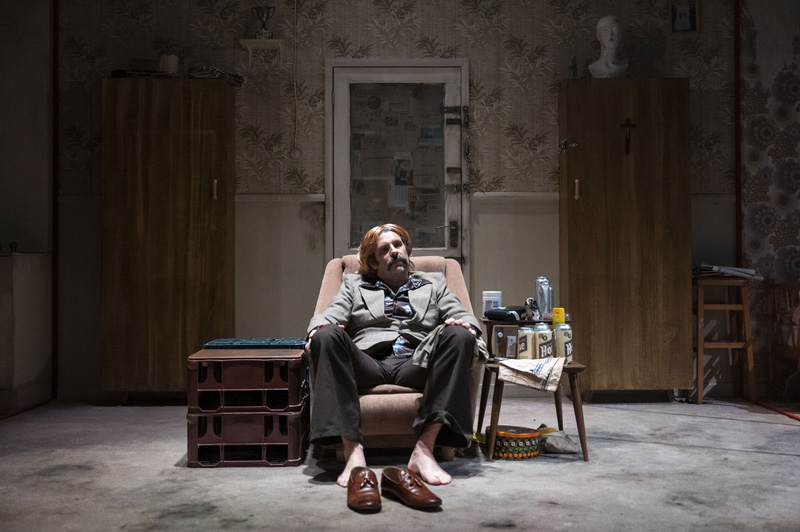 Dan Skinner as Dinny. Photo credit: David Jensen.
In contrast, the action of The Walworth Farce takes place within a squalid 15th-floor flat in a council estate. In Walsh's absurdist farce, an Irishman is holed up here with his two adult sons whom he coerces into joining him in repeatedly performing a bizarre play about the bloody events that led to their exile about ten years previously. It's a bit like Mrs. Brown's Boys as rewritten by Samuel Beckett.
Triggered each time by the playing of the Irish patriotic song "A Nation Once Again" (described by Walsh as a "pub national anthem"), the tyrannical Dinny prompts his cowed, infantilized sons Blake and Sean to stage yet another re-enactment of the story of their last, fateful days in Cork. It's a garbled affair that features the death of "Mammy" – Dinny's mother – followed by Dinny murdering his brother and sister-in-law (perhaps in a dispute over inheritance), which features a freak accident involving a dead horse and a speedboat.
While Dinny fantastically claims to be a painter and decorator turned brain surgeon, older son Sean plays the other male roles and Blake plays all the female roles (as well as themselves as juvenile delinquents) involving multiple quick costume/wig changes and handling of props – there is even a "Best Actor" trophy. This frenetic routine is interrupted by the arrival of Hayley, a checkout girl from the local Tesco bringing Sean's shopping (he has already been walloped by his dad for picking up the wrong bag). Her incipient relationship with Sean and her forced participation in the performance leads to tragic consequences.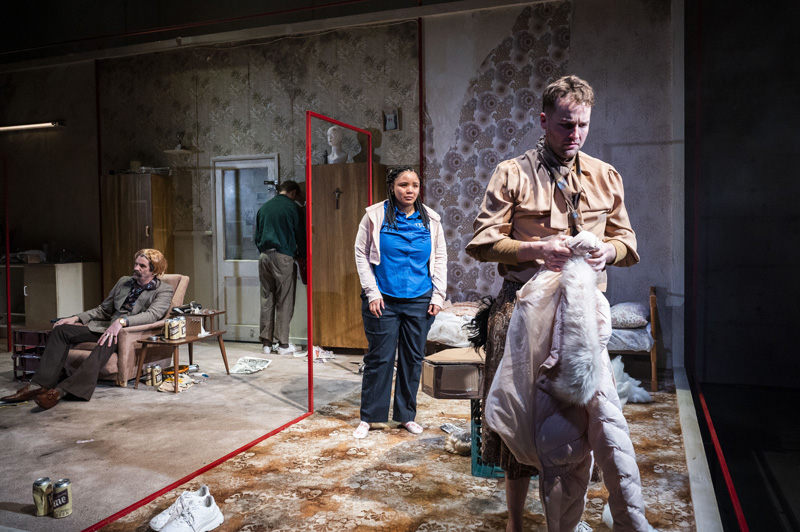 Dan Skinner, Emmet Byrne, Rachelle Diedericks and Killian Coyl.
Photo credit: David Jensen.
The Walworth Farce presents a fragmented and confusing scenario – as no doubt intended by Walsh – to which it's difficult to know how to respond. Trying to work out what exactly happened in the past is probably a pointless task since not only is it depicted via Dinny's unreliable narrator, but we see a different version in each account. The point is that the family are locked in a delusional past – putting on a show without an audience – until the present reality of the outside world in the form of Hayley bursts their hermetic bubble with violent results. There is plenty of surreal humour in this meta-theatrical black comedy, but it's hard to engage with the characters when most of the time they are playing grotesque versions of other people in such an extreme exercise in style.
Nicky Allpress's fast and furious production – with the audience on three sides – sustains the claustrophobic tension well but neither hits the funny bone enough nor pinpoints the emotional heartache behind the mania. Anisha Fields's set of grotty furniture, peeling wallpaper, stained carpet, and scattered beer cans, with red metallic doorframes dividing living room, kitchen, and bedroom, skilfully evokes a family home gone to seed.
Dan Skinner's handlebar-moustached, brown-garbed, flared-trousered Dinny cuts a menacing figure, with the threat of violence always lurking beneath his sentimentally distorted memories and comical cartoonish poses. Killian Coyle's faithful Blake is a Stockholm Syndrome son whose anger slowly builds, while multi-roling a number of women caricatures. Emmet Byrne also veers skilfully between his various impersonations and his character as the abused Sean, who is just old enough to know that his father's remembrances are fake and who longs to escape from the prison of lies. And Rachel Diedericks is a breath of fresh air as the naïve and chatty Hayley who is at first entertained by their play-acting, but then realizes with horror that she has become a hostage in their perverted games.