"La vita davanti a sé": Roman Gary
Maggie Rose in Milan
21 September 2022
Milan's Franco Parenti theatre has hosted La vita davanti a sé (The Life Before Us), a one-man play which brings to the stage Roman Gary's novel of the same title, La vie devant soi. Published in 1975, Gary's book tells the story of Madame Rosa, an elderly Jewish lady, retired prostitute and Holocaust survivor who takes in young children whose mothers are sex workers unable to look after their offspring.
Silvio Orlando. Photo credit: Laila Pozzo.
Momò, an Arab boy, one of the orphans taken in by Madame Rosa, develops a close, albeit fraught relationship with his foster mother which stands at the heart of the novel. It's not hard to understand why this tale of poverty, racial tension and survival in the multiethnic neighbourhood of Belleville was quickly turned into a film in 1977, directed by Moshé Mizrahi, with an unforgettable Simone Signoret in the role of Madame Rosa.
More recently in 2020, Sophia Loren gave a heart-rending interpretation of the role in a second film directed by her son, Edoardo Ponti. Nor do the novel's transmogrifications end here; in 2021 celebrated film and theatre actor Silvio Orlando turned the novel into what is an unusual one-man play since he has enlisted four talented musicians belonging to the Ensemble Orchestra Terra Madre, headed by Simone Campa, to accompany his performance.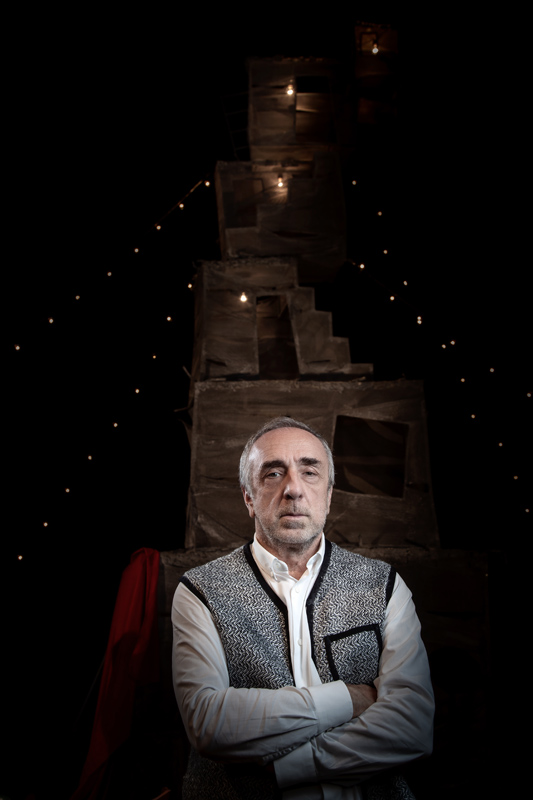 Silvio Orlando. Photo credit: Laila Pozzo.
While Orlando, over almost four decades, has made a star-studded career for himself as an actor, his work as an adapter and a stage director is less prominent. For the present production he has opted for a minimalist staging and worked with great skill, paring down Gary's novel to about 90 minutes and creating a dramatic arc which keeps spectators rivetted.
The story is told by two narrators: the ten-year-old Momò and his adult self (both played by Orlando) who also slips seamlessly into the many other characters who visit Madame Rosa's apartment. Among the visitors, the figure of Doctor Katz, Madame Rosa's trusted and dedicated physician stands out. There are also moments of climax, such as the unexpected appearance of Momò's father, Kadir Youssef, who comes to take his child back.
As a fierce struggle ensues between Madame Rosa and Kadir, Orlando switches back and forth between the two characters, deftly reproducing their voices and body language. On other occasions, this gifted performer turns himself into Madame Rosa, quietly sitting in her armchair in the cellar where from time to time she retreats, compelled to return to the past and relive her horrendous experiences in Auschwitz. The show, which was enthusiastically received by audiences and critics alike, was sold out during its Milan run and has continued on an extensive national tour.