"The Woods": Southwark Playhouse
Neil Dowden on the South Bank
8 March 2022
Last staged in London 26 years ago, David Mamet's 1977 play The Woods has not aged well. It's easy to see why it's one of the lesser-known works of this much-performed playwright (indeed at one time Mamet himself actually banned it from performance). The two-hander is a rather odd semi-mythic battle of the sexes that seems stuck in its time with gender relations presented as an unbridgeable gulf determined purely by biological impulses. This revival at Southwark Playhouse tries hard to make the play engaging but cannot overcome its fundamental flaws.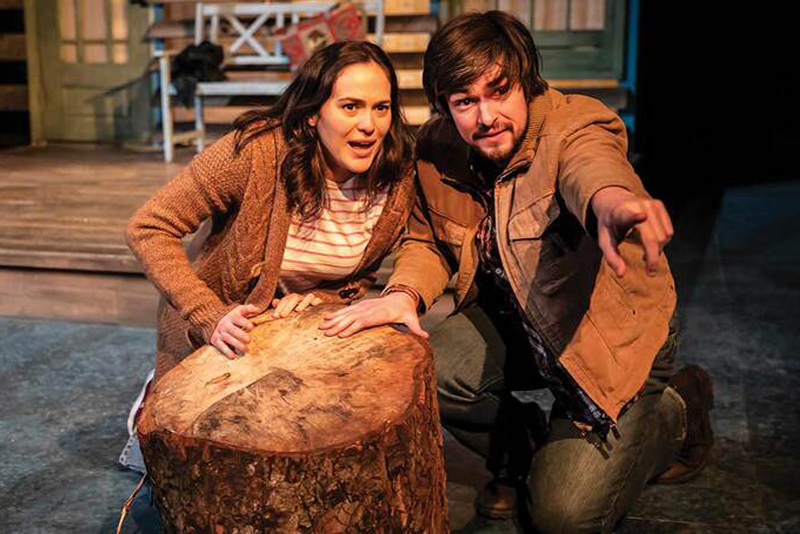 Francesca Carpanini and Sam Frenchum. Photo credit: Pamela Raith.
The action takes place during dusk, night, and morning on the porch of a lakeside summer house in the woods of northern Michigan. A young couple –Ruth and Nick – have escaped here from Chicago for a weekend break – perhaps make or break? The trip proves to be no romantic idyll. It begins with plenty of relaxed physical intimacy and mutual sexual attraction, but then descends to minor disagreements and squabbling, and later heated arguments and even violence. It becomes clear that whereas Ruth is keen to share a loving relationship, the commitment-shy Nick is focused more on sex – as it emerges he has previously brought other girlfriends to this cabin belonging to his family.
While Ruth loves the beautiful natural setting and the freedom it gives to go off roaming or swimming in the wilds, even embracing a thunderstorm, Nick seems strangely afraid of the woods. He is haunted by traumatic memories of his father and another Second World War veteran with PTSD falling into a pit in the woods with the latter eventually killing himself, as well as disturbing dreams of being on fire and menaced by a bear with a huge penis – perhaps signifying his own animalistic, violent impulses waiting to break out as indeed they do when he starts to force Ruth to have sex.  His comment "I can see your body anytime I want to" oozes entitled menace. It's difficult to have any sympathy for Nick, but also difficult to understand what Ruth sees in him.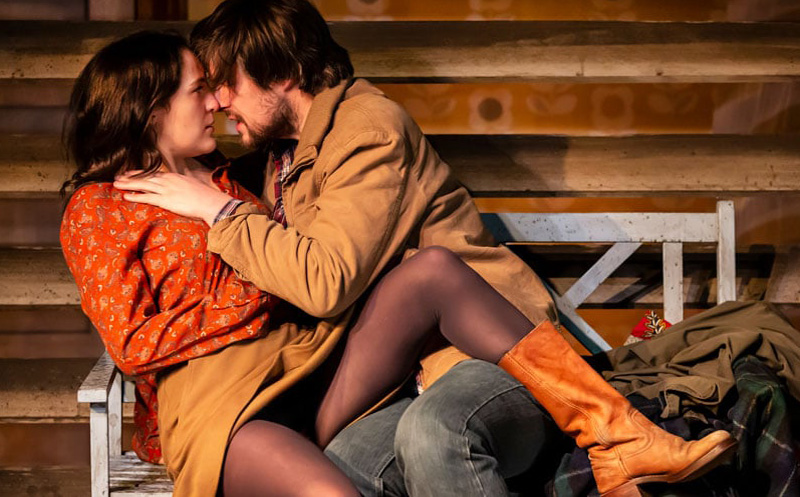 Francesca Carpanini and Sam Frenchum. Photo credit: Pamela Raith.
The play contains much storytelling, where reminiscence overlaps with fairytale, myth, and nightmare, with references to Vikings and Martians as well as to the wildlife around them such as beavers, raccoons, seagulls, herons, and fish. Mamet is striving for a poetic symbolism that largely eschews his trademark razor-sharp rat-a-tat dialogue, but it comes across as half-baked. The polarized presentation of heterosexual male/female relations is characteristic though, as shown before in Sexual Perversity in Chicago and most notoriously later in Oleanna (which was revived successfully in the West End last year).
Creating misogynistic characters does not necessarily mean of course that this is Mamet's standpoint – but there's no doubt toxic masculinity is a recurring motif in his work. Women have tended to get short shrift in his plays, with few memorable female characters, as he often concentrates on testosterone-filled men competing with each other. Indeed, probably his best two plays, American Buffalo and Glengarry Glen Ross, are all-male affairs. Mamet appears to be a spent force in theatre. His last new play to be staged in Britain was the critically panned Bitter Wheat in 2019 (directed by the author) – a thinly veiled portrait of Harvey Weinstein starring John Malkovich which was more a broad satire of Hollywood than a critique of sexual harassment.
Russell Bolam's taut ninety-minute production has enough physicality in it to prevent the play becoming just a two-way conversation, with Anthony Lamble's rustic design featuring a log cabin and wooden decking. There are committed performances from both Francesca Carpanini as Ruth – who moves from reassuring Nick to asserting herself against him – and Sam Frenchum as the terse, conflicted Nick in the throes of a breakdown. Unfortunately, his words "What are we doing here?" may well have chimed with the thoughts of many in the audience.