"The Collaboration": The Young Vic
Neil Dowden on the South Bank
25 February 2022
Anthony McCarten's new play focuses on a fascinating true episode in art history: the surprising collaboration between Andy Warhol and Jean-Michel Basquiat on a series of paintings over a few years in the eighties. The Collaboration imagines the evolving relationship of this odd couple – so different in their attitudes to both art and life. Although sometimes the writing appears a bit contrived, the show is boosted by two terrific performances from Paul Bettany (Warhol) and Jeremy Pope (Basquiat).
Jeremy Pope as Jean-Michel Basquiat. Photo credit: Marc Brenner.
Now over fifty, Warhol – as an iconic figure of the countercultural sixties – has been cashing in on his pop-art fame for a long time. But while his star has waned, twenty-something Basquiat's is on a meteoric rise, as the street artist outsider has become the darling of hip New York galleries. The young pretender is threatening to eclipse the established master – not only in terms of notoriety but on the art market.
But as we see their relationship evolving, there is a sense of retrospective elegy. Both would be dead before the end of the decade: Warhol of a heart attack (probably triggered by life-changing injuries from being shot by paranoid schizophrenic Valerie Solanas in 1968), while Basquiat died after overdosing on heroin.
The collaboration (which has been arranged by their canny shared art dealer Bruno Bischofberger) starts out as more of a rivalry with each artist wary of the other. The poster for their exhibition shows them as two boxers sparring. Warhol cynically believes artists have to be "brands", exploiting the commodification of art for commercial advantage while using mechanical reproduction to portray corporate consumer society. In contrast, Basquiat – who made his name as part of spray-painting graffiti art collective SAMO ("same old shit") – is more spontaneous and expressive, a wild child who believes art can have almost magical powers.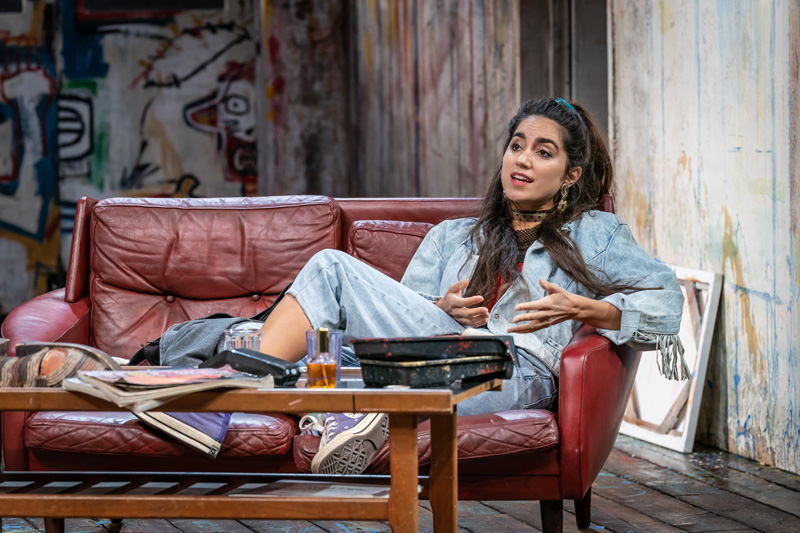 Sofia Barclay as Maya. Photo credit: Marc Brenner.
After many years of creating (with assistants) mass-produced silk-screen prints, especially of celebrity portraits such as Marilyn Monroe, Warhol is forced to use a paintbrush again in order to keep up with Basquiat's natural painting talent as they work together on the canvases. But Warhol prefers to film Basquiat at work in his characteristically detached, voyeuristic – even vampiric – way, fetishizing him as a black man. It becomes clear that the gay, physically awkward Warhol impotently desires the attractive, womanizing Basquiat, who will only agree to Warhol's request to take his shirt off if the latter does so first (which he does to reveal scars from life-saving operations).
The play's first act sometimes seems like a pretext to give us information about their background lives and art credos. Despite their conflicting outlooks, the pair have some common formative experiences: both have immigrant parents (Slovakian for Warhol, Haitian/Puerto Rican for Basquiat) and both suffered serious ill-health as children. The party-going, fame-obsessed Warhol initially does most of the talking, dropping names like John and Yoko, Mick and Keith, and asking about Basquiat's former girlfriend Madonna.
But by the second act – three years later – after they have got to know each other there is more organic drama, as Warhol reveals his underlying self-loathing and Basquiat's drug-taking starts to get out of control. And, despite some irreconcilable differences, there is also a genuinely touching sense of intimacy between them.
The New Zealand-born McCarten is best known as an Oscar-nominated screenwriter of biopics like The Theory of Everything, Darkest Hour, Bohemian Rhapsody, and The Two Popes (which also centres on two men with contrasting worldviews), and there is a bit of overlap here with Julian Schnabel's film Basquiat. John Logan's play Red about American abstract expressionist Mark Rothko is a more intellectual piece about art, while The Collaboration tends to be personality-driven.
Jeremy Pope and Paul Bettany. Photo credit: Marc Brenner.
Kwame Kwei-Armah's visually appealing production starts as a slow-burner but catches fire after the interval. Although this is fundamentally a conversation piece between two men, we do see the artists painting – albeit usually with them moving a brush through the air. Anna Fleischle's splendid design features paint-splattered floorboards, brick walls, and reproductions of the artists' works as the action moves from Bischofberger's smart gallery to Warhol's well-ordered boho-chic studio to Basquiat's chaotically squalid studio with dollar notes falling out of the fridge. Duncan McLean's projections on transparent panels of Manhattan buildings help give context, while DJ/VJ Xana's in-between-scenes hip-hop set evokes a 1980s New York club.
The two lead performers are well matched. Bettany (in his first stage performance for more than 20 years) gives a compelling portrayal of Warhol as a man who has turned his own life into a work of art distancing himself from his deep anxieties and insecurities. We first see him – wearing a platinum-blond wig, red glasses and a black turtleneck sweater – in characteristic pose with one arm protectively hugging his midriff while a finger from his other hand thoughtfully rests on his chin. The self-conscious drawl, camp manner, and blasé attitude are amusing but his inhibited movements suggest someone who is not at ease in his own body.
In contrast, the twice Tony-nominated American actor Pope exudes Basquiat's free spirit with his casual baggy clothes, Afro dreadlocks, and graceful presence – though his restless motion suggests continual swings of mood between enthusiasm and dejection. The shadow of his mother's mental illness seems to hang over him, while his traumatic reaction to a fellow black graffiti artist being beaten into a coma by cops underlines his vulnerability.
There is an amusing turn from Alec Newman as the Swiss dealer Bischofberger who has an eye for a commercial opportunity mixed with real belief in his artists' talent. And Sofia Barclay gives a sympathetically grounded performance as Basquiat's ex-girlfriend Maya who sells a fridge covered with his graffiti to Warhol who no doubt expects to make a tidy profit from it.