"The Piano Lesson", Ethel Barrymore Theatre, New York
Glenda Frank on Broadway
20th December 2022
August Wilson's The Piano Lesson opens with Boy Willie's noisy arrival up North in a broken-down truck loaded with watermelons and a dream. He pictures himself surveying his 100 newly purchased acres of rich Southern land, land once owned by Old Sutter where Boy Willie's people were slaves. A jack-of-all trades, he (John David Washington in his Broadway debut) sometimes skirts the law and lands in jail. Three years ago, a venture in the woods ended with Crawley's death which left Berniece, Willie Boy's sister, a widow. Berniece, still furious with him, is not just his reluctant host but also half-owner of the family heirloom, a piano hand carved with family portraits and scenes that he hopes to sell as partial payment for those 100 acres.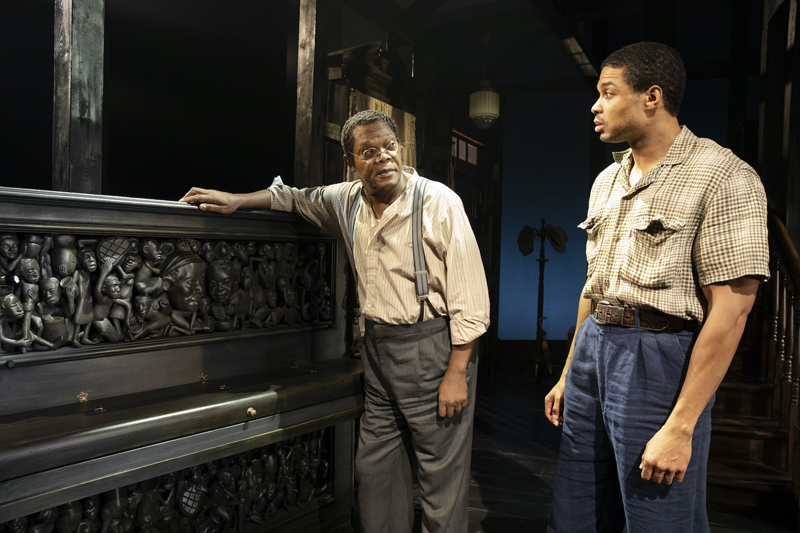 Samuel L. Jackson and Ray Fisher.
Photo credit: Julieta Cervantes.
Like Chekhov, August Wilson chose a central image as the symbol of conflicting dreams and a changing society. In the production, now at the Ethel Barrymore Theatre under the direction of LaTanya Richardson Jackson, the piano stubbornly refuses to budge even as Boy Willie and his friend Lymon (Ray Fisher) struggle to remove it from Berniece's living room.
Under the nimble fingers of Michael Potts as Wining Boy, a musician, it may be old but it can sing the blues. Maretha (Nadia Daniel alternating with Jurnee Swan), Berniece's daughter, is trying her hand. Jackson has the characters speak their dreams to the audience instead of each other, taking the play out of the realm of realism and allowing more suspension of disbelief when an evil ghost, a symbol of the past, comes to haunt the family.
In an interview, Richardson said that every member of the family is fighting their own ghosts. Although the production is not totally successful – the play itself is evocative but resistant; it has stunning high points and leaves a satisfying aftertaste.
Set in Pittsburgh, Pennsylvania in 1936, The Piano Lesson won Wilson his second Pulitzer Prize in 1990. It is the fourth drama in The Pittsburgh Cycle, a series of ten plays depicting the black community from 1900-1990. But the range of the cycle is greater, addressing the black experience in America from the middle passage of the slave trade (Gem of the Ocean) to the displacement of the old community by black urban gentrification (Golf Radio.) In The Piano Lesson, Wilson explained that he was weighing the cost of acquiring "a sense of self-worth by denying one's past." The play asks: "What do you do with your legacy, and how do you best put it to use?"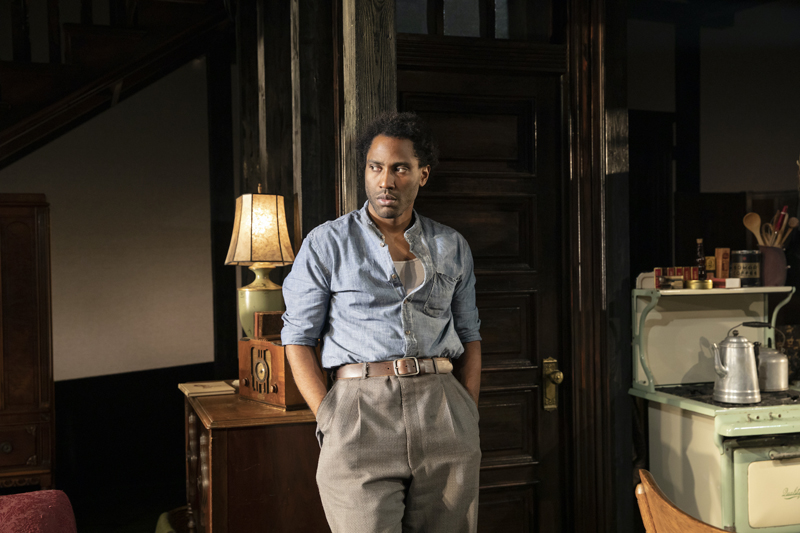 John David Washington.
Photo credit: Julieta Cervantes.
These are big questions and Wilson was adept at transforming them into living dramas, from naturalistic dialogue with easy-flowing poetics to the subtle inclusion of conventional dramatic devices. One of my favourite scenes was Berniece's confrontation with Boy Willie. He explains that after being caught in the woods, he and Lymon were ready to surrender, but Crawley brought a gun and began shooting.
Berniece (Danielle Brooks) wants none of that. "All I know is Crawley would be alive if you hadn't come up there and got him" she shouts. And she keeps shouting at him. We hear Boy Willie's logic, but Berniece feels the loss, and loss wins. Uncle Doaker (Samuel L. Jackson), a retired railroad worker who owns the house, tries to stay neutral but defers to his niece, the centre of the family. Courted by Avery (Trai Byers), Boy Willie 's friend, who has turned impassioned minister and is making plans to establish his own church, she is not sure she wants to move on. The blessing she convinces him to conduct is more like an exorcism – a blown-out candle, lots of lighting effects (Japhy Weideman) – and it works.
Symbols and dramatic foils can be clumsy devices, but Wilson integrated them seamlessly into the drama and director Jackson added her own ingenious touches. Boy Willie and Lymon, having reaped a windfall from the watermelons, resolve to find some women. Wining Boy convinces the tall Lymon to buy his silk suit and shoes. Lymon limps around for some fine comic relief. The plaid suit (good costuming by Toni-Leslie James) is a little small but not clownish. The dignity of the two men is not impinged. We laugh – probably in sympathy – at the stylish, tight footwear. In contrast, Avery's clothes fit perfectly so when it comes down to Berniece's choice of her two suitors, Lymon brings the chemistry but the costumes define the man.
Easy-going Lymon is Avery's and Boy Willie's dramatic foil just as Grace is Berniece's. Boy Willie meets Grace (admirable performance by April Matthis) in a bar and brings her home with him. She is dismayed to discover his bed is the living room couch and more upset when Berniece comes storming down the stairs, awakened by their argument. Grace beats a hasty retreat but not before half-bowing to Berniece several times. It's a funny scene, and if we didn't get it before, we now recognize Berniece's place in the community. Jackson has translated these literary conventions into living stage presences.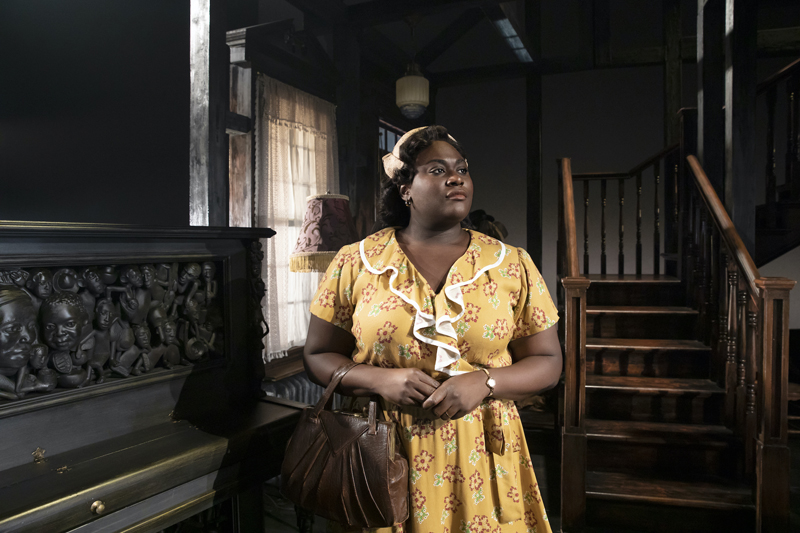 Danielle Brooks.
Photo credit: Julieta Cervantes.
One of her directorial strengths is ensuring that women's lives are visible. "Wilson is such a man's man," she said in a New York Times interview. Her first directorial stint was Two Trains Running for Kenny Leon's True Colors company in Atlanta. She advised Paulette Washington as Risa to drop something in the kitchen, to make a big noise whenever an absent woman was mentioned so that everyone has to stop and think about her. "We can't just have a [casual] conversation about women being cut or stabbed to death . . . Our presence should not be something that's taken for granted. Our presence is important."
This is powerful, subtle directing. Oddly enough the roles in need of more attention were Washington's Boy Willie and Doaker. Jackson's Doaker is so neutral he almost disappears. A little nuance would have added flavor. (Jackson originated the role of Boy Willie in the Yale Repertory Theatre production 35 years ago.)
Washington, in his Broadway debut, was a rhetorical wonder in the first act, fascinating in his phrasing and the outpouring of words. But the style became relentless in Act II, much in need of subtext and variety. Danielle Brooks, who received a Tony nomination for The Color Purple and has just finished a new film version, has become the definitive Berniece for me. LaTanya Richardson Jackson dedicated this production to "her mentors," a "distinguished group of theatrical directors." She's earned her own spotlight.