"A Mirror" at Almeida Theatre
Jeremy Malies in north London
25 August 2023
"Bach Cello Suite No. 1!" said a critic who I hang about with. "Typical at middle-class weddings" he continued. The Almeida has been decorated as if for a wedding; there is an extra row of marquee-style seats for guests/audience in front of what would normally be the stalls. Jonny Lee Miller, bulked up from last time I saw him and looking like a Pinter heavy, is the registrar and obviously in charge.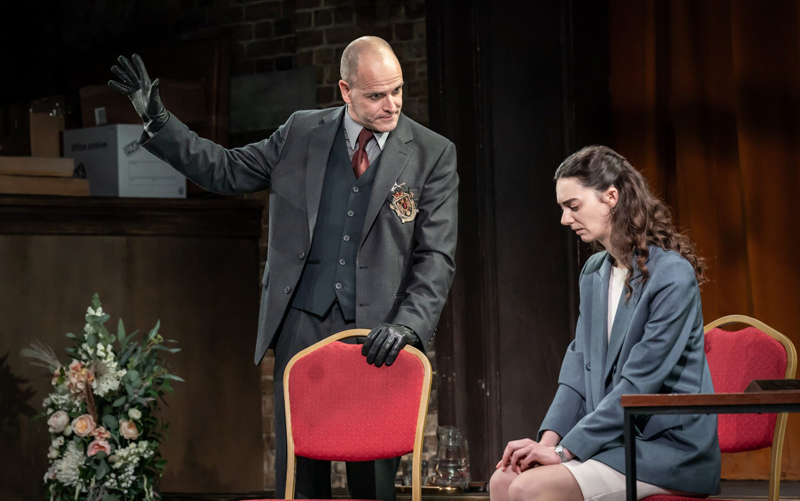 Jonny Lee Miller and Tanya Reynolds.
Photo credit: Marc Brenner.
On my way in to see this new play by Sam Holcroft I've spotted leaflets that clearly aren't standard Almeida blurb and make sinister demands that I swear allegiance to a Motherland. As they prepare for the marriage rites, bride (Tanya Reynolds) and groom (Micheal Ward) give quasi-fascist salutes.
Miller scurries around until he receives an "all clear" signal from outside whereupon the wedding party regroup. The basic furniture on the raised stage is moved and we are suddenly watching a play in which Miller, who has become even more menacing, quizzes Ward about a script the latter has written. Reynolds flutters about nervously as a secretary in only her second week. There are many mentions of a culture ministry. Are we back with The Pillowman?
It's a militaristic environment with all three characters talking about their service. Miller continues to bully Ward, but they bond slightly when it transpires that Ward might repair the older man's car. Ward's character (Adem) is terrified of Miller's character (Čelik) and begins muttering about the "breaking point" of car components with the subtext being that he himself is at breaking point.
Čelik is scathing about Adem's play which is a clumsy compilation of verbatim conversations he has recorded while snooping on his neighbours. The whole atmosphere here (notably ratting on those near you) reeks of 1984 for me right down to the ersatz gin the characters are swilling. However, it is Lebanon that Holcroft references in her preface to the playtext while being at pains to emphasize that this is a work of fiction. I can't have been alone in thinking of Eastern Europe and Václav Havel, a playwright whose imprisonment against a backdrop of censorship elevated him to hero status and saw him sidestep ministries in order to go straight to the top job.
Jonny Lee Miller as Čelik.
Photo credit: Marc Brenner.
When Adem is told that his first play sucks he goes away and returns some weeks later with a new effort. It is an exact transcript of his meeting with Čelik and Mei, the assistant played by Reynolds. Miller's disdainful reading from this produces a crescendo of laughter as the audience realizes what is going on. Holcroft has told us additionally that a writer she admires, Lucien Bourjeily, did indeed write a play set inside a censorship bureau and even had the chutzpah to submit it through official channels in Lebanon.
The script then proceeds to peel away multiple layers of plays within plays even to the point of sex scenes from which director Jeremy Herrin and the two younger actors extract laughs without any crudity. It would be Pirandellian if the characters addressed us or begged for employment, but Holcroft's approach is to focus on the actors as they step away from each role. You wonder when this unravelling is going to run out of steam and the structure smacks of the Philip Seymour Hoffman film Synecdoche, New York. There is a trump card at the end in the form of a theatrical coup that needs to be kept under wraps and succeeds mainly due to Miller's magnetism and technical brilliance.
Herrin directs the cast to work in a largely non-naturalistic manner except in periods of high intensity. In doing this, he is ensuring that the production focuses on the play's message regarding the sanctity of a script amid totalitarianism and censorship. The young characters have had no exposure to literature that predates this society, and there are wonderful moments as Roberts clutches a Pelican edition of Romeo and Juliet being halfway through it with no idea how the story will end. By documenting his surroundings, Adem is embodying the Jane Austen dictum of writing about what you know but he would not be able to name her or a single novelist. Only party man Čelik and Bax, a dramatist who has flourished under the regime (played by Geoffrey Streatfeild), have read anything of note.
The play rarely departs from this dictatorial microcosm. Holcroft and Herrin allow themselves a single well-chosen current gag about a former culture minister who is more than usually unlettered and lazy. This barb against Nadine Dorries may mature during the run if she has the whip removed.
Nick Powell's sound design and original compositions mirror the aforementioned Bach which is played live by Miriam Wakeling who is a constant presence at the side of the stage. The simple set by Max Jones is impressive in the way that props are repurposed as we switch in and out of plays. Lighting by Azusa Ono moves smoothly from heavy LED-style illumination that stresses we are watching an interrogation to softer diffused tones as we return to the wedding. There is a pervading threat that government agents will realize that "Almeida Hall" is being used as a theatre not a wedding venue. Several false alarms see the actors revert to the sham marriage ceremony.
This play did little for me and I found it clunky and even a little sixth-form-ish in the bravura of the format. I should particularly have liked Herrin to rein in a final invasion by masked party thugs. But if the main aim of the writing is to make us ponder societies in which the very act of going to see a play is a mark of dissidence and courage then the project has succeeded.