"The Way Old Friends Do" at Criterion Theatre
Mark Shenton in the West End
24 August 2023

Mamma Mia! – the jukebox musical forged out of the back catalogue of 70s and 80s pop legends Abba – has played at three separate West End addresses since premiering nearly a quarter of a century ago, and is still going strong at the Novello Theatre. Meanwhile, Abba Voyage is a more recent East End attraction featuring some of the band's biggest hits performed by holographic versions of the band members to simulate a live concert that looks and feels very much like the real thing.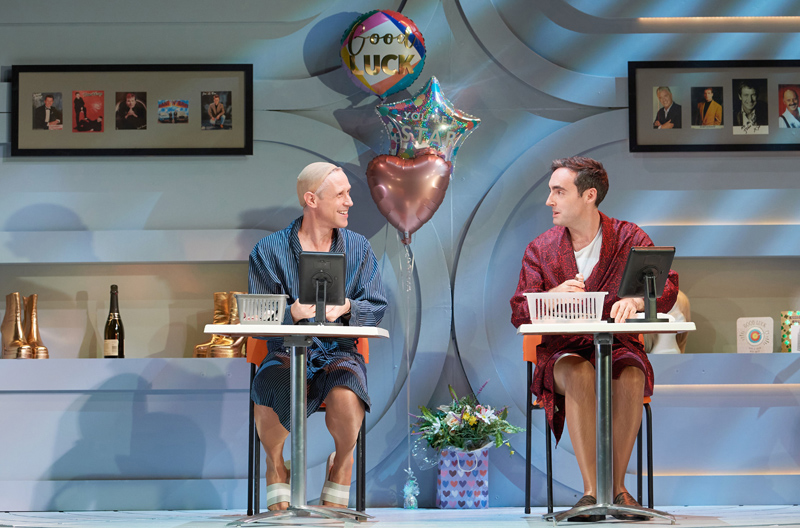 Ian Hallard and Anton Tweedale.
Photo credit: Geraint Lewis.
Now dedicated Abba fans and would-be impersonators are being invited to geek out by a warm, affectionate comedy about the fans themselves. Two gay friends Peter and Edward –who were at school together in the West Midlands – meet again unexpectedly on a dating app, and end up forming a tribute band with a sassy difference: they cast themselves as Agnetha and Anni-Frid, and recruit two women – an elderly pianist and a young aspiring actress – to play Benny and Björn.
Ian Hallard – an actor turned debutant playwright – plays singleton Peter, an Abba geek who dons a blonde wig to become Agnetha Fältskog with striking poise and glamour, while Anton Tweedale is Edward, who is in a long-term marriage to a much older unseen male  partner, but is determined to have some fun on the side, which includes going brunette-wigged to play Anni-Frid Lyngstad.
In the convoluted comic plotting provided for them, the dramatic stakes are upped for them as an opportunistic 25-year-old Australian producer (Andrew Horton) makes the moves on them, both professionally (to persuade them to monetize their tribute act) and personally (to seduce each of them in turn). Meanwhile, they are joined by an aspiring young actor Jodie (Rose Shalloo) and an older pianist Mrs Campbell (veteran comedy actress Sara Crowe) to play Björn Ulvaeus and Benny Andersson respectively.
It's pretty obvious, sit-commy stuff, and very episodically laid out in a play with too many jerky transitions between scenes. But director Mark Gatiss lends it a more fluent sense of charm and comic grace, not inconsiderably aided by the deftness of Crowe's sharp delivery and expert timing, which regularly threatens to steal the show. As a character, Mrs Campbell also has the most interesting back story, having left a dull marriage behind in Kirkcaldy to embark on this new life.
Gatiss's production is also easy on the eye with its period-perfect sets and costumes by Janet Bird that could have emerged ready-made from an 80s TV variety show.
Like those primetime entertainments, this play has a nostalgic charm and provides a diverting couple of hours in the theatre, even if it won't linger long in the memory once you exit.