"God Is Not Shy": Werk X-Petersplatz, Vienna
Ludovico Lucchesi Palli at Werk X-Petersplatz
10 January 2023
Even though all of Vienna's theatres are currently shut, Werk X-Petersplatz — a space for new and established out-of-town companies — along with the group Nestbeschmutzer & Innen which focuses on political satire — presented the Australian premiere of Gott ist nicht schüchtern (God Is Not Shy) based on the 2017 novel of the same name (translated into English in 2019 with the title City of Jasmine) by Olga Grjasnowa. While the performance discussed is the only one that had an audience (13 people sitting in a socially-distanced setting), subsequent performances were streamed online.
Vienna's Werk X-Petersplatz has a long history. ln 1982 it was taken over by Dieter Haspel and his company at a time when the venue was called Ensemble Theater Wien.The programming consisted of contemporary drama by playwrights such as Wolfgang Bauer and Heiner Müller as well as plays by Bertolt Brecht. In fact, the opening premiere was Brecht's Die Dreigroschenoper (The Threepenny Opera), directed by Haspel as the new artistic director. In 2009, the Haspel era ended and Harald Posch and Ali M. Abdullah took over. They renamed the theatre Garage X. After joining forces with the former Stadtlabor Kabelwerk in Vienna's twelfth district, the venue was renamed yet again to Werk X Eldorado but was still run by Posch and Abdullah as a space for the fringe theatre scene. ln 2017, Cornelia Anhaus was appointed as curator of the venue, and she has been overseeing progressive, political, and contemporary theatre with new and established companies ever since.
One of these companies is Nestbeschmutzer & Innen, founded and run by its artistic director Susanne Draxler, who bought the theatre adaptation of Olga Grjasnowa's Gott ist nicht schüchtern (God Is Not Shy) to the stage of this centrally-located theatre space. The play traces the journey of two Syrian refugees who only meet twice throughout the entire hundred minutes of the play. The piece is set against the backdrop of the Syrian Civil War. The story is told from the perspective of the two protagonists, Amal and Hammoudi. Amal is an aspiring actress who is heavily involved with demonstrations in Damascus where she lives. She is quickly put on the blacklist of the Syrian Secret Service. Hammoudi is a surgeon in Paris who leave the city because of complications with his visa. He returns to his native Syria trying to renew his passport but is unable to do so and instead stays in the country, starts an illegal underground hospital to save citizens injured during the war, and eventually flees to Germany via Turkey. In the end, they both find themselves in Berlin where they officially meet. They realize, though, that they had met once in Damascus. While Amal manages to find a job as an actress and start a successful new life, Hammoudi is sent to an asylum centre in the suburbs and is shot. Interestingly, the brief prologue at the beginning of the play is repeated in a longer version once they meet in Berlin in order to illustrate that the entire play has been told in a flashback; this technique is exceptionally effective.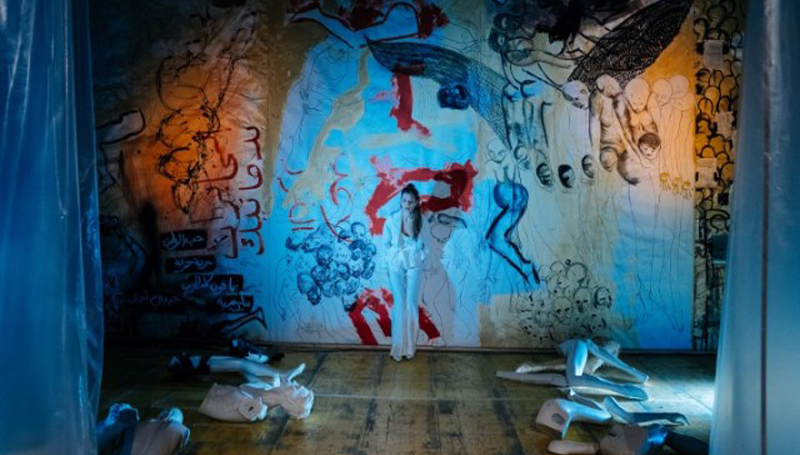 Diana Kashlan in God Is Not Great. Set design by Hawy Rahman. Photo credit: Alexander Gotter.
The fast-paced two-hander has a distinct narrative which seems to be common in stage adaptations of this kind of material. Rather than acting out every scene, the two protagonists narrate the story, which allows for precise detail that otherwise would not have been possible. A similar approach was used for example in David Schalko's Schwere Knochen (Heavy Bones) at the Halle E/Volkstheater – although Lisa Kärcher's stage adaptation of Gott ist nicht schüchtern makes a lot more sense in this form, as it traces the fate of two individuals simultaneously.
There is a lot to take in during these 100 minutes, but every moment is worth it. The dramaturgy works well, even though the two actors Diana Kashlan and Johnny Mhanna, portray more than one role throughout the piece, with many of the other characters having only one sentence or so. The only time this is slightly confusing is when Yussef, Amal's boyfriend, narrates the story, which is usually narrated by Hammoudi. Other than that, the two actors display an impressive ability to portray many roles and switch back and forth between dialogue and narration.
The set design by Hawy Rahman is minimalistic consisting solely of two curtains, a wall filled with drawings and graffiti-like writing, two cube-shaped stools and a table in the middle of the stage. This production does not require more as the action lies in the narrative. Both actors are dressed in white with costumes by Andrea Hölzl. Director Susanne Draxler creates an intimate production with strong actors that tells an important story and brings new perspective to the refugee crisis.
L to r: Diana Kashlan and Johnny Mhanna. Photo credit: Alexander Gotter.