English Theatre Frankfurt
Daniel Nicolai on English Theatre Frankfurt
Daniel Nicolai, Frankfurt-born, studied visual communication and worked for a decade for contemporary ballet before he joined the English Theatre Frankfurt  (ETF) in 2001 as its artistic and managing director. He has focused on creating new relationships with young creatives in the UK, an effort that has resulted in several critically acclaimed productions including, in 2010, Spring Awakening, a musical based on Frank Wedekind's Frühlings Erwachen. In addition, in 2012 for the first time, an ETF production (Tommy) toured Germany. During Daniel Nicolai's tenure, the number of visitors per season has more than doubled and the theatre's financial situation has stabilized. Nicolai has also worked with a number of educators to create an extensive outreach programme for young people. Each season the ETF now presents a play or musical for children, productions that have toured schools in the state of Hesse since 2011.
When Covid-19 hit the English Theatre Frankfurt (ETF), we were flourishing. In the middle of our fortieth-anniversary jubilee season, we had three shows running: Lucy Prebble's The Effect had just opened in Frankfurt; our production of the Stephen Sondheim musical Sweeney Todd – The Demon Barber of Fleet Street was playing in the sold-out Deutsches Theater in Munich; and in London our team was preparing the German premiere of David Byrne's play Secret Life of Humans, inspired by Noah Yuval Harari's A Brief History of Humankind. The Ensemble Theatre in Santa Barbara, our partner in California, was poised to begin rehearsals for our co-produced American Son, scheduled to transfer to Frankfurt in the summer. Needless to say, all had to be shut down. Immediately.
Who we are and how we got here
The ETF, however, is accustomed to change. What started out as a small backyard stage in the city's Sachsenhausen neighbourhood is now the largest English-language theatre in continental Europe. Founded in 1979 by actors from South Africa, the UK, and the US, it advanced in the 1980s and 1990s to become a cultural force and a popular meeting point for Frankfurt society. At the turn of the millennium, the theatre experienced turbulent times: a new and larger venue in the Dresdner Bank's Gallileo Tower was in the offing, but first the theatre had to find its way out of a financial crisis. That is when l joined the ETF, and I've been its artistic and managing director ever since.
The restart and turnaround of the ETF took several years and was pretty tough: 9/11 meant many US theatregoers stopped visiting the ETF, and the general public in the Rhein/Main region of Germany believed that the theatre had gone dark for ever. We brought in more financial partners and varied the scope of our plays. We now aim to present a balanced mix of theatrical classics, new dramas, genuinely witty comedies, and musicals that are socially and politically relevant. We present West End quality in the midst of "Mainhattan" to an audience that is as varied as our productions. The society starlets, financial elite, expats, lovers of the English language, musical fans, and schools with their diverse students (fortunately for us accompanied by teachers) make up our theatre crowd. We've created a multifaceted theatre education programme, reaching out to schools of all social levels, bringing in the audience of tomorrow.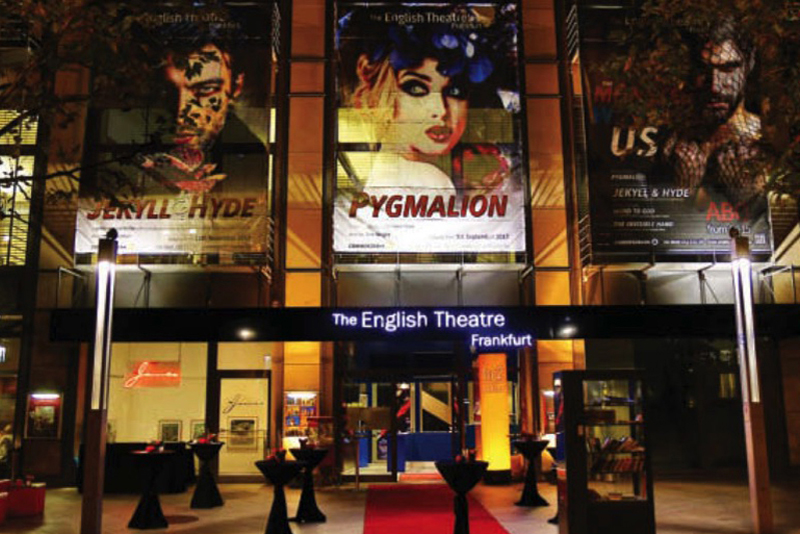 The English Theatre Frankfurst building in downtown Frankfurt.
Photo credit: Peter Wendling.

Producing across the Channel – in spite of Brexit
The ETF engages in a balancing act, producing on both sides of the English Channel. Castings and rehearsals take place in London (or Santa Barbara, California), exclusively with native English speakers and creative teams. This ensures that the productions are not just German Regietheater in English but are created entirely according to Anglo-American theatrical standards, with a lot of British humour and an American flair for show business. The London casting director Marc Frankum, who we've been working with for several years now, has a great feeling for what we are looking for. His character judgement provides a solid foundation for our productions. After the show is cast (and the contracts negotiated), the production is handed over to our London stage manager. He starts by renting a suitable rehearsal space, where he supports the show as it takes shape during a three-to four-week rehearsal process. Then, the production transfers to Frankfurt. In the last two weeks here, the British (or American) creative team and cast collaborate with Frankfurt-based stage builders and technicians on an intensive creative process.
The pandemic has made it almost impossible to mount a show – for theatres in general, but especially for productions intended to cross borders. lt is, however, not the first time that we've had to deal with natural catastrophes hijacking an ETF play. When the volcano Eyjafjallajökull erupted in Iceland in 2010, paralyzing all air traffic in Europe, the ETF was in the middle of changing productions. An Ideal Husband, the show running in Frankfurt, was ending, leaving the actors stranded and eager to return home, while the cast and creatives of the new production, The Fox, couldn't get out of London to start final rehearsals in Germany. My wonderful assistant Maria jumped into a borrowed van, packed up the Ideal Husband actors, and drove them through Germany and France, all the way to the coast. Everyone boarded a ferry to London, where Maria collected me and The Fox team, driving the whole group back to Frankfurt. Thanks to her nippy driving  —  which some of the British actors enjoyed more than others — and thanks to the lead actor's great navigating skills, the opening was saved.
Natural catastrophes and viral pandemics are certainly challenging. However, we have been even more devastated by the dilemma that Brexit presents for Europe and cultural exchange. It adds bureaucratic hassles, organizational risks, and unnecessary costs for the theatre and our crews. Much worse, though, it undermines important principles we fundamentally believe in, such as a united Europe that transcends borders. Working together, communicating between countries and cultures, and creating a common vision — all of that is more important to us than ever.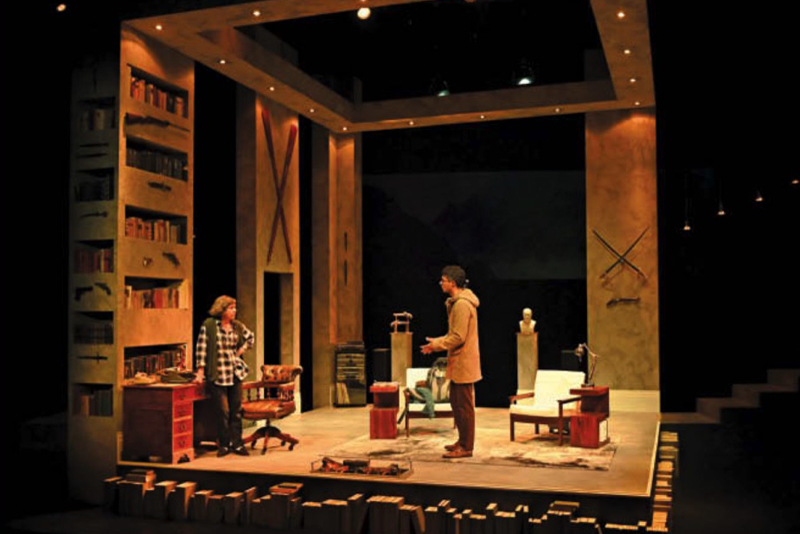 Karen Ascoe and Daniel Burke in Switzerland.
Photo credit: Martin Kaufhold.
Milestones for the ETF
Professionalizing our efforts through enhanced production values and varying the programming have brought acclaimed creatives and actors to the ETF. Tony Award winner Michael Aronov starred in the audience favourite A Streetcar Named Desire in 2009, and just a year later the German premiere of Spring Awakening with the Olivier Award-winning choreographer Drew McOnie dazzled audiences and critics. Broadway regular Deirdre Madigan, who had just appeared in the Joe Mantello-directed Hillary and Clinton, starred in our 2010 production of Who's Afraid of Virginia Woolf? The Who's Tommy in 2011 was seen by 52,600 guests and was the first ETF production to go on a national tour. When Oscar Wilde's grandson Merlin Holland came for the opening of Lady Windermere's Fan in 2002, a long-term friendship was born. The ETF gained a wonderful advocate, who has joined us for openings, readings, and talks several times over the years.
The ETF also introduced a phenomenal director, Ryan McBryde, to the German theatre scene. He went on to direct at the municipal theatres in Stuttgart and Trier and is now the creative director of the Mercury Theatre in Colchester, UK. Collaborations on numerous productions with Jonathan Fox, artistic director of the Ensemble Theatre Santa Barbara, broadened our dramatic horizon, bringing intercontinental flair and American talent to Frankfurt. The longstanding friendship with British director Tom Littler has not only culminated in seven productions at the ETF but also resulted in one of our shows being exported back to London. And in another first, The Hound of the Baskervilles (directed in 2017 by Lotte Wakeham, who is now the artistic director of the Octagon Theatre in Bolton, UK), a production cast and rehearsed in London, opened in Germany, only to return to the British capital after its run in Frankfurt was over. Littler, by then artistic director and executive producer of the Jermyn Street Theatre in London, had fallen in love with our Hound and invited us to transfer it to London.
It's always a pleasure to surprise our Frankfurt audiences with a German premiere, and we are lucky to have presented some great firsts. In 2014, the opening of Ghost — The Musical, directed by Adam Penford (now artistic director of the Nottingham Playhouse), was celebrated as a coup in the European musical landscape. The industry was surprised that instead of an international touring company, the ETF managed to land the rights and stage such an ambitious production. We take special pride in having presented the German premiere of Lucy Kirkwood's eco-thriller The Children just in time for the global Fridays for Future movement in 2019.
Guests from Tomorrow
One of my favourite ETF memories is a debate we organised between the actors performing in The Children, all senior citizens, and several students who attended a matinee. The debate was focused on environmental issues and on one generation taking responsibility for the next, as described in the play and as Fridays for Future supporters were demanding. One of the highlights of producing contemporary theatre is being able to interact with different generations and different audience groups on socially relevant topics.
l believe we are the only privately-run theatre in Germany that funds an educational programme. We are proud of having offered teaching events for young theatre audiences for over fifteen years. This has allowed schools to develop a lasting commitment to the ETF. Our different programmes (matinees, Plays for Young Audiences, talkbacks, educational material for before and after a visit to the ETF, workshops, creative projects) are developed by our educational department and often include native English-speaking actors or creatives.
The students learn in a playful way how to be at ease in a foreign language, how to develop stage presence and self-esteem, and how to stand their ground when interacting with others. As a space for both passive and active learning, theatre is a cultural medium in which young people from highly diverse backgrounds can express themselves and get to know each other as equals. An enjoyable link is made between intercultural learning and the social integration of young people from non-native backgrounds. English is a neutral language that unites students of all nations. But above all, as an extracurricular learning space, theatre is fun!
Simon Kane and Max Hutchinson in The Hound of the Baskervilles.
Photo credit: Martin Kaufhold.
What Comes Next
Even during the pandemic, we managed to create theatre. After quickly shutting down all our productions, we stood back for a while, regrouped, and contemplated the measures needed for realizing live theatrical events in the current situation. We developed a hygiene concept, including a one-way system for entering and exiting, installed Perspex barriers to shield guests and staff members, and ensured social distancing by reducing our capacity to about one third of our regular audience. With these measures in place, we were able to stage our youth production Huck Finn during a test run over the summer — a production that couldn't be more relevant, since it addresses the issues of racism and intolerance.
We optimistically opened our regular season last fall with the thriller Switzerland. Cast and creatives were quarantined and tested, then proceeded to work in a social bubble, bringing Patricia Highsmith and her most famous character Mr Ripley to our Frankfurt stage. Opening a safe live theatre production — split into three red-carpet events, each with a smaller, distanced audience — was an emotional experience for the entire ETF team. Even after the Switzerland run was cut short by the second lockdown, we moved forward with our next production, Secret Life of Humans, staying within the bubble and keeping everything safe for our team. As a result, we now have a production ready to go, one we are eager to bring to a culturally starved audience as soon as it is safe to do so.
Of course, we also are continuing our educational programme for young people. After the 2020 summer break, our school partnership started again — mostly online, but also in face-to-face meetings that adhered to all the relevant hygiene and distancing measures. Now, we are safely rehearsing Malala: A Girl with a Book for our young audiences. In this amazing play about the young human rights activist Malala, recipient of the Nobel Prize, British author Nick Wood presents the life story of a courageous young woman while confronting tensions within himself. Can a "middle-aged, middle-class white man" even begin to grasp the life of a Pakistani girl? ls he entitled to an opinion on Islam? Putting himself in the middle of the play, Wood introduces us to Malala Yousafzai and her life through his own eyes. We intend to share this powerful story of hope with our young audiences in late spring.
ln parallel, we are planning our next season, which will offer plenty of entertainment and comic relief. The next months, however, will present more challenges than simply keeping up to date on hygiene standards and audience-size requirements. People will have to be coaxed back to live events and helped to overcome their fear of infection. The return to live entertainment has to be organized in a thoughtful and safe way, an effort that must be communicated to our audiences as we go along. Along with everyone else in the world of theatre and live entertainment we have our work cut out. But we would not be the English Theatre Frankfurt if we didn't rise to the challenge and simply get on with it.

English Theatre Frankfurt. Streetcar advert.
Photo credit: Ernst-Stratman.