South-west UK: Creche and training ground for original drama
Crysse Morrison
5 June 2022
Theatre in the south-west has never limited its role to accommodating and promoting touring shows: Bath and Salisbury and notably Bristol have commissioning theatres that play a major role in the activity of live theatre in the UK.
Birthmarked. Photo credit: Crysse Morrison.
Bristol Old Vic, for example, continued to find ways to foster talent throughout both lockdowns: The Meaning of Zong was developed initially as a play for radio before arriving dramatically on the main stage in April this year, to huge acclaim. This topical drama about nineteenth-century slavery, and the use of deliberate drownings to claim insurance on the 'cargo', was the debut play of Giles Terara, developed to explain the background to those who didn't understand why Colston's statue had been pulled down. This innovative drama, once it was being staged live, went on to the Royal Lyceum Theatre in Edinburgh and the Liverpool Playhouse.
Bristol Old Vic has also conceived Mayfest, internationally acclaimed as a 'trailblazing festival of contemporary theatre' on a pay-what-you-can model of audience access. Organizers MAYK describe their brief for this two-week celebration of new drama, in the main house and other arenas, as 'to work with artists to imagine, create and present new live experiences for audiences everywhere. From one-on-one performances to large-scale co-created work, our projects are presented around the world.'
This year the most remarkable of these excellent experimental shows is undoubtedly Birthmarked. Sally Cookson, a significant name in the world of theatre for her direction of major productions at Bristol Old Vic, joined the creative team of Birthmarked after the show's first outing at the Wardrobe Ensemble's Theatre on the Downs last summer, seeing the potential of this extraordinary tale for a bigger arena and a wider audience.
Birthmarked is the true story of Brook Tate, born into a Jehovah's Witness family and an active messenger for the cult until discovering his gay identity precipitated expulsion and reappraisal. Brook relates the tale direct to the audience, performing his own songs supported by his (actual) band of new friends, with props like a vast whale – which has notionally swallowed us all – and a mix of fantasy, pantomime, feel-good storytelling, and boundary-breaking devices like total costume change centre stage as part of the show.
Bristol's Wardrobe Theatre is no stranger to smash hits from local talents. Throughout lockdown, the Wardrobe team provided online interactive detective-comedy shows – parody whodunnits with preposterous solutions that the audience had to sleuth from clues in separate zoom-rooms. (I was never right in my guesses, but always enjoyed the camaraderie and the sleuthing.) With initiatives like these, and a constant variety of risk-taking experimental shows from young creatives, it's not surprising that the Wardrobe provides a constant stream of talent for Bristol and the rest of the south West.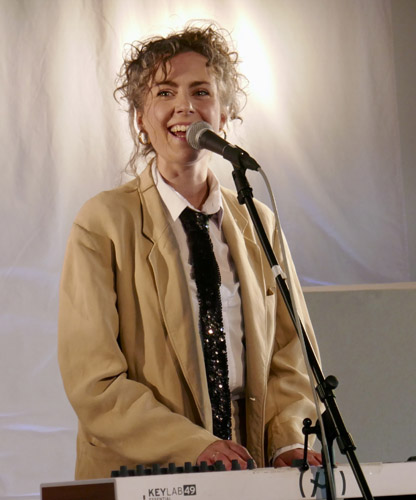 Amy Webber.
Frome's Merlin Theatre, whose director Claudia Berry is also an award-winning producer, is especially keen to nurture young talents. "I want Merlin to be known as a creative hub and a go-to place, for young people in particular" she says. "I see this as a grass-roots place where we support and mentor them, and they can go off and make a career in the arts."
A prime example is local young company Black Hound whose current production The Predicament of Jackson Scott was premiered in the theatre and is now headed for Edinburgh. Black comedy doesn't get much more Stygian than this – a warning of strangulation, blood, physical struggle, murder, scenes of a sexual nature, and grief is handed to audience at the door – but this one-act show is outrageously funny with energetic physicality and slick staging. On a set that's half-nightclub, half-nightmare, with a bed that doubles as a grave, Jackson (Yves Scott) is squeezing Ted (Luke Ashley Tame) to death as the play opens. Ted doesn't take this lying down, and neither later on does his sister Bernice – outstandingly well played by Mia Macleod – so the hapless haunted murderer has double the number of persistent visions than even Macbeth had to cope with. It's written by Josh McGrillen and directed by Lex Kaby, with set design by creative producer Patrick
Withey.
Also in Frome, Morag McClaren, opera singer, director and coach, owns and runs Cooper Hall as a fully-equipped venue for small events, and focuses on helping young singers at the early stage of their professional careers. Recently Amy Webber, a classically trained opera singer with experience in the comedy circuit, used this residency to develop a highly entertaining one-woman show, based on her own determination to find a niche, that will ultimately be heading for the Edinburgh Fringe. With forward-looking promoters and theatre producers like these, and no shortage of talented, passionate performers, the south-west is definitely proving itself a hothouse for emerging dramatic talents.