"The Pillowman" at Duke of York's Theatre
Neil Dowden in the West End
27 June 2023
With a premiere at the National Theatre starring David Tennant in 2003 (winning the Olivier Award for Best New Play), The Pillowman was a real departure for Martin McDonagh. As well as being his first standalone play after two trilogies, it was the first not to be set in the west of Ireland. Indeed, the setting of this dystopian thriller is deliberately opaque, but it seems to take place in a future police state. Twenty years on is a good time to reassess a work written at the height of in-yer-face theatre, but while Matthew Dunster's solid revival reinforces its menacing comedy it doesn't shed any new light on this dark tale despite gender-swapping the lead role, with pop-star-turned-actor Lily Allen playing an enigmatic storyteller.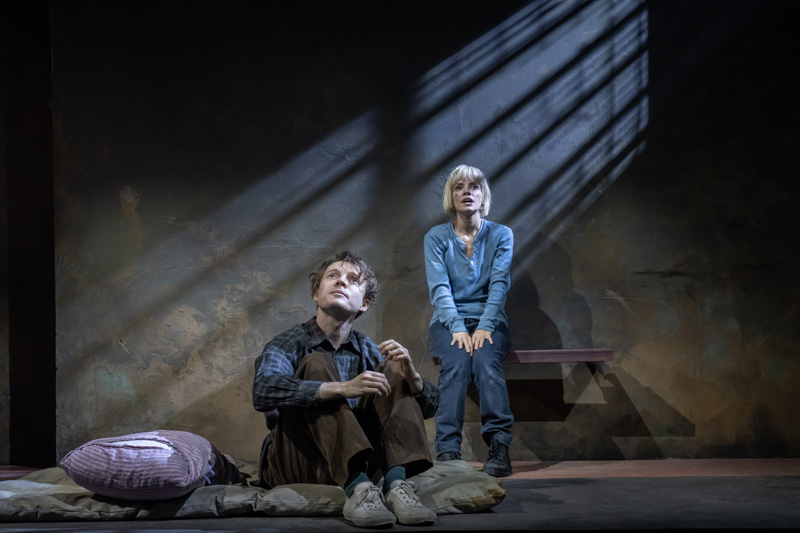 Matthew Tennyson and Lily Allen. 
Photo credit: Johan Persson.
In a Kafkaesque beginning, writer Katurian is being interrogated by police for an unstated crime. Katurian fears her work may have been misinterpreted as an allegorical attack on the government. But it turns out that the "good cop/bad cop" combo of Tupolski and Ariel suspect Katurian of being involved in the gruesome murder of three young children as the details closely resemble stories Katurian has written. Katurian proclaims her innocence, revealing how a preoccupation with violence towards children stems from the prolonged torture of her younger brother Michal by their parents (whom she later kills).
In a bitterly ironic twist, the tortured Katurian is slung into the same cell as the mentally disturbed Michal and is horrified to hear that he has confessed to the murders blaming Katurian for inspiring him by reading out the stories. Realizing they are doomed, Katurian comes up with an extreme plan to stop the stories from being destroyed.
The Pillowman is a fascinating and unsettling meta-theatrical experience, with layers upon layers of storytelling – and sometimes, it has to be said, it feels like we are in a postmodern, hermetically sealed labyrinth where truth is an illusion. Apart from the main drama, some of Katurian's own stories are read out while others are enacted, including "The Writer and the Writer's Brother" which is based on the "true story" of Katurian and Michal's own traumatic upbringing but with a different ending.
"The Tale of the Town on the River" references the legend of the Pied Piper of Hamelin, while overall the tales seem like (even more perverted) versions of those by the Brothers Grimm or Heinrich Hoffmann but without their superficial moralizing. The murky ambivalence is typified in the "title story" "The Pillowman" in which the eponymous figure travels back in time to persuade children to commit suicide in order to avoid a life of suffering.
Paul Kaye and Steve Pemberton.
Photo credit: Johan Persson.
McDonagh later explored the sinister elements of fairy tales in his nightmarish postcolonial satire A Very Very Very Dark Matter about the secrets in Hans Christian Andersen's attic. The Pillowman too adds a more fantastical surreal tone to McDonagh's trademark blackly comic quickfire dialogue. But here the subject-matter is not so much political as philosophical. Although there are hints of a totalitarian regime, the protagonist is not a political dissident with an ideological agenda, but someone who is using artistic imagination to confront the horrors of their past life.
McDonagh deliberately muddies the water: it would have been much more straightforward to have created a high-minded writer who becomes a martyr for free expression, but the objective worth of Katurian's work is highly questionable with its obsessive concern with cruelty to children representing more a form of personal therapy – and indeed they have only had one story published. McDonagh revels in all the moral ambiguities.
Dunster (who previously directed McDonagh's critical and commercial hit Hangmen as well as Allen's stage debut in 2:22 A Ghost Story) handles the play's complex ideas adeptly in a show that balances claustrophobic suspense with provocative humour. Anna Fleischle's impressive design moves between a seedy interrogation room with the blinds drawn and a cell where the bars on the window are silhouetted on the bare stone wall, as well as evocative picturebook visions of horror stories.
In only her second professional stage appearance, Allen (an accomplished storyteller herself in music) does well in suggesting Katurian's anxiety when under arrest but does not plumb the depths of the character's warped pysche in a performance that lacks intensity – it is difficult to believe that they would go to any lengths to save their stories.
Former League of Gentlemen Steve Pemberton is very funny as the brutally efficient Tupolski who executes his professional duties with ironic detachment, in contrast with Paul Kaye's hilariously thuggish Ariel who loves to get his hands dirty while making an emotional connection to the abuse of children. And Matthew Tennyson gives a convincing portrayal of the childlike Michal as someone irreparably damaged who can no longer understand the difference between reality and fiction.
.
.
~