"A Very Very Very Dark Matter", Bridge Theatre
Jeremy Malies on the South Bank
25 October 2018
Martin McDonagh's new play A Very Very Very Dark Matter depicts the fairy-tale writer Hans Christian Andersen in a Copenhagen attic in which he has imprisoned Mbute, a Congolese woman who is in fact the true author of all his stories. Andersen has zero empathy with children and makes a trip to London to see Charles Dickens where it transpires that a sister of Mbute has written all the novels attributed to Dickens. Unless my sentences are unclear here you need not reread any of this thinking you have misunderstood it. McDonagh's disastrous new work really is that bizarre and every bit as disjointed as this summary suggests.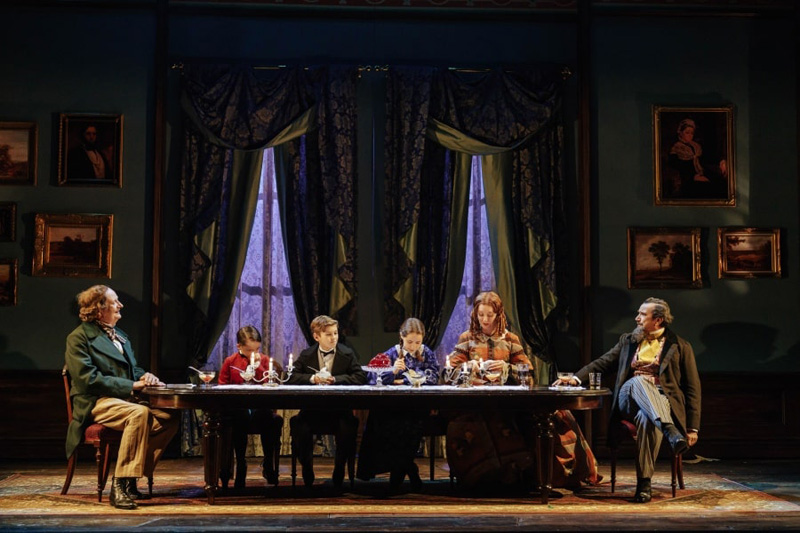 The ensemble. Photo credit: Manuel Harlan.
McDonagh takes a weird post-colonial viewpoint in which a clunky overarching metaphor likens the Belgian exploitation of natural resources in the Congo (now Democratic Republic of the Congo) to plagiarizing the work of people you have enslaved. The problem is that Andersen was, err, Danish, and both he and Dickens were dead before King Leopold II of Belgium began his raids for rubber and copper in the late nineteenth century. To adjust for this, we are given some time travelling and bloodied Belgian men appear as portents of the coming massacres.
Jim Broadbent is a spit for the real Andersen and compelling as he spews racist jokes, revels in his fan mail, and turns out to be narcissistic and sadistic. Broadbent is generally two-dimensional and a caricature but that is the part in terms of the dialogue. McDonagh's treatment of his main character is unfair. Unlike the brothers Grimm who were merely collectors of folk tales, Andersen devised all his own plots. He was insecure, sexually confused, quarrelsome, and on record as loathing his fellow Danes. He could be boring and exasperated the Dickens family while staying with them. This real-life event is in the play and is at times genuinely amusing with Phil Daniels as a foul-mouthed Dickens.
But for McDonagh to hitch a ride on Andersen and then depict him as a monster (even for broad surreal effect rather than biography) strikes me as underhanded. If there were more laughs, I would be less judgemental. The anachronisms grate, especially when they are simultaneously tasteless. It's a running gag that Dickens is libidinous, but I baulked at hearing a child actor say: "Is Daddy banging the broads again, Mummy?"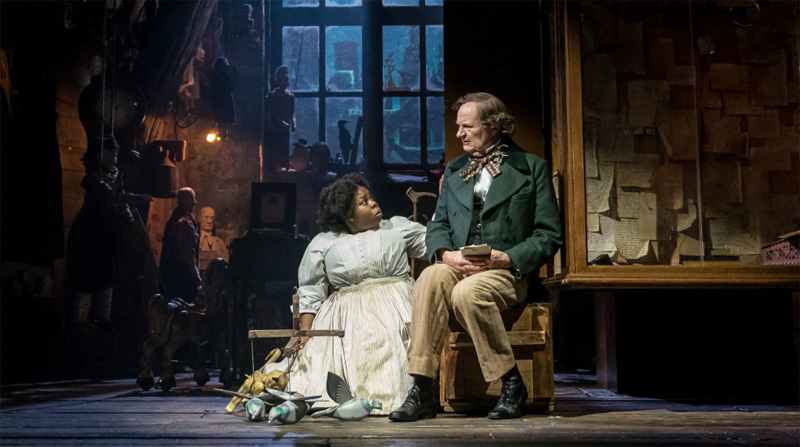 Johnetta Eula'Mae Ackle and Jim Broadbent.
Photo credit: Manuel Harlan.
There are some real takeaways, notably Johnetta Eula'Mae Ackles as Mbute, Andersen's prisoner, making her professional debut. She invests her character with nuance, dignity, watchfulness, and a relish for language that suggest she might just be the source of all this imaginative output. The actor will probably find a better vehicle for her next assignment.
The other outstanding element is Anna Fleischle's cavernous loft set design with hanging marionettes in the eaves that seem about to descend on you and also an evocative computer-generated backdrop of Copenhagen.
But Matthew Dunster's direction imposes no order or discipline on a piece of writing that seeks to shock and yet ultimately proves lazy and full of tired jokes imported from previous plays. Does Dunster (who worked brilliantly with McDonagh on Hangmen) really think that he and his creative team are approaching colonialism responsibly? I get it that fairy tales are usually nasty and can show human nature at its worst – I'll never forget Emma Rice's grisly version of Andersen's The Red Shoes for Kneehigh Theatre. By contrast, McDonagh's edginess simply misfires here.
As a Tom Waits junkie, I had been intrigued to read in the publicity blurb that it is he doing the voiceover narration. His gravelly tones are seductive, but if Waits ever views the whole project he could ask, to quote one of his song titles, "Is there any way out of this dream?"
This was a tough hour and a half without an interval. My review assignments at the Bridge Theatre, still very much a new London venue, have been Barney Norris's underwhelming Nightfall and now this misguided bravado. There seemed to be much forced bonhomie from the acting and creative community at press night contrasted with scepticism from reviewers who felt this was a case of The Emperor's New Clothes. Now who's that by?
.