"I'm Not Running", National Theatre
Jeremy Malies on the South Bank
10 October 2018
Sir David Hare's I'm Not Running which had its world premiere at the National Theatre follows one-time university lovers Alex Hassell and Siân Brooke across a 20-year time scale during which they both become MPs, he the career politician with the astute lawyer's mind, she the compassionate feminist standing as a single-issue independent candidate. I found it a clunky ride.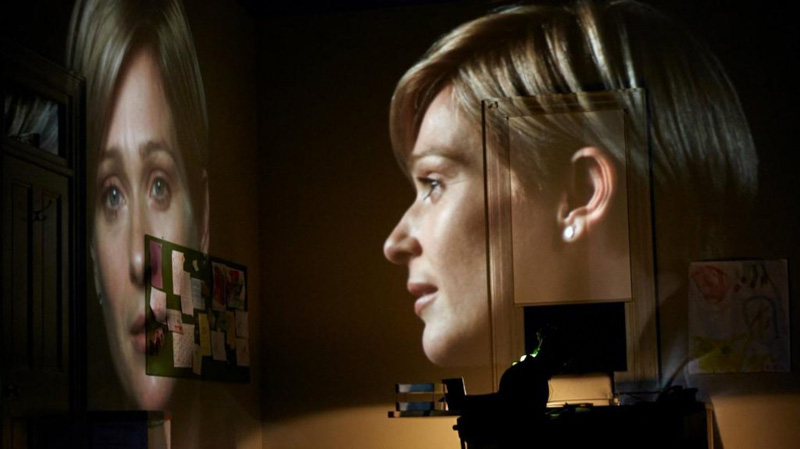 Sian Brooke as Pauline. Photo credit: Mark Douet.
Brooke's character, Pauline, begins as a medical student and progresses to a senior doctor who will not see her hospital close and uses this as a springboard into Parliament. The title comes from the protracted plotline as to whether she will make a bid to lead the Labour Party. Hassell's character, Jack, is parachuted into a safe northern seat straight from his law practice and, in one of the few strong scenes of the play, his poverty-stricken constituents express their contempt for him in the manner of a Greek chorus commenting on the state of the nation.
Hassell consistently out-acts Brooke though he has the better jibes as the pair resort to verbal dogfights while going over old grievances. "Feminism is such a crap default position." Brooke is given little ammunition by way of truly resonant lines in return. As a performer, she fails signally with a major scene in which the playwright depicts her in a state of heightened awareness to the natural world. Director Neil Armfield (taking one of his few risks of the evening) places her on the very edge of the Lyttelton stage to describe the experience but I still couldn't muster any empathy during an interminable speech. In scenes requiring emotion, Brooke simply erupts on cue; the notion of slow-burn reaction to threats and frustrations seems alien to her.
I longed to be more involved, and the vital social relevance of the material cannot be questioned. In one of the better exchanges, Jack makes the point to Pauline that not every hospital can survive and as clinical specialisms develop, it makes sense for patients to spend more time in the ambulance if that means getting the best treatment. Not every town can have a hospital covering every aspect of medicine. But if Sir David wants to argue along these lines surely a newspaper column would be a better vehicle than a play? Earlier in his career, he has deftly placed nuanced arguments about Middle East wars into idiomatic dialogue. That gift seems missing here and even Bernard Shaw couldn't get away with using drama as a rack on which to hang complex social ideas without depth of character.
A few figures are better drawn. We see Pauline in her home town berating her shabby alcoholic schoolteacher mother who, despite her inebriation, has a facility for quoting Shakespeare aptly. Liza Sadovy, the only naturally comic actor on the stage, extracts some of the few big laughs of the night here. You can also empathize with Joshua McGuire who brings detail and spontaneity missing elsewhere to the role of a put-upon campaign manager with a better understanding of party-political graft than his employers. A scene in which he is mobbed by a press pack and dead-bats their questions is a highlight. Set designer Ralph Myers impresses as he transforms the Lyttelton from student digs to hospital ward to Westminster office to a political rally.
I couldn't see a great deal of overall merit here and if Sir David is trying to satirize Corbynistas he doesn't lay a glove on them. He may have been distracted by other topics which cover a gamut from creation myths to Islamic fundamentalism, male sexual hypocrisy to partner rape within stable relationships and even FGM. Is this really the dramatist who only a few years ago matched Rattigan for wit when commissioned to write a companion piece for The Browning Version and who had city financiers marvelling at his ability to conjure up their world and skewer its villains in The Power of Yes? The action covers 1997 to 2017 with four stopping points but even the shifts in timeframe seemed lumbering.
Back to the title, I'm Not Running. Does Pauline run in the Labour leadership election? The play continues until the end of January 2019 and the outcome is best kept under wraps though her pending decision eventually became a matter of complete indifference to me. Too many themes, too many locations and not enough gags.
.