"The Old Man and the Pool" at Wyndham's Theatre
Mark Shenton in the West End
18 September 2023
The New York-based comedian, author, filmmaker, and podcaster Mike Birbiglia specializes in autobiographical monologues that enable him to put his own life centre-stage in all its neurotic, somewhat narcissistic, glory. But he is such a superb storyteller and communicator that he makes a bigger picture out of the detailed self-portrait he paints.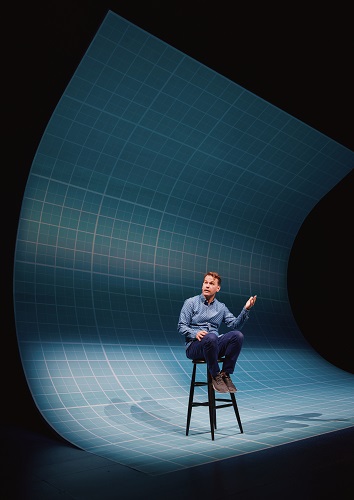 Photo credit: Emilio Madrid.
In three previous solo shows, two of which were seen off-Broadway, while the third one and this got Broadway runs, he has built up a following that has now seen his producers confident enough to bring him to the West End, though he's barely known over here. He has the relaxed, affable ease of a seasoned stand-up, but this artfully scripted show has an accumulation of telling detail that keeps you gripped as if you're watching him like a character in a play of his own life.
As in earlier shows – the first of which chronicled his tendency to sleepwalk – he is concerned with the minutiae of his physical health, and in particular a visit to his doctor which reveals a high risk of heart disease, and also a diagnosis of type 2 diabetes. Both his father and his grandfather died of heart attacks at 56; and now, at just 45 but with a new young daughter to care for, he is forced to reappraise his priorities. However much he wants to resist it, he may need to embark on an exercise regime that his doctor suggests could include swimming.
This leads him to less-than-fond memories of childhood trips to a heavily chlorinated pool at his local YMCA – the chlorine essential to mitigate against the high urine content in the pool – and being confronted by dozens of adult penises at his then eye-level in the changing rooms. He finds rich observational and factual humour in this, and especially in an anecdote that gives the show its title, a very old man whose changing routine involves a lot of powder being massaged into his naked crotch.
But there's also a lot of tenderness about his family and the fears for his own mortality that makes the show immensely relatable. None of this is earth-shatteringly original, but the delivery is so charming that I was gripped, enchanted, and moved at the same time.
Performing on a stage dominated by a large curved wave by Beowulf Boritt, onto which projections by Hana S Kim summon different settings but primarily the tiled interior of a swimming pool, director Seth Barrish and lighting designer Aaron Copp modulate the pace and focus with tiny adjustments. Burbiglia's lovely show proves that we can all make bigger adjustments to our lives by facing ourselves so honestly.