"Scandaltown": Lyric Hammersmith
Neil Dowden in west London
23 April 2022
Mike Bartlett has become one of the few contemporary living playwrights to have three plays on in London simultaneously. Following on from a revival of his sexual identity drama Cock at Ambassadors Theatre and his speculative satire of the 2024 US presidential election in The 47th at the Old Vic comes another new play, Scandaltown at Lyric Hammersmith.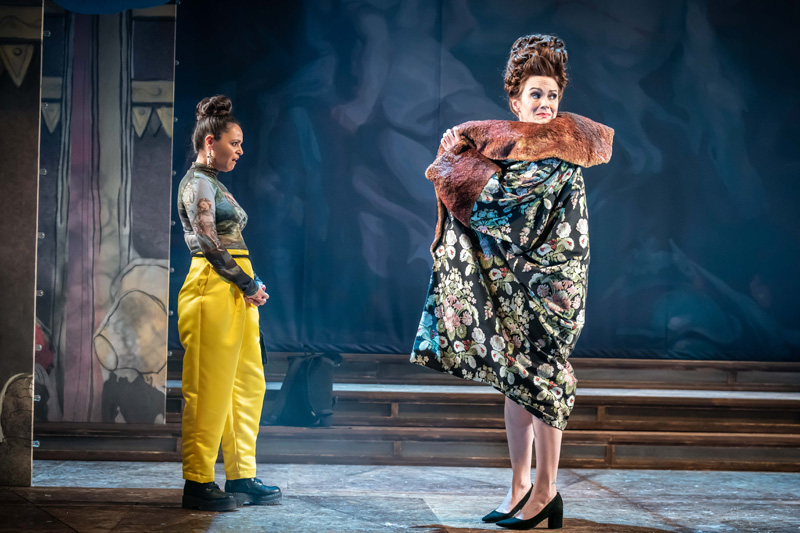 Aysha Kala and Rachael Stirling. Photo credit: Marc Brenner.
Whereas The 47th (like his future history play Charles III) used Shakespearean-style blank verse, Scandaltown borrows the format of a Restoration comedy by writers such as George Etherege or William Congreve to poke fun at lifestyles in the capital today. It could be compared to Caryl Churchill's city comedy Serious Money which lambasted the 1980s financial sector, though it is only partly written in rhyming couplets and lacks the same satirical bite. Scandaltown is entertaining enough as a comedy of manners but it comes across as a lightweight divertissement from a writer known for having his finger on the pulse of urgent social issues.
The slight plot is not to be taken too seriously. We see the naïve young Phoebe Virtue following her brother Jack from the north country to metropolitan London because she fears he has been seduced by its moral decadence, where in disguise as a man she becomes one of his housemates alongside a waitress and a charity worker in a bohemian set. Jack's lover Hannah Tweetwell is the social media consultant to the ambitious Lady Susan Climber, whom she hooks up with the Tory Secretary of State for Procurement Matt Eton, a married man with several kids. But at the Netflix Masked Ball mistaken identities lead to a reshuffling of sexual relationships and a series of revelations about the past.
Richard Goulding and Luke Hornsby. Photo credit: Marc Brenner.
Like Restoration comedy Scandaltown mocks social pretensions, greed and hypocrisy in a bawdy portrayal of sexual intrigue that avoids moralizing, but the former's subtle, sharp wit is all too often replaced by lame jokes at soft targets in a scattergun approach that could do with more focus. Indeed, the humour is so broad that the show strays towards pantomimic excess. Bartlett mashes up modern-day vernacular with stylized period dialogue, as well as soliloquies and asides, which sometimes works well but tends to be mildly amusing rather than laugh-out loud.
There is gentle fun made of the differing social attitudes of boomers and millennials (an intergenerational conflict more cogently explored in Bartlett's Love, Love, Love) and of the new puritanism of the snowflake generation (more sympathetically portrayed in his play Snowflake), but no new insights into the culture wars. There are casual references to the pitfalls of ubiquitous social media and the political mishandling of the pandemic including Partygate (as well as to The Apprentice and Dragons' Den), though jibes at the likes of Nadine Dorries and Andrew Neil seem rather lazy. Although the underlying idea is promising, the disappointing execution feels like a missed opportunity.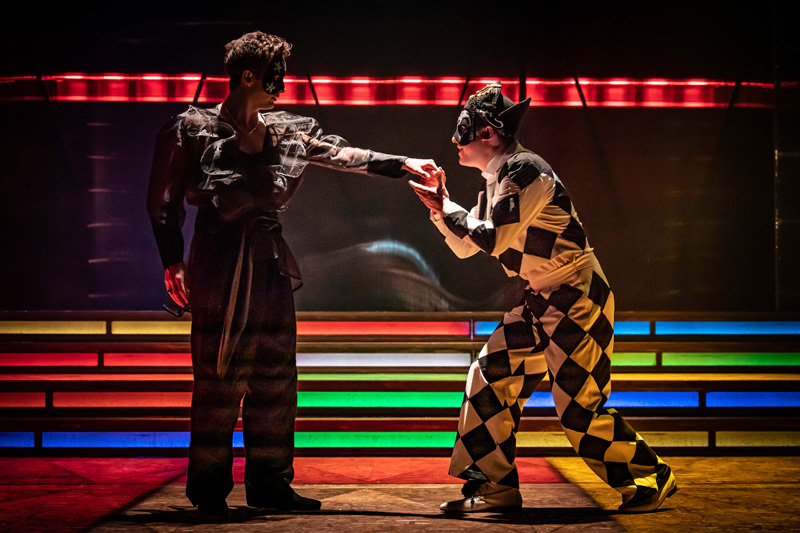 Luke Hornsby and Richard Goulding. Photo credit: Marc Brenner.
Rachel O'Riordan's exuberant production ensures the action proceeds swiftly on a proscenium-arch stage well suited to the artifice of the genre. It is boosted by the self-consciously theatrical set designs of Good Teeth, including painted skies and velvet drapes, and especially by the extravagant, colourful costumes of Kinnetia Isidore that climax in the masked ball when three harlequin-garbed figures create all kinds of confusion.
The 12-strong cast (often playing characters with emblematic names) give full-throttled performances. Rachael Stirling is wickedly funny as Lady Susan Climber, a fame-hungry vamp who doesn't let any ethical responsibilities get in her way of clambering up the social ladder. Aysha Kala is her PR adviser Hannah Tweetwell hired to increase her online exposure, while actually intent on humiliating her in public in revenge for previous mistreatment. Richard Goulding is hilarious as the entitled Matt Eton (a composite of Boris Johnson, Michael Gove, and Matt Hancock) who is tempted to change sides both politically and sexually after an unexpected assignation. Matthew Broome makes an assured professional stage debut as the weak-willed, coke-snorting Jack Virtue lost in hedonism. And Cecilia Appiah plays the unworldly, morally uptight Phoebe (and an amusingly laddish alter ego) who finds out about sordid reality and her own burgeoning sexuality when she arrives in the metropolis where both perils and opportunities abound.