"Cock": Ambassadors Theatre
Neil Dowden in the West End
18 March 2022
Mike Bartlett made his name with the Olivier Award-winning Cock at the Royal Court Theatre Upstairs in 2009, which is now superbly revived by Marianne Elliott in the West End. The play is a painfully funny and psychologically astute examination of sexual identity and relationships which remains compelling despite considerable changes in our society since its premiere. It revolves around a love triangle in which a gay man and a straight woman compete for the attentions of a man who cannot make up his mind about "what" he is and who to commit to. Cock cogently poses the question: do we need to classify our sexuality?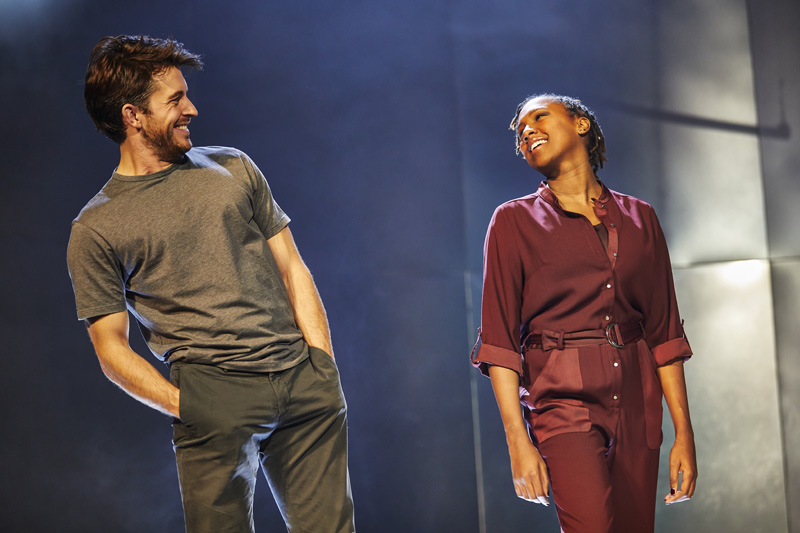 Jonathan Bailey  and Jade Anouka. Photo credit: Brinkhoff-Moegenburg.
The scenario is simple, but the issues are complex. John has been living with his partner M (man), a stockbroker, for seven years but is dissatisfied with their relationship. After meeting W (woman), a divorced classroom assistant, he starts an affair with her – his first heterosexual liaison. The climax comes (forgive the pun) in a nightmarish dinner party held by M to which he invites John and W, as well as (unbeknownst to them) his own father (F) for moral support, which turns into a confrontational showdown.
The problem is that John does not have a clear sense of his own self (ironically, as he is the only character given a name, though we never learn his occupation) and therefore remains indecisive, promising each lover he will stay with them before having doubts. His self-described "stew" is another way of suggesting a fluid sexuality whether bisexual, pansexual, non-binary, or whatever. Of course identity politics has become a hotbed of contention in recent years – including gender, which isn't the focus of this play. But Cock is not just about the difficulties of fixing sexuality but also about someone who is unsure on his commitment to a monogamous relationship which the others demand.
The mastery of Bartlett's writing lies in its teasing ambivalence. Our sympathies shift with the changing dynamics and power games between the three main characters. Are M and W trying to possess John – he thinks they regard him as a "trophy" – or is he manipulating them both by playing them off each other? M seems controlling, putting John down, but there's no doubt that he is emotionally dependent on John and is distraught at the thought of losing him after so many years together. W seems gentler and more affirmative with John, though after her failed marriage she is evidently keen to have a family and may see him as malleable. John can come across as self-obsessed and destructive, but also as genuinely lost and confused. Different productions can emphasize different aspects of the play and here John is presented as being stuck in a relationship with M which will probably become toxic.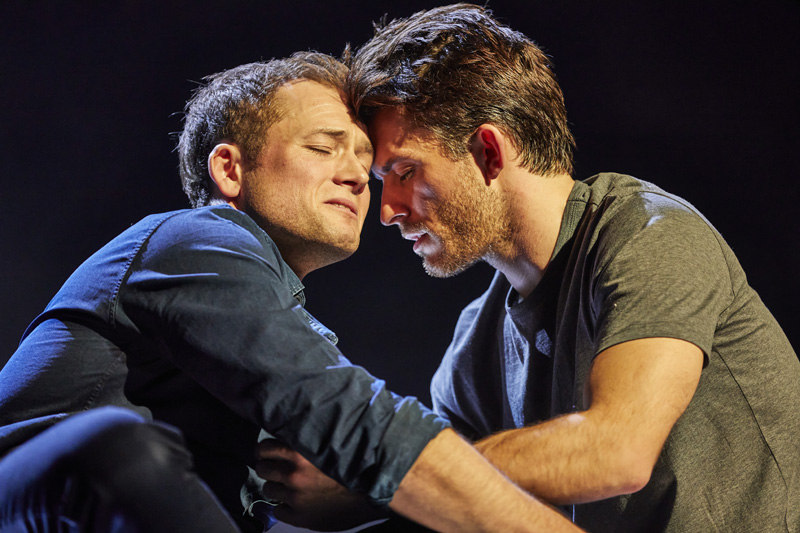 Taron Egerton and Jonathan Bailey. Photo credit: Brinkhoff-Moegenburg.
Elliott's edgy, stylized production captures both the cruelty and the comedy involved in this sexual cockfight. The cast usually suggest erotic encounters through gesture rather than direct physical engagement (as indicated in Bartlett's script), with a revolve used brilliantly to distance the performers, particularly in a hilariously awkward sex scene between John and W. At times the choreography even resembles modern dance (movement director Annie-Lunnette Deakin-Foster) especially when the actors are moving in between scenes. Merle Hensel's prop-less set features burnished steel walls with curving benches in which actors are reflected, intense industrial-style strip lights, and a revolving door as one protagonist replaces another in the merry-go-round.
The cast are terrific, really bouncing off each other. Jonathan Bailey (Bridgerton) is alternately engaging and exasperating as the self-dramatizing John, a man who loves to be the centre of attention but does not want his future to be determined by what others want from him. Taron Egerton [see note below] (Kingsman/Rocketman) strongly conveys both M's nastiness and his neediness. Jade Anouka is also excellent as the sensitive but assertive W, playing the most likeable character here. And as F, Phil Daniels brings more mayhem to the party as a protective father whose values may be more patriarchal than the egalitarianism he claims to believe in.
The prolific (and varied) Bartlett – arguably the finest British playwright of his generation – has two new plays premiering in London later this spring: The 47th, a verse drama about the 2024 US presidential election, at the Old Vic; and Scandaltown, a Restoration-style comedy satirizing contemporary London society, at Lyric Hammersmith. In the meantime, this thrilling revival of his first major play more than whets the appetite.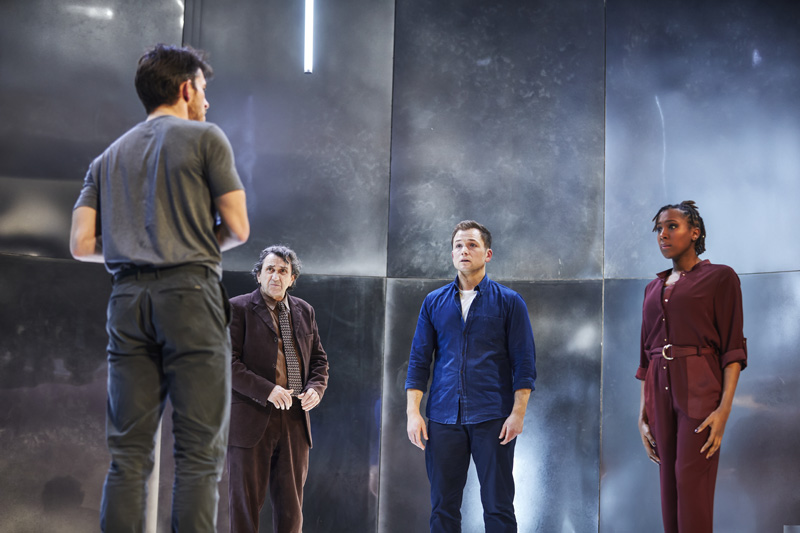 Jonathan Bailey, Phil Daniels, Taron Egerton and Jade Anouka.
Photo credit: Brinkhoff-Moegenburg.
Note: Since this review was written Taron Egerton has been replaced by Joel Harper-Jackson.