"Manor": National Theatre, Lyttelton
Julie Sorokurs on the South Bank
24 November 2021


Moira Buffini's Manor was initially set to have its premiere in 2020 but then became one of many productions put on hold due to the pandemic. Directed by Buffini's sister Fiona, this ambitious production tries for all the intrigue and spectacle of a melodrama and ghost story, while also attempting a state-of-the-nation dark comedy. The resultant lack of consistency in tone makes for a very long two and a half hours.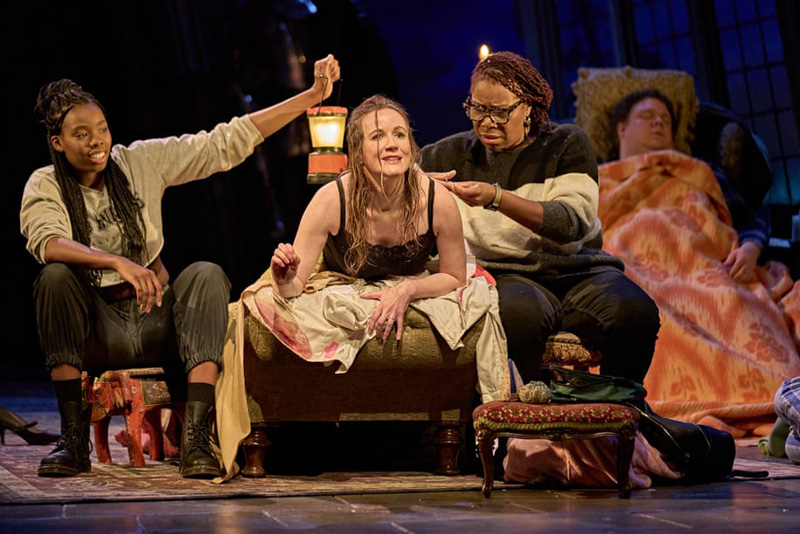 Shaniqua Okwok, Nancy Carroll,

Michele Austin and Edward Judge.

Photograph: Manuel Harlan.

Nancy Carroll plays "Lady Diana" Stuckley, the owner of a rundown manor house that barely provides a source of income (only whenever the wedding barn is booked, or when the monthly tour of the estate takes place). As a storm gets under way outside, Diana becomes the reluctant hostess of a conveyer belt of increasingly unlikely guests seeking shelter under her decaying roof. She must also make sure that they steer clear of the kitchen, where the body of her dead husband Pete lies on the kitchen table (spoiler alert: he's not really dead).

The play begins with the thunderous crack of lightning and menacing bass guitar of the Nick Cave and the Bad Seeds song "Tupelo". We first see Pete (Owen McDonnell) here, high on magic mushrooms and playing air guitar to Cave's strained growl recounting the story of Elvis Presley's birth during a rainstorm in Tupelo, Mississippi, all while a gorgeous and sprawling set is slowly revealed to us from behind a retracting screen (Lez Brotherston's gothic aesthetic). It's at the top of the wide wooden staircase that Pete meets his presumed demise, after an altercation with Diana sends him tumbling down it.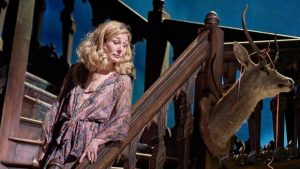 Nancy Carroll as Diana .

 Photograph: Manuel Harlan

Neither Diana nor her daughter Isis (Liadán Dunlea) seem convincingly affected by Pete's death, however; they are instead much more concerned about their kindly vicar Dominic (David Hargreaves) and two strangers from south London – a black nurse called Ripley (Michele Austin) and her daughter Dora (Shaniqua Okwok) – accidentally coming upon it. But the dramatic focus of the play begins to meander and thin out considerably with the introduction of three additional houseguests, one of whom is Ted (Shaun Evans) – the leader of the far-right group Albion.
Ripley recognises Ted and his crew immediately but nevertheless tends to their wounds when one of them turns out to have been hurt in the storm. Ted, meanwhile, focuses all his energy and charisma on Diana as well as on yet another visitor to the manor, the recently unemployed Perry (Edward Judge). Soon enough, Ted convinces Perry that he lost his job through the fault of his Pakistani manager at Sainsbury's. This is one of only a handful of scenes in Manor where the tension builds and holds to great effect – Perry is both troubled and desperate, as are so many of the people to whom groups like Albion are a source of salvation.

As engaging as Carroll and Evans are as Lady Diana and Ted, there's very little in the script for either of them to establish any sort of dynamic with one another. For all the "will they or won't they" exchanges they have, and even the passionate embrace they eventually share, not for a moment does any of this establish any lasting dramatic tension. Diana might see in Ted a way out of her almost certain ruin, but her lack of interest or engagement in any of the other subplots that this play introduces makes it difficult for us to really feel invested in her character's journey. And all of this would be fine, if not downright entertaining, if it wasn't building up to a climax wherein Diana has to decide between what is right (defending the young Dora from Ted's attempts to frame her for a crime he commits) and what is easy (knowingly playing into Ted's lies and securing for herself some financial stability).

If Diana is as inseparable from her home as she claims to be at the start of the play, then Ted's fixation on it as the ideal setting for his movement to put down roots and "retake control" of England's imperial legacy also implicates Diana in being just as representative of England as the dilapidated manor. Boundless in her indifference and entitlement, Diana and her ultimate allegiances ought to be the overarching question of the play, but this is easily subsumed by the multiplicity of threads that Buffini sets out to weave.
 Shaun Evans as Ted.

 Photograph: Manuel Harlan