"Pygmalion" at the Old Vic
Jeremy Malies on the South Bank
26 September 2023
"This is an age of upstarts" is one of Henry Higgins's first remarks in Pygmalion. But the period in the Old Vic's revival is not Bernard Shaw's intended 1912, as director Richard Jones has brought things forward at least two decades. The line "Such nonsense, all this early Victorian prudery!" is left in and now has a retrospective tone as the high society characters reflect perhaps on their parents.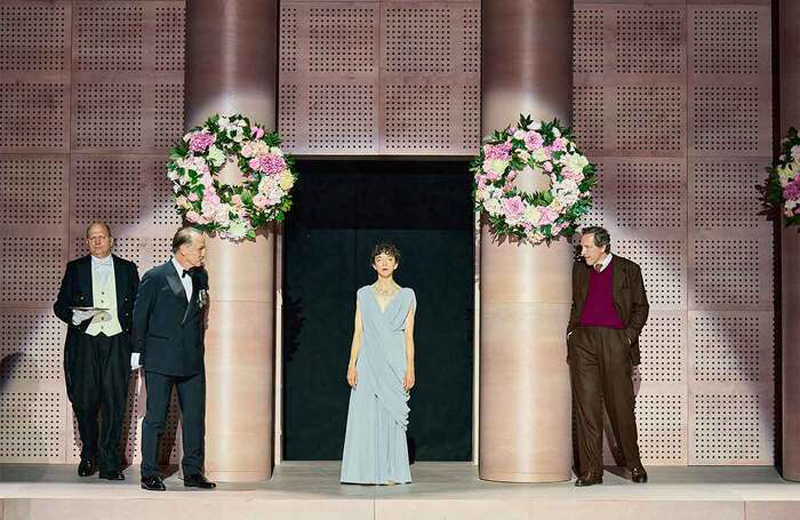 Steven Dykes, Michael Gould, Patsy Ferran and Bertie Carvel.
Photo credit: Manuel Harlan.
I could see no good reason for the change of setting other than to inject a dose of freshness and confound the expectations of jaded critics. But I was wowed throughout by the brilliance of the principals and the wit that Jones injects into even minor dialogue. For instance, Colonel Pickering is not (as glib evaluations of the text often claim) an underwritten part, but it took an actor of Michael Gould's quality to ensure he was not blown away by the charisma of Bertie Carvel as Professor Henry Higgins. Pickering's bluff gusto during the phonetics sessions is contrasted with the skill with which he reins in Higgins's excesses and builds the right kind of bridges between his friend and Eliza Doolittle.
Carvel plays Higgins as an asexual mother-fixated phonetician who can tell a Londoner where they were born to within two streets but is insensible to every piece of true affection and loyalty shown to him. I last saw Carvel on this very stage playing Donald Trump in Mike Bartlett's The 47th. The Donald was indeed born to a British mother who he often talks about, is phonetically aware being a good mimic during debates, and is demonstrably an ingrate. Asexual he is not!
Finding light and shade including self-doubt and even a few nascent feminist scruples to contrast the predominant misogyny, Carvel is mesmeric as he takes Eliza through her vowel sounds using his patented notation. The blackboards (pictured) for this are gargantuan, and for a while I thought the idea was that we were in a lecture theatre, but the penny finally dropped. To its credit, the Old Vic is intent on making sure that people in the gallery can see and appreciate everything that is going on. Elsewhere, Carvel is almost protean as, social simpleton or not, he spreads himself evenly at the ambassadorial ball.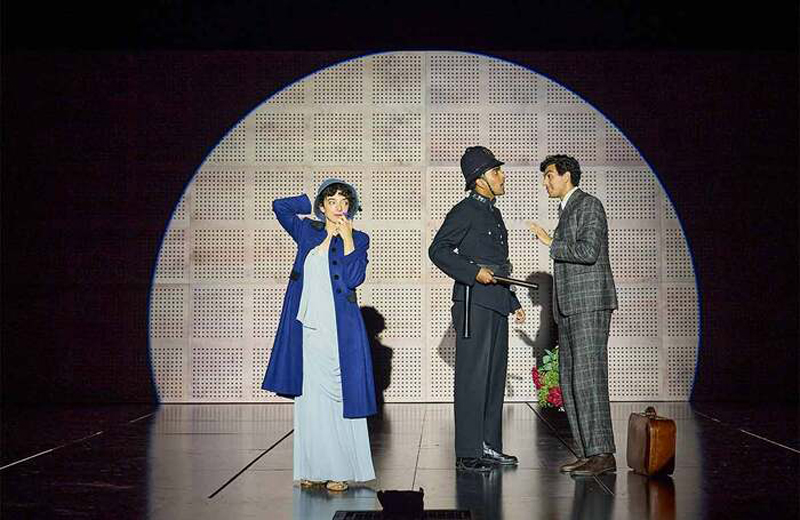 Patsy Ferran, Rohan Rakhit and Taheen Modak.
Photo credit: Manuel Harlan.
Stewart Laing's design is full of perforated boards which reminded me of a Meccano set with anything being possible. Only the two pillars of the Old Vic's proscenium arch were left visible. The Meccano approach allowed slick changes between acts as props such as Higgins's recording and playback equipment were simply hooked onto the backdrop. In keeping with the adjusted period, say the mid-1930s, the women often wear silk trouser suits and suggest characters in Evelyn Waugh's early novels – though Eliza is initially wearing an anorak and plimsolls!
Of all the actors I've seen playing Eliza, Patsy Ferran struck me as the most likely to prosper and be accepted as she leaves Wimpole Street after her elocution, not for the success of her social mountaineering but for her innate worth. Ferran, who adopts Chaplinesque postures, is compelling as she insists on her right to sell flowers, go about unmolested, and entertain an expectation of being loved. This of course is Bernard Shaw the social activist and polemicist at his most strident.
But elsewhere, the abundance of good gags – all of them maximized by Ferran – shows that like fellow Irish Nobel laureate Samuel Beckett, when he relaxes and is no longer dour, Bernard Shaw can be riotously funny. Ferran (who was surely miscast but performed creditably in the recent A Streetcar Named Desire) excels in the "small talk" scene as she and the playwright puncture the insincerity of high society as she teeters between her two personae.
Like Higgins's mother (Sylvestra Le Touzel), Eliza is intrigued to watch her elocution coach skewer himself with his own inept "big talk". The flourish and brio of her famed "Walk! Not bloody likely. I am going in a taxi …" brought proceedings to a halt for a minute as people stood to applaud. This did not help the evening flow but was a legitimate response to a stunning exit.
Le Touzel turns in a performance of subtlety and gradation in which her character is more appreciative of the high comedy she is seeing than anybody else on stage but recoils at the sight of her son and a fellow linguist treating the heroine as if she were a live doll. And yet she reacts with delight at Eliza's slang. Le Touzel pecks at a typewriter and is perhaps portrayed as a gossip columnist. There are elements in the transformation aspects of the plot that could come straight from our own reality TV shows. Mrs Higgins could be spreading small talk slang as though it were a present-day Internet meme.
Richard Jones has included music from the successful 1938 film of Pygmalion, (yes play not musical) which saw Bernard Shaw receive huge royalties in old age. Hugh Whitemore's semi-fictionalized version of Bernard Shaw talks about this in the wonderful epistolary play The Best of Friends.
Reflections on gentrification in our own times abounded with none better than Eliza's line: "Lisson Grove wasn't fit for a pig to live in!" With the cast batting down to number 11, a review could easily resemble a list, but one gift of a role was a highlight. John Marquez as Alfred Doolittle proved a torrent of judgements on middle-class morality that formed a comic equivalent of perpetual motion. For once I agreed with Higgins's aside to Pickering: "If we were to take this man in hand for three months, he could choose between a seat in the Cabinet and a popular pulpit in Wales."
This fresh production transformed to a different era has been mined for possible anachronisms which have been skilfully removed. Slightly irreverent, it sees Higgins being educated as much as Eliza. I think it would please Bernard Shaw's mischievous and feminist shade. Outstanding.