"Frank and Percy" at The Other Palace
Mark Shenton in central London
27 September 2023
In Harold Pinter's 1975 play No Man's Land two older men meet in a Hampstead pub and strike up an enigmatic friendship. As played by Ralph Richardson and John Gielgud, two of the most beloved actors of their time who were then in their 70s, it was a tour-de-force. There's an undercurrent of homosexuality at play, with references made to Jack Straw's Castle, in an area of Hampstead Heath that has been an infamous cruising ground.
Now something similar but also altogether different and unexpected is happening in Ben Weatherill's quietly radical Frank and Percy. Again two older men meet, this time while walking their respective dogs, Bruno and Toffee, on the Heath. Again they are played by two veteran actors: Ian McKellen as a still-writing academic sociologist called Percy, separated from his long-term partner, and Roger Allam as a retired history teacher called Frank, recently widowed after a long marriage.
Young writer Weatherill's gentle, wise, and utter charmer of play offers a really tender portrait of a gradual (re)awakening of Frank's gay sexuality (and his ready embrace of it) after his wife dies, as the relationship between them deepens and grows. There's eager laughs but also layers of real feeling.
Ian McKellen and Roger Allam.
Photo credit: Jack Merriman.
This is radical both in showing the still-active sex lives of two older gay men – in their 70s and 80s – but also in their delicate, guarded courtship and the companionship they find with each other, despite very different life experiences and (it turns out) beliefs.
Originally premiered at the Theatre Royal Windsor as part of director Sean Mathias's annual summer season there earlier this year, it is a lovely privilege to see two of our very best actors at the very top of their considerable game, at such close quarters as afforded in the very intimate confines of Victoria's The Other Palace.
McKellen – now 84 – refuses to slow down: two years ago Mathias directed him in the title role of an age-blind production of Hamlet, also at Theatre Royal Windsor, and last Christmas he did a West End run in the title role of Mother Goose that subsequently toured. Here he is again, bringing a naturalistic vigour and unexpected warmth to the curmudgeonly-seeming Percy.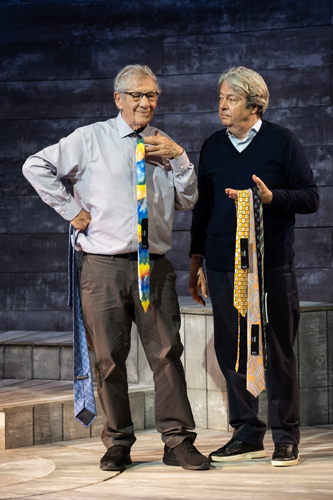 Ian McKellen and Roger Allam.
Photo credit: Jack Merriman.
And Allam – an actor equally adept at musicals (he was the original Javert in the RSC premiere of Les Misérables in 1985), classics (he's played Falstaff and Prospero, both at the Globe in 2010 and 2013 respectively), and new plays (he was in the original National production of Michael Frayn's Democracy in 2003) – is his affable foil, stumbling towards a different kind of emotional fulfilment.
Weatherill's episodic play takes place across 22 scenes on Morgan Large's wooden-platformed set, which cleverly reconfigures to provide different locations from scenes on the outdoor Heath to coffee shops and a hospital.
The play is a major landmark in showing just how much gay lives have changed over the last 40 years; and McKellen himself has been an integral advocate of change, as a founding member of Stonewall UK. It's truly heartening to see him still championing the cause in a play that warmly has him preparing to take his new partner on his first Gay Pride march. And as these two wonderful actors kiss passionately, without a murmur of disapproval in the audience, they're making another bold and inspiring statement that older men can also be represented sexually, without queasiness or unease.