"Beautiful Thing" at Theatre Royal Stratford East
Mark Shenton in east London
25 September 2023
In Jonathan Harvey's first big hit play Beautiful Thing, originally premiered in 1993, the two teenage boys who live in adjoining flats on a Thamesmead council estate make their first-ever visit to a gay pub in nearby Greenwich, after finding a listing for it in the pages of Gay Times.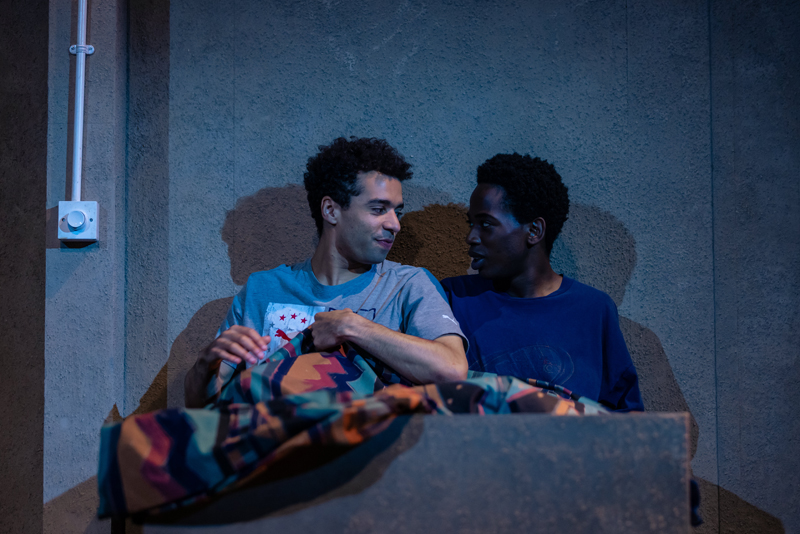 Raphael Akuwudike and Rilwan Abiola Owokoniran.
Photo credit: The Other Richard. 
That pub, the Gloucester, is still there, but under a different name and no longer as a gay venue; like many such physical spaces in the age of Grindr and other hook-up and dating apps, it has long been lost, but its past has not entirely been erased (in July, a Rainbow plaque was unveiled at the Greenwich Tavern, as it now is known). Much else has changed too in the intervening 30 years – Section 28 (introduced in 1988 to prohibit the promotion of homosexuality as "a pretended family relationship") has long been abolished, we've now got gay marriage, and AIDS is no longer a condition that is a fatal disease.
Yet this play, born in a very different, less tolerant climate is still a powerful rallying cry for the normality of gay relationships, as it daringly charts the growing romance between a 15-year-old and his 16-year-old football-loving neighbour. What's more, this anniversary revival – co-produced by Stratford East with Leeds Playhouse and Manchester's HOME, where it will play after London – further amplifies the universality of its story by casting two non-white (and also non-teenage) actors as Jamie and Ste, which jolts the play into an unexpectedly new direction.
Rilwan Abiola Owokoniran and Raphael Akuwudike may not quite look the ages of Jamie and Ste, whom they are respectively playing, but they bring a very full and tender heart to them as they wrestle with their sexuality as well as dealing with their fears and their parents (Jamie has a single 35-year-old mum Sandra; Ste has an unseen violent alcoholic father).
Trieve Blackwood-Cambridge and Shvorne Marks.
Photo credit: The Other Richard. 
There's a lot less use of the Mamas & the Papas songs on the soundtrack than underscored the original production in Anthony Simpson-Pike's generously warm-hearted production, which is a pity. But this otherwise vibrant production makes its own kind of music and sings its own special song; I couldn't help wanting to sing along.
And mostly, of course, laughing along: Jonathan Harvey's script is full of zinging one-liners. A lot of it is driven by Scarlett Rayner's Leah, the next-door neighbour who has been suspended from attending school and is obsessed with the aforementioned Mama Cass. Shvorne Marks is also wonderful as Jamie's mum Sandra, with Trieve Blackwood-Cambridge completing the cast as her younger boyfriend.
Harvey would go on to a substantial writing career both in the theatre and on television (where his credits include the sitcom Gimme Gimme Gimme and he is a regular writer on Coronation Street), but nothing has matched the immediacy, charm, or impact of this play. It's a celebratory and totally unapologetic masterpiece that remains both bold and moving.
As the two boys slow-dance on the narrow balcony between their adjoining flats at the end of the play, I shed tears of happiness. Rosie Elnile's set has one more surprise in store that I don't want to spoil by giving away here, but it provides another gorgeous new context for the play itself.