"Wuthering Heights", National Theatre
Neil Dowden on the South Bank
11 February 2022
Bristol-based company Wise Children's touring production of Wuthering Heights now blusters into London at the National Theatre's Lyttelton auditorium. Artistic Director Emma Rice's adaptation of Emily Brontë's classic nineteenth-century novel is free-wheeling and fast-moving, not a reverential page-to-stage dramatization.
Tama Phethean and Ash Hunter. Photo credit Steve Tanner.
As she showed when she was running Kneehigh (now sadly defunct) and Shakespeare's Globe, Rice likes to take existing stories and give them a shake-up (including her popular but controversial spin on the Bard himself). Her shows tend to turn into all-singing, all-dancing quasi-musicals full of self-conscious theatricality and meta-storytelling – as is the case here. The result is a highly entertaining but not very subtle re-telling of the much-loved gothic romance.
Brontë's novel has a complicated narrative structure – a story within a story within a story –which Rice wisely simplifies. While retaining the framing device of outsider Lockwood visiting the remote farmhouse Wuthering Heights on the West Yorkshire moors and uncovering its tragic tale, housekeeper Nelly Dean's narration has been cut out.
Instead commentary is supplied by the spirit of "The Moor", as embodied by part of the ensemble, in the style of a Greek chorus. This device generally works well, though some of the direct address to the audience explaining the multi-generational relationships between the Earnshaw and Linton families seems a bit like Brodie's/York's Notes – albeit done with humour. A bound copy of Wuthering Heights is brought on stage at the beginning and end of the performance with a few lines read out aloud as a neat bookmarking.
Sam Archer, Ash Hunter and Lucy McCormick. Photo credit Steve Tanner.
This version is a world away from the likes of the romantic Hollywood movie that celebrate the undying love of Catherine and Heathcliff, hearts entwined even if their bodies are separated. The central love story is still here but it is a destructive passion caught up in a cycle of prejudice, cruelty, and revenge – though ultimately there is redemption in the next generation of young Cathy and Hareton.
Rice sees the unaccompanied child seeking asylum as a modern equivalent of Heathcliff's situation: he is found as a boy of uncertain origin at Liverpool docks by old Earnshaw and brought home to Wuthering Heights, where he is bullied by Earnshaw's son Hindley who regards him as a "savage". Casting a black actor as Heathcliff taps into the "othering" of the colonized underclass of that time; and although the book was published in 1847 it is set in about 1800, so there are possible links to the transatlantic slave trade. This production shows the brutalized becoming brutal.
The staging has the characteristic inventiveness of a Rice show, though at times over the top. Puppets (from John Leader) are used to portray Heathcliff, Cathy and Hindley as young children; then as teenagers they smoothly transform into the actors playing them. Vicki Mortimer's flexible design uses a movable door and a window to represent Wuthering Heights – there is little sense of the forbidding house as an essential character in the story but it helps with the flow of a dynamic show – while chandeliers suggest the Lintons' posher Thrushcross Grange.
Simon Baker's video projections capture the constantly changing skies, suggesting the mercurial nature of the moors, with birds flitting across the screen each time someone dies – a neat touch, but we don't also need that person's name chalked on a portable blackboard. Ian Ross's haunting, folksy music is played live by a small band on stage, with songs by various members of the cast but especially the chorus, and there is lively group dancing choreographed by Etta Murfitt.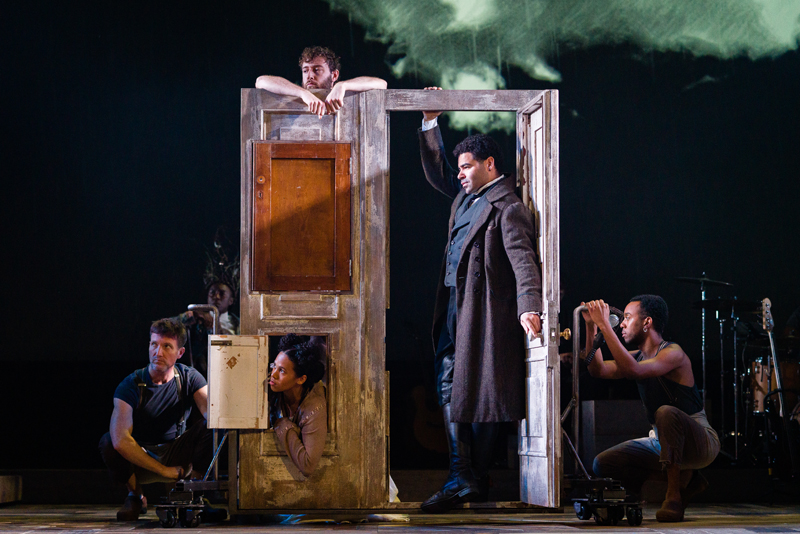 Principal characters and ensemble. Photo credit Steve Tanner.
Ash Hunter is a striking presence as Heathcliff, powerfully charting his development from abused innocent child and ardent adolescent to wealthy adult and coldly implacable avenger. There is intense chemistry between him and Lucy McCormick's rebellious Catherine who is very much a free spirit happiest when roaming the moors, but her performance feels overcooked.
In a skillful doubling of Hindley/Hareton, Tama Phethean conveys the former's ignorant aggressiveness and the latter's clumsy efforts to improve. Sam Archer (who has previously worked with Matthew Bourne) gives a balletic portrayal of both Lockwood and Edgar sending up their affected manners. The scene-stealing Katy Owen is very funny as Edgar's petulant sister Isabella and the spoiled brat Little Linton, if in a cartoonish way. Witney White impresses as Hindley's delicate wife Frances and the irrepressibly vivacious Catherine Linton. And Nandi Bhebhe makes much impact as "Leader of the Moor" heading a chorus who give the human tragedy unfolding a wider context.