"The Dresser", Marlowe Theatre
Jeremy Malies in Canterbury
10 February 2022
"Hate the critics? I have nothing but compassion for them. How can one hate the crippled, the mentally deficient, and the dead?" The line is always enough to make a reviewer take his or her head out of their notebook as 'Sir' in Ronald Harwood's The Dresser gives his views on the fourth estate. Harwood pre-emptively renders the play immune to damaging reviews.
Matthew Kelly and Julian Clary. Photo credit: Alistair Muir.
But there's no need to lavish anything but praise on a touring version starring Julian Clary as Norman, the titular dresser, and Matthew Kelly as the unnamed actor-manager struggling in the winter of 1942 to present Shakespeare's plays across war-torn Britain. The play is inspired by Harwood's own experiences of being Sir Donald Wolfit's dresser in the 1950s.
The action begins in Sir's dressing room at a grim provincial theatre. Wartime restrictions are wreaking havoc with the company's ability to acquire props and technical equipment. Add to this, Sir is suffering a panic attack before an evening performance as King Lear and is reluctant to go on stage. He has had a hysterical episode in the town square an hour or so earlier. Eventually the play-within-a-play begins. Sir makes his entrance. We hear the dialogue, see a fraction of the second stage from its wings and watch cast members awaiting their cues and helping out technically.
Clary is domineering, waspish, tactile, tender, and dismissive of his master in the role of the put-upon stage-struck assistant. His frustrations and unswerving loyalty stand out in bold relief in the final moments during which Clary is impressive when achieving a kind of cognitive dissonance, being both vitriolic at his employer's ingratitude and prostrate with grief at the actor's death. It's a subtle and compelling dramatic compound.
Kelly is also first-rate as we see his character recover from initial confusion and despondency to a buoyancy before the storm scene. He is affecting when (confused by backstage mention of a storm) Sir mistakenly thinks the play is The Tempest. But a viciousness is always just below the surface. Commenting on the paucity of male actors after compulsory call-up for the armed services he says: "I am reduced to cripples, old men and nancy-boys." Both actors exploit the lyrical nature of their longer speeches and sit on the beat of exchanges that occasionally resemble Shakespearian verse.
Emma Amos, Matthew Kelly and Julian Clary. Photo credit: Alistair Muir.
The lengthy UK tour is by originators Theatre Royal Bath Productions and Everyman Theatre Cheltenham who worked in collaboration. The itinerary up and down the country may well have been nearly as arduous as the tour presented in the play but at least there will have been no food rationing and you can be confident that their accommodation will have been better than the ghastly actors' digs conjured up in the play. "Lear's hovel is luxury compared to this!"
The parallel only goes so far but you can argue that there are overarching similarities between the period shown and the current situation of UK theatre. King Lear is being performed during an air raid and the largely masked, three-quarter-capacity audience at the Marlowe – recently named Theatre of the Year at the Stage Awards – must have included many making their first post-Covid trip to a play with some trepidation. In both cases, theatre and theatregoers are showing pluck. And these are real devotees; Kelly need only apply a single dab of over-dark make-up thinking that he's playing Othello and there are gales of laughter. It's a detail that cements the play as a period piece; the spectacle of a white man blacking up to play Othello is inconceivable now. Similarly, the idea of the Lord Chamberlain being the arbiter of morals is alien.
The set design by Tim Shortall is so redolent of the 1940s and so awful in its dinginess that I began to visualize the bleakness of the surrounding town and the market square where Sir has had his earlier incident. I imagine that there must be a lot of versatility at the different venues on this tour in how Sir's dressing room is removed to present the rear of the stage for King Lear. At Canterbury it was heartening to see a vertical fly of the most traditional kind at work. Eavesdropping on young audience members in the interval I learnt that there was a party from what sounded like an extremely technical drama course. Seeing a wind machine and a thunder sheet creating a storm may have given them a sense of heritage.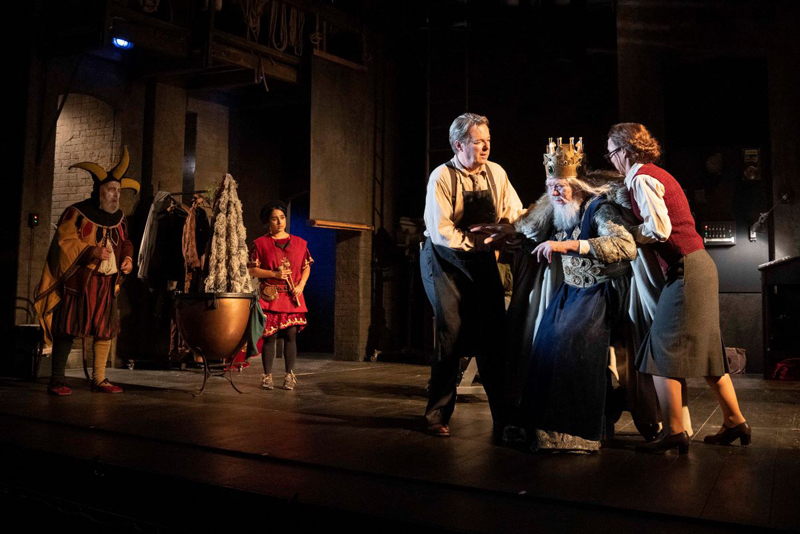 Principal characters and ensemble. Photo credit: Alistair Muir.
The heavy lifting has of course been done by Harwood, but director Terry Johnson proves adept at teasing out the relevance of the Shakespeare material. Kent's "Learn to see better, Lear" hits home at the arrogance that Kelly is injecting into his character. I suspect it's Johnson who should take credit for the amusing visual touches such as Sir spitting on his hands before lifting Cordelia as if he is about to perform a clean and jerk. Finally, he resorts to dragging her along on a trolley. It's interesting that while Sir Ian McKellen at 78 during a production at Chichester carried his Cordelia with no apparent effort, Frank Langella (two years younger at the same venue) did indeed take the trolley approach. Perhaps I'm being too literal?
The general excellence extends to lighting by Ben Ormerod and I was struck by a final fade-out that catches the despairing Norman as if in a frieze. The props are always well chosen; you can almost smell the bottles of spirit gum, tatty wool-crepe hair, and worn-down sticks of foundation on shelves that include a wonderful skull from Sir's Hamlet and stave from Prospero.
The two hours 25 minutes' running time flies by. What is Sir's advice to Pip Donaghy who is a character actor stepping up to play the Fool? "Pace, pace, pace." This is pacey, intense, and always witty. For once a stage version has equalled the brilliance of the 1983 film starring Albert Finney and Tom Courtenay.