"August in England" at Bush Theatre
Jane Edwardes in west London
7 May 2023
Lenny Henry here exhibits his many talents with his first stage play, a one-man show exuberantly performed by the man himself. It's billed as being about the Windrush Scandal, but it takes a very long run-up to its subject matter.
Lenny Henry as August.
Photo credit: Tristram Kenton.
For most of the play's length, we are comfortably in Henry's hands as he describes how the eight-year-old August Henderson leaves Jamaica and arrives in London with his mother in 1962. They are expecting to be met by his father, only Papa is back in Peckham canoodling with another woman. Once that matter is established to his mother's satisfaction, she whisks them away to the Black Country where, she claims "it's cheaper to live and them have plenty, plenty of black people, a whole heap of factory an' not too much pressure".
Henry is king of the comic patter and a superb storyteller, as he makes himself at home in a very red set: red carpet, and red leather armchair and stool (designer Natalie Pryce). Dressed in suit and tie with a flat cap on top, he is as physically entertaining as he is witty. He can show off his moves with the best of them, unlike Theresa May, author of the "hostile environment", whose dancing he mocks mercilessly.
When the young August meets and falls for Clarice, he agrees to give up playing in Black Fist, his going-nowhere band, but refuses to get married because his parents were as "miserable as Nigel Farage at the Notting Hill Carnival". Some of the jokes are predictable, but the better ones provoke gales of laughter, while Henry stands silent with an impish grin on his face.
August is not a political animal. He is absorbed by his family, by the fruit & veg emporium that he owns with his friend Iqbal, and later by Clarice's illness and decline. It is to his shame when, following a family pattern, Clarice discovers him slow dancing in the arms of another woman just two weeks before her death.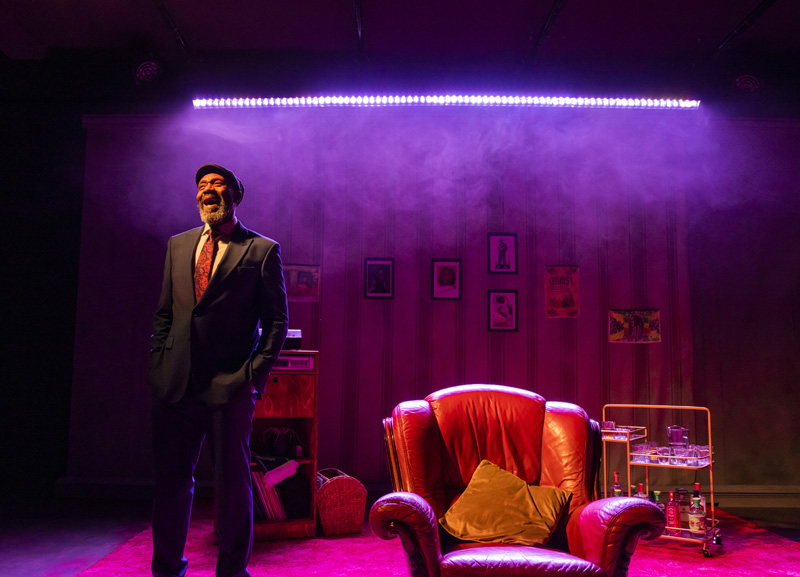 Lenny Henry as August.
Photo credit: Tristram Kenton.
Anyone who saw Henry in August Wilson's Fences knows he is capable of great depth of feeling. With the death of Clarice, Henry the writer tries to change gear, but it still feels as if we are plunged into a different play when August is suddenly threatened with deportation to Jamaica. Maybe that's the point, that those brown envelopes arrived out of the blue for those affected.
August leaves the fighting to his daughter, so we learn nothing of the battles with an obdurate bureaucracy. He prefers to sweep the envelopes under the carpet. Then, with an image of him sitting disconsolately in some kind of deportation centre, his story is abruptly abandoned as some of the real life victims of the Windrush Scandal describe what happened to them on screen. They give poignant accounts of how hard they had to fight, how little help they were given, and how they feel that England is no longer their home. So many lives were ruined.
Such an abrupt change of course doesn't entirely work, and Lynette Linton's production, co-directed with Daniel Bailey, is sometimes disjointed and not up to her usual high standard. There's a bigger, harder-hitting play to be written about the Windrush Scandal, which disgracefully has yet to be entirely resolved. But this warm-hearted show is often hilarious and always engaging.
.
.
~