7 March 2019
Jeremy Malies's feature covers Simon Stone's lnternationaal Theater Amsterdam's Medea which was at London's Barbican Theatre from March [2019] under an international theatre banner. Substituting a modern story for the ancient Greek one, Stone has brilliantly infused contemporary theatre aesthetics with a Greek classic that we consider remote. Who was Euripides anyway?
Audiences and critics alike agree that this Medea is great theatre. It is no small feat for the actress Marieke Heebink to give us a modern-day Medea born of ensemble improvisation work whose behaviour is reasonable enough to prevent us from classifying her as stark raving mad, and therefore dismissible. To watch a woman who does not appear to be absolutely psychotic and whose logic compels her to stop short of nothing to revenge herself on her cheating husband, even going so far as to sado-masochistically murder her own children is bone-chillingly thrilling. She has put herself above the law, and on some level we spectators understand her doing so.
As Malies tells us, Stone found his prototype Medea in a small-town USA medical doctor, a woman who did just this in 1995 But … was the original Medea a woman? Not necessarily. The Medea that Euripides wrote about traced her paternal line back to Helios the Sun God. She was a princess and Jason's saviour, and their marriage was not the common law marriage typical for Greeks of that era but was based on vows implying that they were two persons of totally equal status So one might interpret the Euripidean Medea's emotional effulgence as proof of her transcendent qualities. She was only partially human. From inception onwards, the first Medea was neither completely 'normal' nor completely "womanly". And for that reason, she was not imitable by mere mortals. The rapacious Dr Average Housewife is a modern invention.
In the light of this comparison, one can applaud Simon Stone's actors for producing riveting theatre as Jeremy Malies rightfully does. But are we honestly applauding Medea? I suggest that the question is still in need of an answer.
Dana Rufolo
Jeremy Malies at Medea (Barbican Theatre)
Simon Stone, the Australian director and writer, has a reputation for radical adaptations of Anton Chekhov, Henrik Ibsen, and Federico García Lorca. His most recent project is a retelling of Euripides' Medea for the Internationaal Theater Amsterdam which toured to the Barbican this past March.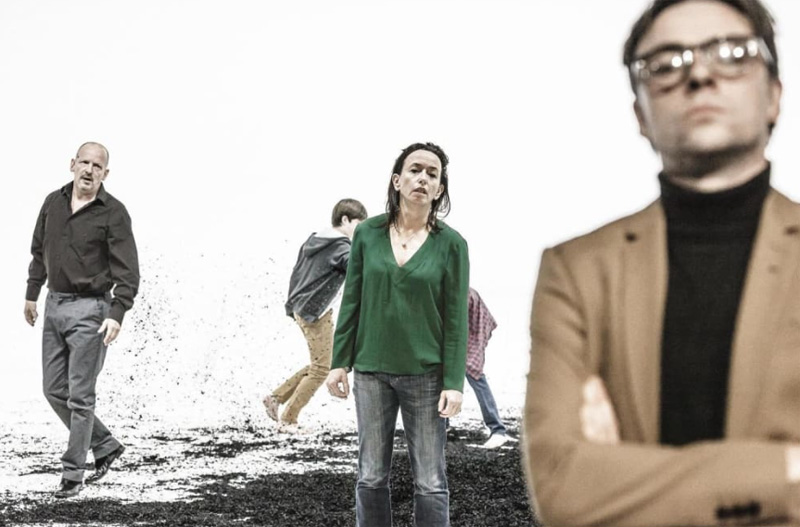 Bart Slegers, Marieke Heebink, Aus Greidanus Jnr.
Photo credit: Sanne Peper.
As with the Lorca (Yerma at the Young Vic in 2016 and subsequently New York's Park Avenue Armory in 2018) you would be hard-pushed to find much text left from the original. But Medea succeeds as an original piece of director-led on its own merits.
Stone rejects this tag of director's theatre in which the director often rides roughshod over the text he inherits. He is certainly thoughtful in his use of the general arc of a plot as written. He also thinks deeply about whether our society should be reflected solely in productions of current playwrights (possibly because he is dissatisfied with the output of modern writers) and has chosen to focus on wholesale changes to texts from other eras – and in the case of Medea from another civilization.
Programme notes at the Barbican (they are condescending, have no by-line, and are barely literate) suggest that mythical characters such as Medea and Jason are difficult to relate to, ignoring the fact that as distillations of humanity they are instantly recognizable for most of us – the exception being, perhaps, theatre marketing people. The producers do stress (and this is where Stone's motivations regarding Euripides are shown to be honest and transparent) that the fulcrum of the action is not classical drama but an instance of the "Medea Complex" from 1995 in which Debora Green, a Kansas physician, is believed to have poisoned her husband with ricin after discovering his infidelity and finally set fire to the family home killing two of their children. She is currently serving two concurrent forty-year prison sentences. The ricin poisoning, the medical background, and details of the arson all find their way into Stone's production.
Designer Bob Cousins' set is a seemingly limitless concave cyclorama that brilliantly conjures up the pharmaceutical lab in which the Medea and Jason equivalents (Anna and Lucas) work as scientists. Am I alone in noting that both Stone's parents worked as scientists in a Basel medical research institute?  Later, as a literal slow burn, the stage is immersed in cinders which we realize are the remains of the fire. This is hardly a plot-spoiler; classicist or not you would be mad to expect a happy outcome.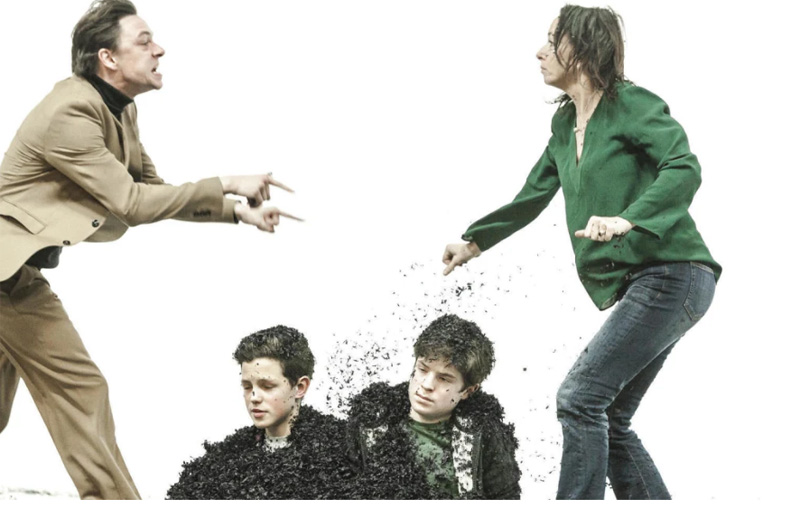 Marieke Heebink, David Kempers, David Roos, Aus Greidanus Jnr.
Photo credit: Sanne Peper.
The opening scene has one of the two doomed children (Poema Kitseroo and Faas Jonkers both technically nuanced and spontaneous) staring at a laptop. The boy is in fact planning how to document his parents' hellish marriage as a video diary – hardly the ideal school assignment. Nearly all the dialogue is in Dutch with an English translation appearing as surtitles. Stone and his team have the brilliant idea of using close-ups as we follow the child whose camera is showing us live footage on a projection screen. His parents and the other adult characters are thus able to alternate between acting styles, mixing expansive gestures with almost cinematic subtleties. Video technique of this kind shows a debt to Ivo Van Hove who is known to have influenced Stone, but it is used adroitly and contributes to many good gags. There is a surprising amount of humour in the early scenes.
The star vehicle is obviously Marieke Heebink working on the heroic scale you would expect as the Medea/Anna character with a virtuosity that won her a Theo d'Or, a principal Dutch acting award in 2015.  She oscillates between a raw unhinged energy and the piercing mind that has propped up and corrected her husband's third-rate scientific research at the laboratory. A scene in which she simultaneously belittles his low charisma levels and modest achievements as a scientist is a highlight of the evening. Even at the climax of the action, Heebink's character is by no means grief-stricken or reduced to silence, just as Debora Green has proved a resourceful articulate defendant in court who has been appealing her sentence on both forensic and psychiatric grounds.
Faced with a seismic transformation from what is nominally the original character, Aus Greidanus Jr as the Jason figure switches neatly between physical and intellectual weakness while at all times wielding the trump card that he is loved by a younger and more attractive woman. But the sense of doom is almost immediate as Heebink makes her entrance holding a painting in which the animals are tumbling out of a capsized Noah's ark, perhaps an indication that she is now a destructive rather than a nurturing agent.
I had come to the Barbican somewhat cynical, believing that Stone might have hitched a ride on a classical text only to ultimately subvert it and use the original to take a propagandist position. On that topic, I disagree vehemently with several fellow reporters who have taken the anti-heroine, as presented here by Stone, to be a victim of patriarchal structures. This is a concept production but, unlike so many similar projects, the treatment of the true-life 1995 case sustains the whole undertaking. If there was a significant deviation from Euripides' drama it was the absence of a chorus, though Anna's techno-savvy children are no doubt getting chorus-like social commentary from their Facebook contacts.
The audience reaction at the curtain call after a taut 80 minutes with no interval was extraordinary; most people took to their feet instantly while those who didn't stand appeared stunned out of their critical faculties by what they had just witnessed. If Stone believes that only this mode of working with major overhauls of established texts allows him to reach audiences at the intensity level he craves then you have to respect his rigour and sense of mission. If I were a contemporary playwright I would be looking to present him with a piece he approved of, though (possibly with false modesty) he claims that other directors are working more skilfully in the Werktreue (faithful to the original) manner of the "writer's theatre". I came to Stone's work as a sceptic and left a convert.