"The Dance of Death" – Theatre Royal Bath
Crysse Morrison in the south-west
20 June 2022
August Strindberg considered this his best play, and the vicious marital hostility of its theme and action has, since the piece's premiere in 1900, become a staple influence for dramatists who developed the kitchen sink genre.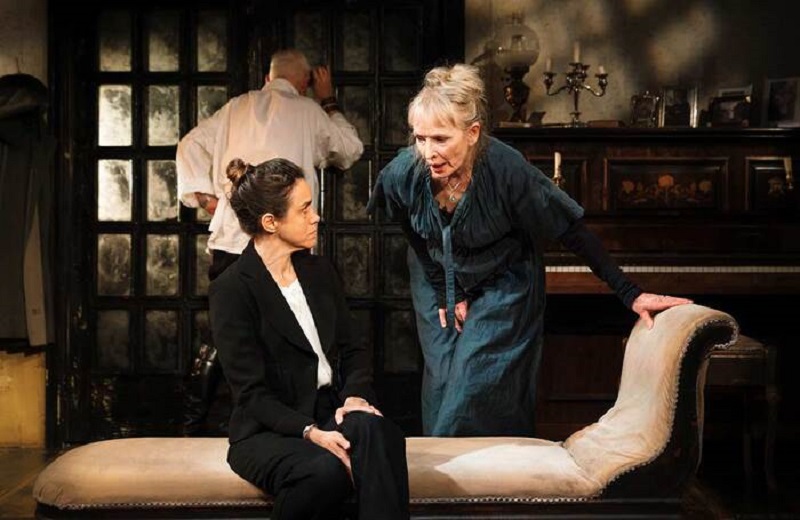 Emily Bruni and Lindsay Duncan. Photo credit: Alex Brenner.
Edward Albee's Who's Afraid of Virginia Woolf?, Jimmy Porter's rants in John Osborne's Look Back In Anger and much of the theatrical fascination with the underlying tensions of relationships (rather than the elegant top dressing) which we now see on our stages might well be tracked back to this early-twentieth-century drama showing how marriage ferments hostility.
The discordant marriage of Alice and the captain is set literally in a battleground: as the rest of the brigade enjoy a party in the barracks, this noisily disconsolate duo continue to bicker in their chaotic quarters.
This adaptation by Rebecca Lenkiewicz makes changes to the text, adding violent expletives to the domestic disputes which are presumably designed to maintain interest for a modern audience. In another addition to the original, Alice's returning cousin is a woman, making a distinct difference to the relationship. "I people the stage with women wherever possible" the programme notes explain.
There are other aspects of this story, like the imminent bubonic plague, and the effect of isolation on relationships, that might have been interestingly highlighted for their resonance with modern times but are not. Hilton McRae is powerful as the controlling husband whose erratic behaviour might either be viciously contrived or simply seriously disturbed. Lindsay Duncan as Alice, the Captain's wife, is stately and stagey, her exhausted demeanour constantly erupting into moments of petulance and exasperation. She directs these not only at her husband but also on their only remaining servant who promptly quits, highlighting the isolation of this sparring couple.
The arrival of Alice's cousin (Grainne Dromgoole) makes little difference to the dynamic though the decision to change Strindberg's Kurt to a Katrin does create a less convincing and powerful backstory of connection. Grace Smart, set and costume designer, has gone for an overall look that highlights the drabness of these lives as well as recreating the style at the start of the twentieth century.
As the action progresses, the stage fills with the debris of their lives while recriminations and retaliations continue. Despite the swearing and the viciousness in the relationship, director Mehmet Ergen keeps the pace reasonably even. There are moments of dark humour but the rage, recrimination and contemptuous abuse smoulder constantly, occasionally bursting into flame in this tale of a relationship stretched to its limit with both partners locked in a dynamic where they need to feed off their mutual angst in order to survive.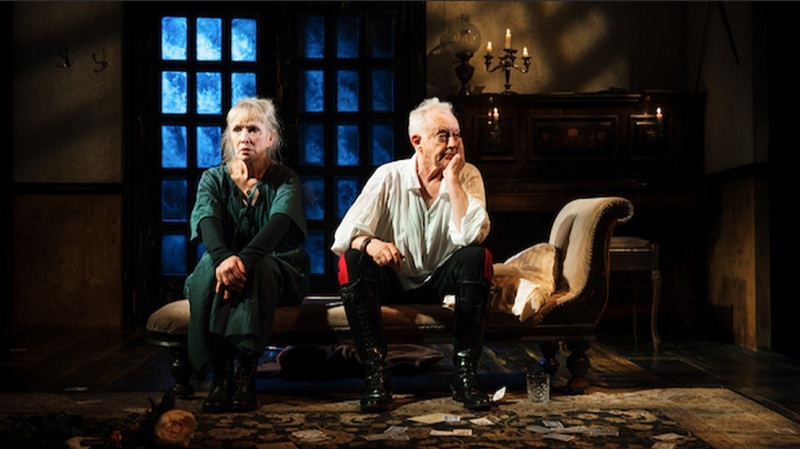 Lindsay Duncan and Hilton McRae. Photo credit: Marc Brenner.