"How to Succeed in Business Without Really Trying" at Southwark Playhouse Borough
Mark Shenton in south London
24 May 2023
Frank Loesser's timeless 1950 masterpiece Guys and Dolls is currently receiving an entirely faithful but also entirely radical promenade make-over at the Bridge Theatre which turns this theatre beside the Thames in SE1 into a ravishing recreation of a mythical Times Square that I reviewed enthusiastically. Now, the composer/lyricist's more rarely seen (at least on this side of the Atlantic) 1961 Pulitzer Prize-winning musical of Manhattan corporate office life has reappeared about a mile away at Southwark Playhouse Borough.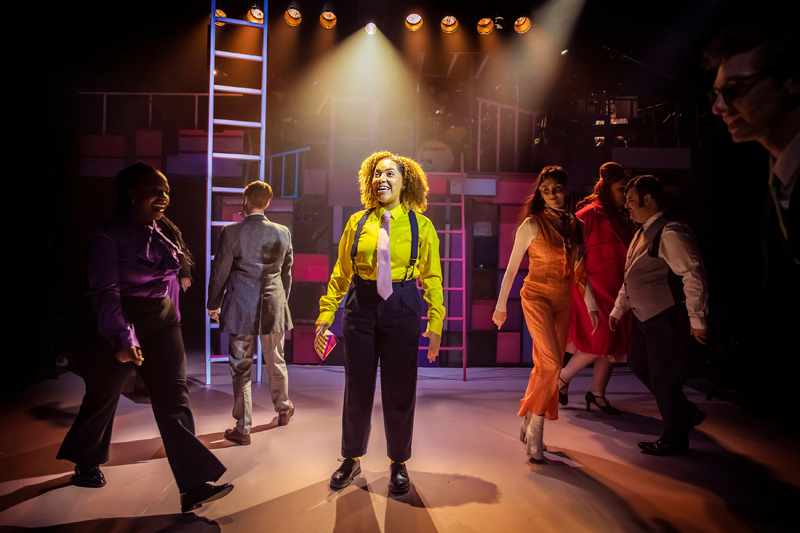 Photo credit: Pamela Wraith Photography.
It may be a lesser Loesser musical, but it is still packed with irresistible melodies, as well as a keen satirical edge about the machinations of office politics, with songs about the serious importance of coffee breaks and the special role of secretaries (as we are informed: "a secretary is not a toy / No, my boy / Not a toy to fondle and dandle / And playfully handle / In search of some puerile joy / No, a secretary is not / Definitely not / A toy").
For this defiantly period sixties musical, however, director Georgie Rankcom has chosen to refresh it by randomly (as opposed to consistently) re-assigning the roles of several of the leading (and some minor) characters to actors of different biological genders to the roles they are playing. After colour- and age-blind casting, here is the next frontier in expanding the inclusivity of theatre: any role can be played by anyone, as long as they have the talent to put it across.
Trans actors can therefore freely cross the boundaries of traditionally gender-ascribed roles, like J. Pierrepont Finch, the unscrupulously upwardly mobile young office worker who goes from mail room clerk to (spoiler alert) chairman of the global corporation here, or Rosemary, the secretary he woos (and eventually weds) in his relentless ride to the top. Gabrielle Friedman and Allie Daniel are respectively earnest and touching in the roles, and both are fully capable of singing their roles with utter commitment.
But having Tracie Bennett, a West End stalwart (and probably the most experienced performer on this stage, whose credits span a Tony-nominated reincarnation of Judy Garland on Broadway and Olivier Award wins for Hairspray and She Loves Me), "man up" to play chief honcho J.B. Biggley becomes uncomfortable, mainly because Bennett herself seems so untypically ill at ease. On the other hand, Annie Aitken, Elliot Gooch, Grace Kanyamibwa, and Danny Lane are perfectly in stylish character as various office workers, remaining in the genders of each role. So the production, in seeking to make itself gender blind, actually accentuates those differences by accident instead of the design intended.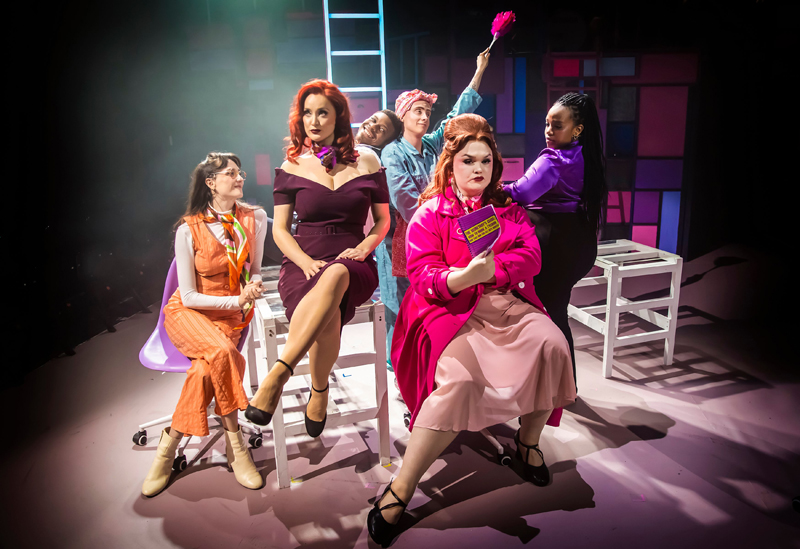 Photo credit: Pamela Wraith Photography.
In a superfluous bit of stunt casting – which also curiously earns her a full page bio in the programme, whereas all the other actors share their pages with one other – Michelle Visage (from RuPaul's Drag Race) makes a guest appearance voicing the brief commentaries from the self-help book that gives the show itself its title that Finch uses to facilitate his climb up the corporate ladder. It may be that Visage is ironically pointing out how to succeed in show business without having to even try, but it's trying – and tiring – when shows allow themselves to be hijacked by such gimmicks.
The musical is good enough to stand on its own two feet, whether freshly heeled or unheeled, and this attractively presented production – Sophia Pardon's set dominated by a giant stepladder – is delightfully supported musically by a six-piece band, led by Natalie Pound, on a platform above the stage.
So the evening delivers some pleasures, but it is a fitful production of a show that by really trying too hard unravels in the process.
.
.
~