"Brokeback Mountain" at @sohoplace
Mark Shenton in the West End
23 May 2023
Director Jonathan Butterell and composer Dan Gillespie Sells, two of the three creators of the hit 2017 British musical Everybody's Talking about Jamie (which was turned into a film in 2021), are reunited to bring Brokeback Mountain, an even more iconic title best known for its 2005 film version, to the stage. But while Jamie proudly documents a defiantly gay teenager's success against school-time homophobia, based on a real-life 2011 documentary about a British teenager who is determined to go to his high school prom in a dress (and does), Brokeback Mountain is a more muted fictional account of gay love that ignites between two rural seasonal farm workers in 1960s Wyoming – but which they suppress except for an occasional illicit rendezvous with each other over the next couple of decades.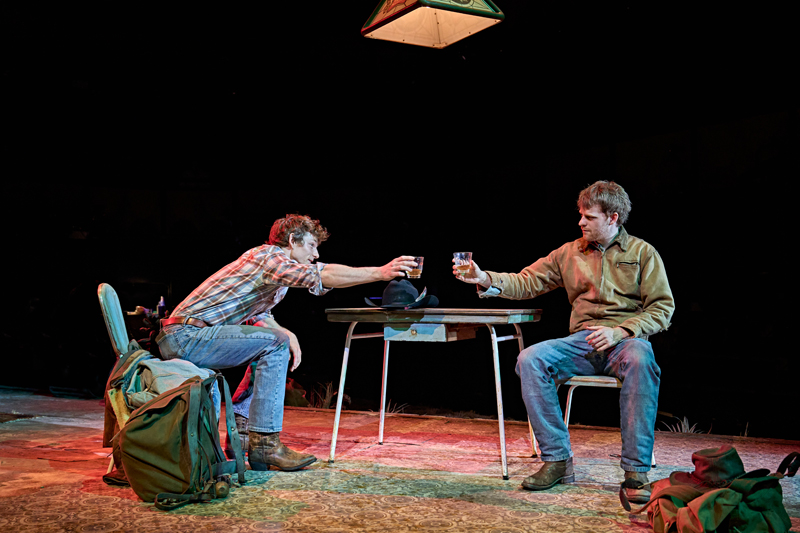 Mike Faist and Lucas Hedges.
Photo credit: Manuel Harlan.
An air of "what could have been" duly hangs in the unrequited air, and lends this small but powerful snapshot of lives not lived to their full romantic potential a haunting sense of regret. Based on a short story by Annie Proulx originally published in the New Yorker, it's a heart-rending story of suppressed emotions and missed opportunities for the men to live authentic lives; both marry women and have families with them. (We only see one of their wives here.)
While Ang Lee's 2005 film was able to place them in a desolate landscape of a remote prairie community, Ashley Robinson's delicate, poignant stage version narrows the focus to the two men, framed by one of their older selves recalling his youthful self, on an intimate island of a stage that has the audience surrounding it on all four sides. We become voyeuristic observers to their hastening, highly charged couplings, though their first encounter is hidden by a tent and their next by carefully draped sheets, so anyone hoping for easy titillation may be disappointed.
Still, there's no hiding for either actor, emotionally speaking: Mike Faist, recently seen as Riff in the Spielberg remake of West Side Story, is an open-faced revelation as Jack Twist, while Lucas Hedges – an Oscar nominee for Manchester by the Sea – is haunting as the taciturn, brooding Ennis Del Mar (with Paul Hickey remembering the past as his older self).
These roles were, of course, immortalized by Jake Gyllenhaal and the late Heath Ledger respectively, and it's a treat as well as a revelation to see two fine young American screen actors following in their footsteps to bring them to the stage now with such unabashed feeling and fearlessness.
Emily Fairn as Alma.
Photo credit: Manuel Harlan.
Jonathan Butterell's intense production, played out over 90 intermission-free minutes, crams a lot of years into a short time; the passing of time between scenes is suggested by Sean Green's atmospheric onstage country band – led by singer Eddi Reader (former front woman of chart-topping Fairground Attraction) and whose players include pedal steel legend BJ Cole – burnishing this production's A-list credentials.
The songs don't always add to the drama, though, but Tom Pye's sets and costumes definitely do, showing off the versatility of this impressive new West End theatre to conjure different environments out of its floor.
@sohoplace is already proving to be an invaluable addition to the West End landscape, programmed with classics like As You Like It and Medea (given arresting new spins by major directors Josie Rourke and Dominic Cooke respectively); now it delivers its first original work beginning its life there. It was seen by the fullest house I've yet seen here on a non-press night performance. That's a testament to the popularity of its title and its star casting; but it is also a sign that programming like this will find an audience, and deservedly so, even if tickets are not exactly cheap, ranging from £29.50 to £85, significantly higher than venues like the Donmar Warehouse or Almeida whose programming is in a similar vein of progressive, adventurous theatre-making.
.
.
~