"Once on This Island" at Regent's Park Open Air Theatre
Mark Shenton in north London
25 May 2023
I recently attended a gala at New York's Classic Stage Company off-Broadway that celebrated the 40-year anniversary (and still counting) of the collaboration of lyricist Lynn Ahrens and composer Stephen Flaherty, who wrote Broadway shows such as Ragtime (1998) and the animated film Anastasia (1997, brought to the Broadway stage in 2017). Other titles include My Favorite Year (1993), A Man of No Importance (2002), Dessa Rose (2005), and The Glorious Ones (2007), all of which were premiered under the auspices of Lincoln Center Theater.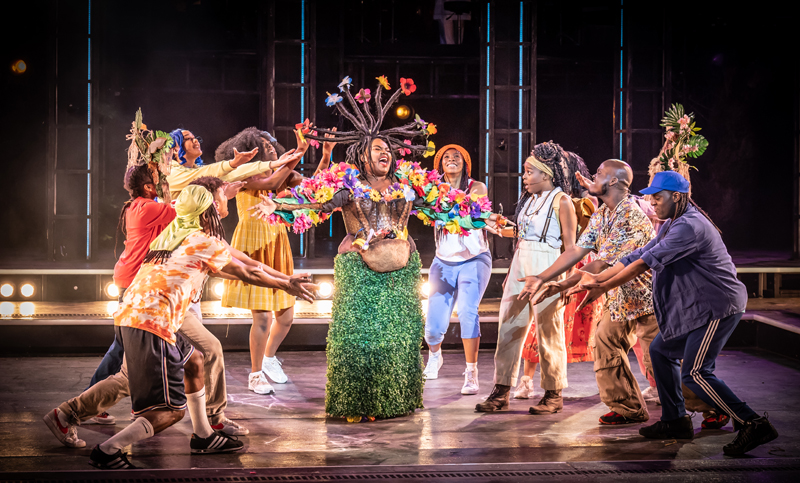 The ensemble. Photo credit: Marc Brenner.
Once on This Island was their second musical to reach the New York stage, premiering at Playwrights Horizons in 1990 (where their first show Lucky Stiff had also debuted in 1988) before transferring to Broadway's Booth Theatre. It has had two previous mainstream London outings – at the West End's Royalty (now the Peacock) in 1995, and at Hackney Empire in 2009, both of which originated at Birmingham Rep. Now it returns, at once both joyfully and mournfully, to London at the breezy (in every sense) Regent's Park Open Air Theatre, where a story rooted in the outdoors fits perfectly.
It is based on the 1985 novel My Love, My Love; or, The Peasant Girl by Rosa Guy, which relocates Hans Christian Andersen's fairy tale The Little Mermaid to the Caribbean. It's an exhilaratingly tuneful delight of calypso rhythms as it tells a sad story of a young Haitian orphan peasant girl called Ti Moune who nurses a noble-born man back to health when she finds him after he's had a serious car accident. They fall in love – but he's been long promised to another, from the same social standing as himself, and he spurns her. That's where the sadness comes from; but spun as a dark fairy story, redemption comes from the heartbroken girl's own death and her transformation into a life-giving tree.
The elemental becomes an ecstatic celebration of Mother Earth's multiple wonders: "we dance to the earth, we dance to the water," the company sing in the glorious opening number, set to undulating choreography by Kenrick "H20" Sandy in Ole Ince's lovely, lively, and loving production. Staged in Georgia Lowe's stark, sunken set dominated by lighting towers that swivel to become mirrored columns, the colour is provided by Melissa Simon-Hartman's vivid costuming and puppetry co-designed by Jimmy Grimes that adds spectacle.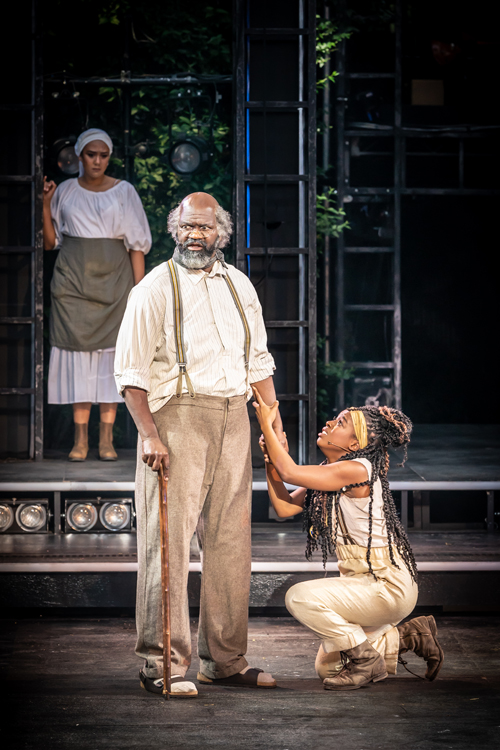 Chris Jarman and Gabrielle Brooks.
Photo credit: Marc Brenner.
But it is the ecstatic singing and dancing that stir the emotions of the show, with Gabrielle Brooks leading the company as the heartbreakingly heartbroken Ti Moune, and Stephenson Ardern-Sodje as her handsome suitor who casts her aside. As Ti Moune's adoptive parents Chris Jarman and Natasha Magigi make a strong impression, too, with the four gods of the story Asaka (Anelisa Lamola), Agwé (Ashley Samuels), Erzulie (usually Emilie Louise Israel, but played at the performance reviewed by Bernadette Bangura), and Papa Ge (Lejaun Sheppherd) casting their own spells, in every sense, over the proceedings.
A lively onstage steel band is presided over by musical director Chris Poon to give the show its distinctive, irresistible, and irrepressible rhythms that had me swaying with delight – and which will soon be heard in a Disney+ film adaptation.
.
.
~