"Trouble in Butetown", Donmar Warehouse
Mark Shenton in the West End
21 February 2023
A personal note to begin: I first met playwright Diana Nneka Atuona when she was ushering at the Old Vic, even as her debut play, Liberian Girl, was being premiered at the Royal Court in 2015. That was a snapshot of an aspiring playwright working on the frontline of a major theatre, just as another was offering her premiere, which both moved and impressed me.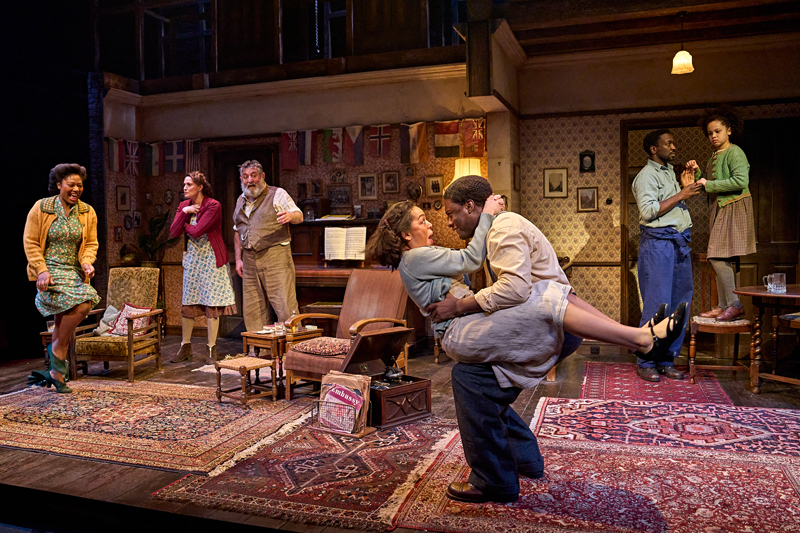 The ensemble. Photo credit: Manuel Harlan.
The Peckham-raised playwright has African family roots, but a natural, unforced curiosity for cultural collisions wherever they might occur, and she finds a fertile landscape for these for her second play, Trouble in Butetown. It is set in the Cardiff melting pot of Tiger Bay around the docks amidst relations between the inter-racial local community and American GIs (with black soldiers segregated from their white comrades) stationed there during the Second World War.
The Donmar's most recent previous production was Lillian Hellman's Watch on the Rhine, itself originally premiered during that war and topically centred around the position of American Jewry in relation to what was happening to their fellow Jews in Europe.
This brand-new play, which saw its author win the 2019 George Devine Award for most promising playwright, has had its stage premiere delayed by Covid, but now forms a carefully curated companion and comparison with the world of Watch on the Rhine, involving more moral quandaries about harbouring fugitives. In Trouble in Butetown there is a different kind of barely suppressed racism that underscores and casts a dark shadow over the lives of the white proprietor of an unlicensed boarding house for merchant seamen and her two mixed-race daughters, as the older of them falls for a black American GI, on the run from a murder.
Atuona marshals a large cast of characters – eight within the house, plus two policemen – in an intense, high-stakes drama that unfolds over a short period of time there. We may not get enough background to all of the characters to fully invest in all of them, but director Tinuke Craig's production sees them each given a gripping and sincere humanity by a terrific ensemble cast.
The role of the matriarch Gwyneth (whose Nigerian sailor husband has been lost at sea) is performed by Sarah Parish, making an overdue return to the stage, with warmth and generosity. The fugitive Nate – who's decided never to return to segregation-era Georgia – is played by theatrical newcomer Samuel Adewunmi with an urgent sense of the jeopardy he is facing. As the older daughter Connie longing to escape her mother's domain, Rita Bernard-Shaw is another actor making a professional debut with grace and assurance. The younger daughter Georgina – for whom the war is an adventure – was played on press night by a scene-stealing Rosie Ekenna.
Peter McKintosh's set provides a large cluttered naturalistic living room where most of the action plays out that leads to an outdoor space, as well as a suggestion of the nearby docks on an upper-level scaffold frame.
There are times when the crowded plotting feels overly schematic, but this is a touching portrait of community that creates its own powerful shared experience for theatregoers as we join them for a couple of hours.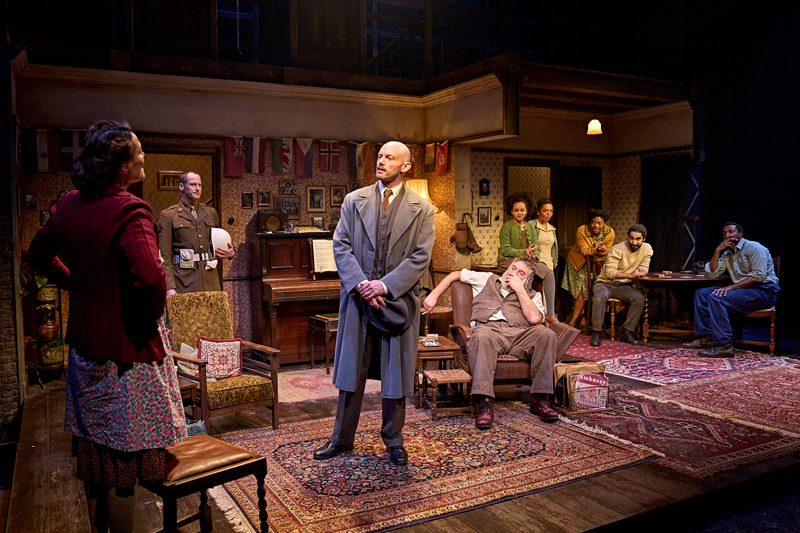 The ensemble. Photo credit: Manuel Harlan.