"Watch on the Rhine" at Donmar Warehouse
Neil Dowden in the West End
14 January 2023
American playwright, screenwriter, memoirist, and activist Lillian Hellman is probably best known for her plays The Children's Hour and The Little Foxes. But though rarely performed in recent decades, her political drama Watch on the Rhine was also a big Broadway hit when it was first staged in 1941. The timing is all-important: set in 1940 and premiered eight months before Pearl Harbor, it is a powerful plea for the USA to abandon isolationism and enter the fight against fascist forces in the Second World War.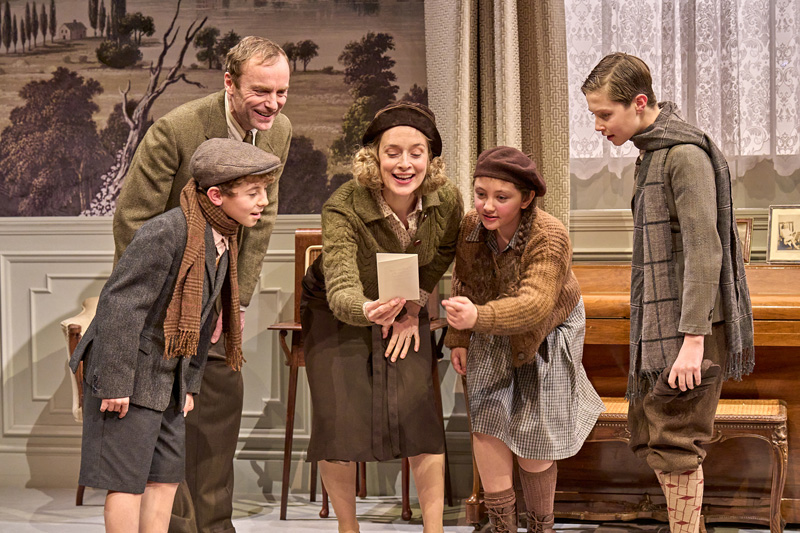 The ensemble. Photo credit: Manuel Harlan. 
This revival at the Donmar Warehouse (the first in London since the National Theatre's 1980 production with a cast including Peggy Ashcroft) makes a strong case for the work. However, although Watch on the Rhine has intriguing aspects and some contemporary parallels can be drawn, it has not dated too well with a tendency towards melodrama and sentimentality.
Set in the Farrelly family mansion near Washington, DC, the play starts off as a drawing-room comedy before turning into a political thriller. Patrician matriarch Fanny Farrelly – widow of a high-profile politician – orders around her diffident lawyer son David and long-serving staff as she nervously awaits the arrival from war-torn Europe of her daughter Sara, whom she hasn't seen for 20 years, and her family.
It transpires that not only are Sara, her German engineer husband Kurt Muller, and three young children refugees, but that Kurt has been heavily involved in the anti-Nazi resistance. Inevitably he comes into conflict with another house guest, the penurious émigré Romanian count Teck de Brancovis who plays poker with shady men from the German embassy and is married to American Marthe who is intimate with David.
Although the set-up promises fireworks, it's a long time before anything really happens. There are some rather half-hearted humorous exchanges between the domineering Fanny and the frustrated bachelor David who is perpetually in his late father's shadow, as well as the French maid Anise who tries to pry open the mail and the black butler Joseph who doesn't want the breakfast he has served to go cold.
The ensemble. Photo credit: Manuel Harlan. 
Even after the Mullers have arrived evidently worse for wear and we learn a bit more about their travails, the tone is fairly light-hearted with the precocious kids relishing their new-found comforts. Then, after a long-distance call from Europe, the mood completely changes as the horrors in the Old World start to impact on the detached complacency of the New World – ending with a call to arms.
Despite creaking in places, the play does compel our attention – and indeed shocks in its violent development. The passion behind the argument it promotes for defending freedom and helping those persecuted by totalitarian regimes still throbs – though of course not as urgently as it would have done 80 years ago. And with the far right and even neo-Nazism on the rise in various countries as liberal democracy lies in peril, there is some pertinence – not least of course with the ongoing Russian invasion of Ukraine instigated by Putin. The US under President Biden is at present strongly supporting Zelensky's fight-back, but that could all change with new leadership at the end of next year. Maybe Watch on the Rhine is not such a period piece after all?
The play nonetheless is a curiously flawed hybrid affair – even its title referencing an unmentioned patriotic German song seems odd – in which Hellman suppresses her Jewish heritage (as well as her communist beliefs) in order to achieve maximum appeal for her message to American mainstream audiences.
Geoffrey Streatfeild as David. Photo credit: Manuel Harlan. 
It's even specifically made clear that Kurt is not a Jew though this would make much more sense. However, sadly not only was American public opinion still at that time in favour of staying neutral, there was plenty of antisemitism around (witness the notorious 1939 Nazi rally in Madison Square Garden). Dramaturg Emma Jude Harris and musical director Josh Middleton have subtly introduced a few elements that make the implicit Jewishness of the play more apparent.
Ellen McDougall (in her first production since leaving her role as artistic director of the Gate Theatre last year) presents the play fairly straightforwardly and directly in its period setting. One addition is to have Joseph silently eyeball the audience at the start and end of the performance as a nod to the racial hierarchy and anti-black discrimination flourishing in the then segregation-era Southern states.
The show is also bookended by words briefly giving historical context on a screen evoking a black-and-white film of the time (such as the 1943 adaptation of Watch on the Rhine starring Bette Davis and Oscar-winning Paul Lukas) in Basia Bińkowska's design which frames the Farrellys' elegant living-room, and occasionally flickers as if we are in a movie house.
The cast does sterling work. German actor Mark Waschke lends Kurt a quietly heroic dignity, showing steely determination despite suffering from PTSD, while Caitlin Fitzgerald's resourceful Sara provides her own strength, longing for security for her children while supporting the necessary sacrifices. Patricia Hodge gives a characteristically assured performance as the generous if demanding Fanny capable of acid put-downs but also of admitting mistakes, with Geoffrey Streatfeild's formerly meek David gaining more respect from her as he becomes more decisive. John Light bristles as the rather cartoonish villain Teck whose duplicity may be motivated by fascist sympathies, sexual revenge, or simply desire for money, with Carlyss Peer in the underwritten part of the abused Marthe determined to break free. Kate Duchêne is the eccentrically candid Anise and David Webber is the patiently loyal Joseph.
The "end credits" on the screen state that Hellman later courageously refused to name communists to the McCarthyist House Un-American Activities Committee, for which she was blacklisted in Hollywood (as was her partner, the crime writer Dashiell Hammett). But she has also been condemned for supporting the Stalinist Soviet Union. A fascinatingly ambivalent figure, Hellman did, however, go against the Party line during the time of the Nazi–Soviet Non-Aggression Pact by writing Watch on the Rhine, where humanity is foregrounded over ideology.