"History of Violence" – Spoleto Festival
Annie Loui in Perugia
11 July 2022
History of Violence directed by Thomas Ostermeier, artistic director of the Schaubühne Theater in Berlin, has been performed by four resident actors from the Schaubühne. The play was presented as a final offering at the Festival dei Due Mondi, Spoleto, Italy. It is a co-production with Théâtre de la Ville, Paris, Théâtre National Wallonie-Bruxelles and St Ann's Warehouse, Brooklyn.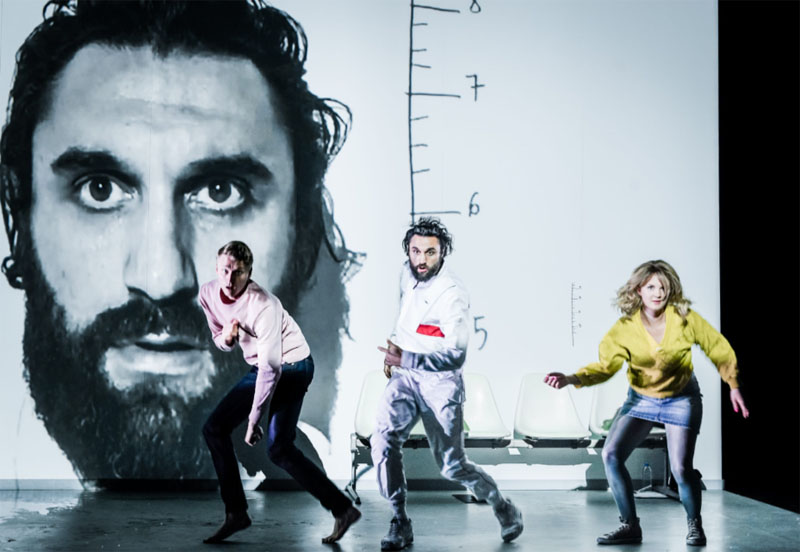 Laurenz Laufenberg, Renato Schuch and Jenny König. Photo credit: Arno Declair.
The project is an adaptation of a book by the contemporary French writer-philosopher Édouard Louis. The audience sees the stark realism and combined video-stage performance we have come to expect from German theatre productions meeting the provocative self-referential texts of French thinkers.
A young Frenchman (who introduces himself as "William … after the prince") has a one-night encounter with another man, Reda, an immigrant. The next morning, he finds that his cellphone has been stolen and the camaraderie and exultant sex of the night before turns into rape and violence.
We are introduced to the performance by four forensic examiners in protective gear, scrutinising the floor in a live video feed of dusting and peeling up impressions of evidence.  This is an apt metaphor for the production, and the ensuing two hours is an examination of the event through the eyes of our protagonist (who confesses that his real name is Édouard) who is looking for help from his working-class family, a doctor, and the police.  The police demand sequential facts without emotional framing, an uninterested health-care worker inserts him into the system while playing solitaire, and his chain-smoking cynical sister doesn't accept his version of events.
The violent twist of a gay man who purposefully courts danger (this is the era of AIDS), racial discrimination and the timing (it is 4 a.m. on Christmas Eve) are all amassed into a tangle of discrimination and the "story" changes depending on who is processing it.
There is a bicycle ride around the stage in a skillful live video feed as Édouard equally deftly demonstrates his story-telling tricks to his sister.  There are multiple naked men taking showers to wash away evidence or perhaps guilt, and there are short interwoven dance sequences that are hip and exuberant or gestural and moody.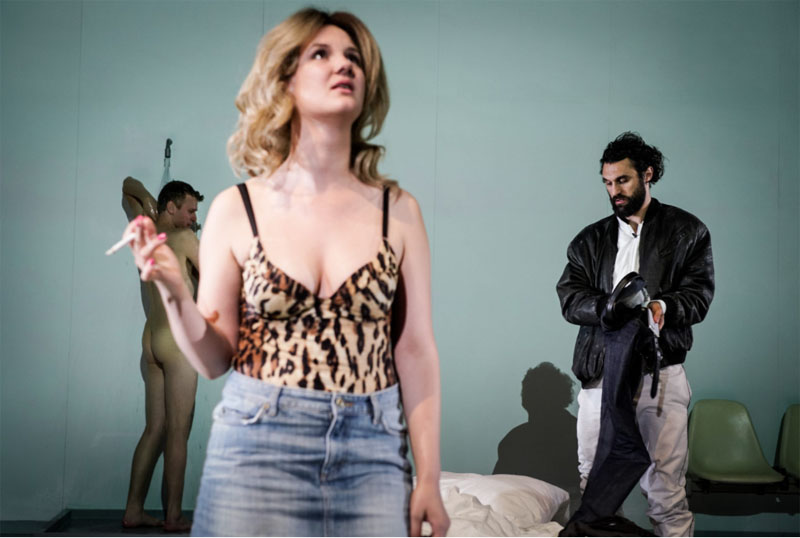 Jenny König (foreground). Photo credit: Arno Declair.
Reda flirts, and insists: "You are so beautiful, so blond, your eyes are so blue, let me stay".  Édouard and Reda are shown in joyous selfies on the bed narrating their life stories and "making love four, no five times."  While a traumatized Édouard is recounting the transition from flirtation to romance to theft and attempted strangulation and violent rape the next morning, he switches and begins to justify Reda's actions. "He is an immigrant, has less privilege, money and opportunity.  It's obvious why he would steal my phone."
We in the audience become uncomfortable; the facts don't quite add up and we are not sure if what we have seen is a true depiction of the encounter and aftermath or an idealized, fantasized event coloured by socialist politics and loneliness. Multiple perspectives are ever-present.  We return to his sister arguing in total exasperation: "This is always the problem.  I never know if you are telling the truth."  There is a final explosive response from Édouard: "It's my story!"
The four performers (playing multiple roles) are utilized skillfully in video and the German-language script by Ostermeier who was a co-writer with Louis and dramaturg Florian Borchmeyer.
In a real coup of theatrical storytelling, Ostermeier has the action of the event, the telling of the event by Édouard and reporting of the event by police all happening on stage simultaneously.  The weave is dense and impactful.  We follow the swift German dialogue in equally swift Italian sub-titles feeling always a little distanced from the true meaning of the performance.  And perhaps that is to some extent the point. In the end, a video still of Reda's face slowly whites out and disappears from the stage and Édouard summarizes that he has learned something. He now knows how to lie to himself and how to reconstruct in memory what he wants to be real.
The writer-philosopher Édouard Louis changed his name.  He was born Eddy Bellegueule. He writes about the cyclical and self-perpetuating nature of violence in society.  The History of Violence skillfully interweaves internal and external politics into a complex theatrical production about identity.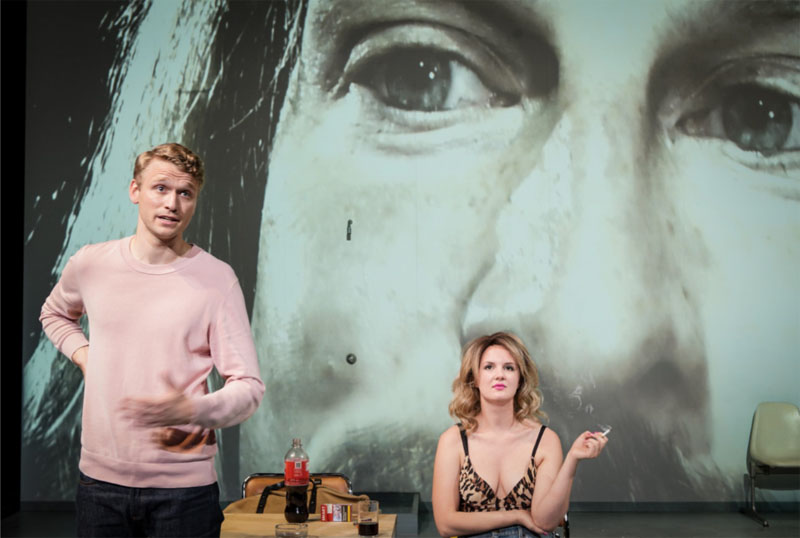 Laurenz Laufenberg and Jenny König. Photo credit: Arno Declair.