"Clybourne Park": Park Theatre
Jeremy Malies in north London
25 March 2022
Ethnicity and land grab. Reduce things down to how people really interact, dismantle their self-deception, and they'll probably admit that these are motivators.
Michael Fox, Richard Lintern, Andrew Langtree and Katie Matsell in Clybourne Park. Photo credit: Mark Douet.
In Bruce Norris's award-winning 2010 play Clybourne Park we see a preposterously self-satisfied white couple (Steve played by Andrew Langtree and Lindsay played by Katie Matsell) happily employing an expensive white lawyer (Imogen Stubbs) as they prepare to raze and then rebuild their house in a formerly white but now predominantly black area of Chicago. The lawyer is there to help them trample over planning regulations.
The suburb (as in the title) began in the 1950s as a middle-class white district until the arrival of one black family in 1959 which prompted an exodus of the original residents. But over 50 years, the neighbourhood's proximity to central Chicago and its attractive low-rise architecture sees it gentrified with white professionals returning. The second act of the play, set in 2009, shows an interesting dynamic. The blacks who remain are affluent; they ski at the same resorts as the whites, make the same ludicrous whistle-stop tours of European capitals, and can hold their own in the cultural bragging rights.
In the opening act, we see the first property sale to a black family. Russ, a white-collar middle manager played by Richard Lintern, is either genuinely colour blind or simply wants a shorter commute and is happy to spite his white neighbours who stigmatized his son, a troubled veteran of the Korean War. The actors double up and Russ's wife is played unconvincingly by Stubbs who is far more assured and credible as the lawyer in the second half.
Eric Underwood and Andrew Langtree in Clybourne Park.
Photo credit: Mark Douet.
I doubt if I'll see a better performance than Lintern's all year. He is a mass of closely observed nervous tics as a nightmare assortment of guests call on his home while he is packing, and yet at the crucial moment (and it's about territory again) when he must eject the openly racist Rotarian (Langtree) who is trying to stymie the house sale, he becomes compelling with his stillness and a manic fixed stare.
It's a little too early to describe the vacuous white characters in the second time scheme as "woke" but you can still see the play in terms of critical race theory as Steve complains of being hamstrung as his black neighbours, now the longer-term residents, relish holding all the cards as they throw the planning and urban heritage book at him. Aliyah Odoffin (who only graduated from RADA in 2021) is particularly effective as she shows this in her character. There are subtle parallels between the two time schemes even to the point of the same insults and put-downs being thrown around in successive acts but with the ethnicity of the characters changed to illustrate the ever evolving power dynamic.
Director Oliver Kaderbhai, whose background includes training and work with Frantic Assembly, doesn't impose himself unduly on the material. He shows complete trust in the play as written and focuses on helping his actors skewer these generally ghastly hypocrites. At all times, Kaderbhai avoids a propagandist position.
Michael Fox, Richard Lintern, Andrew Langtree Katie Matsell and
Eric Underwood in Clybourne Park. Photo credit: Mark Douet.
The playwright is of course an accomplished actor who ensures that even the minor figures quickly acquire a momentum that propels them through the piece with unambiguous stage directions and cue lines that allow for apparent spontaneity. And as the characters begin to tell a series of truly disgusting jokes, Norris is not afraid of getting down into the weeds of racism, just as in his play Downstate at the National Theatre in 2019 he shocked audiences by making prolific paedophile offenders superficially affable.
Set design by James Turner is similarly unflashy but successful. We see a doll's house representation of the home that is being sold as well as those of the neighbours and the neat geometry of the suburb. By contrast, video media design by Colin J. Smith is poor. He gives us a clunky unimaginative montage of American presidents when newspaper headlines would have been the more adventurous choice. And if you're going for simplicity then accuracy is a must. There is no full stop in Harry S Truman because the 'S' does not stand for a name, something that might have rankled with a sophisticated mid-Atlantic audience on press night.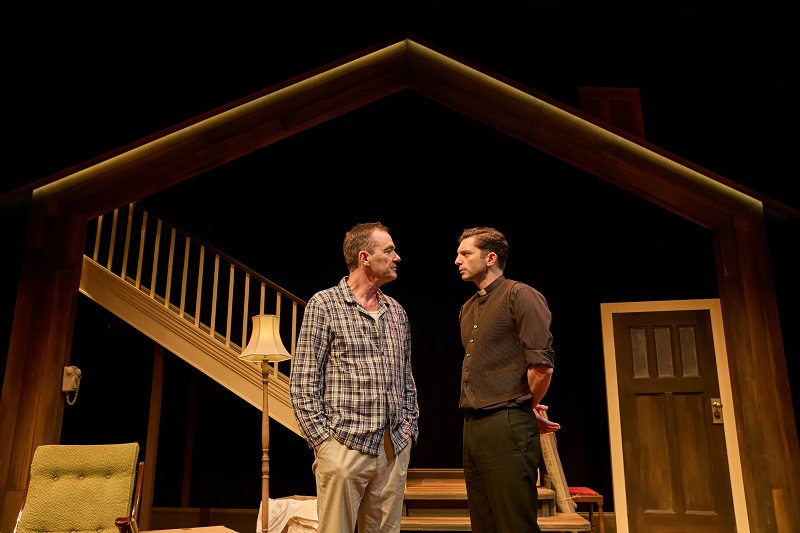 Richard Lintern and Michael Fox in Clybourne Park.
Photo credit: Mark Douet.
Lorraine Hansberry enthusiasts will know that one minor character and the shenanigans in trying to stymie the property sale here stem from A Raisin in the Sun and we are in the same general Chicago neighbourhood. The action at the start of Norris's play is an hour or so after the end of Hansberry's play. Norris, not a Chicago native but associated with the city's Steppenwolf Theatre, is paying homage to an idol in the same way that Brian Friel used Chekhov characters in his own play Afterplay.
What is it with plays that end with two time periods meeting that is so profoundly moving? There is a short coda scene that Kaderbhai handles exquisitely. We see Lintern's gallant traumatized Korean War veteran son played by Michael Fox. He is preparing to commit suicide (not a plot spoiler as it's mentioned at the beginning) having never recovered from being accused of killing civilians in a Korean precursor to the Vietnam My Lai massacre. The characters from the second time period are still in the wings. The scene is lyrical (well-chosen incidental music probably from sound designer Will Tonna adds a great deal) and will have reminded many of the climax (also involving a death) of Tom Stoppard's Arcadia.
For me, the only ingredient missing in Norris's plot is a mixed-race marriage but that might cloud the existing debates by throwing even more complex issues into what is already a sociological minefield from which nobody emerges unscathed. This project was delayed by Covid and I'm so glad it wasn't shelved. Park Theatre has added to its burgeoning reputation with an adept handling of a robust and probably timeless play.