"The False Servant" – Orange Tree Theatre
Neil Dowden in Richmond
21 June 2022
The Orange Tree Theatre's latest show in their adventurous mix of old and new is Pierre Marivaux's 1724 comedy The False Servant translated by Martin Crimp (a version first staged at the National Theatre in 2004). It follows on from their sparkling period production of Marivaux's The Lottery of Love in 2017, both directed by artistic director Paul Miller. It's another lively revival, this time in modern dress, of the French dramatist's playful exploration of romantic love and social convention entangled in deception and intrigue.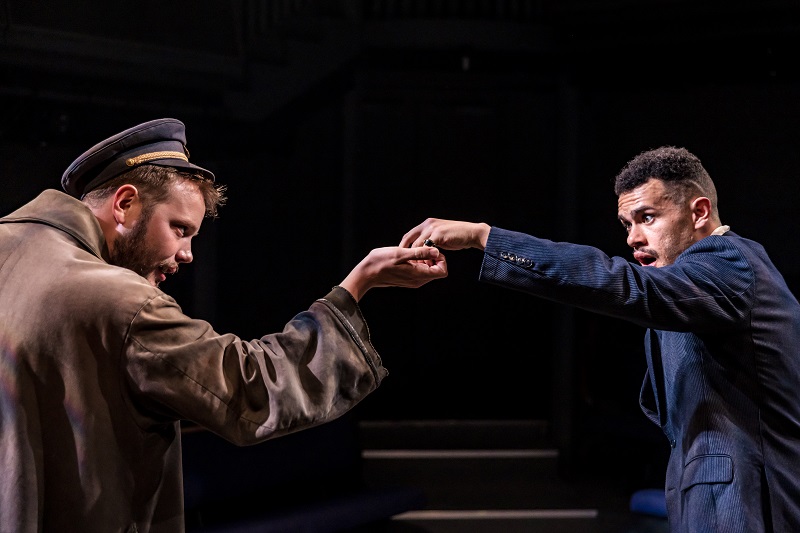 Will Brown and Julian Moore-Cook. Photo credit: The Other Richard.
The play centres around a wealthy young Parisian woman who disguises herself as an aristocratic man known as the Chevalier in order to suss out a suitor she has not yet met called Lelio. Lelio confides to him/her that he is also engaged to a Countess but does not want to break it off as he would lose a large amount of contracted money. Lelio wants the Chevalier to seduce the Countess so that he can keep the cash and marry a richer woman. The Chevalier goes along with the plan in order to save the Countess and expose Lelio as a mercenary manipulator. But complications ensue when the servants find out she is a woman, as well as the real chemistry that develops between her and the Countess …
Crimp (whose first plays were produced at the Orange Tree in the Eighties, when the theatre was a room above the same-named pub opposite the current venue) provides a wittily colloquial translation with a modern vibe. But this is not a radical reworking of a classic like his free version of Edmond Rostand's Cyrano de Bergerac which was a West End hit recently. It's a faithful account of Marivaux's story that echoes Shakespeare's Twelfth Night in its cross-dressing heroine attracting a lady who is unaware that she is a woman. Marivaux's teasing comedy of manners probes the intersections between sex, money, power, and class.
Phoebe Pryce and Lizzy Watts. Photo credit: The Other Richard.
This production accentuates the ambiguities in The False Servant, as role-playing is used to question gender and sexuality. Are the Chevalier's motives purely to prevent wrongdoing, or to execute revenge, or does she actual revel in her freedom to play the 'man's part'? Miller strongly suggests at the end when the truth has been outed that her amour with the Countess is not merely play-acting. And Lelio too seems particularly taken with the Chevalier when he thinks she is a man.
Although there are also some questions in the play regarding servant/master status, the social hierarchy could be more sharply defined in this entertaining production which is not always nuanced. Some of the knockabout comedy inspired by commedia dell'arte misfires, but the in-the-round audience is fully engaged with asides accompanied by complicit glances and actors sitting in the second row while trying to hide or asking someone to hold their jacket. The costumes indicate the action is taking place sometime in the twentieth century, with Simon Daw's minimalist design including a maze-like floor matched by a leafy overhang, and a semi-abstract sculpture of entwining nude bodies.
Lizzy Watts does well in the dualistic role of the Chevalier with her expansive gestures suggesting laddish confidence and her exchanges with the audience mocking the absurdity of macho self-centredness. Julian Moore-Cook's smilingly duplicitous Lelio is a smooth operator who is not as bright as he thinks, while the poise of Phoebe Pryce's Countess starts to unravel as inner feelings challenge her sense of social etiquette. And Will Brown gives an extremely funny, scene-stealing performance as the untrustworthy servant Trivelin fallen on hard times who enlists our sympathy in taking advantage of every opportunity that comes his way.