Neil Dowden on the South Bank
23 June 2022
Jitney is August Wilson's first work in his epic Pittsburgh or American Century Cycle of ten plays, each set in one of the decades of the twentieth century, which chart the social history of African Americans (though they weren't written chronologically). The action of Jitney takes place in the 1970s (the only play to be set in the decade it was written), and like almost all of the others in the cycle the location is the Hill District of Pittsburgh, Pennsylvania, where Wilson grew up. Jitneys are unlicensed taxi-cabs, and the whole drama is confined to a station where drivers wait for calls from customers who want cheap rides in a rough part of town where other taxi firms won't venture.
Sule Rimi and Leanne Henlon. Photo credit: Manuel Harlan.
Amidst the everyday toing and froing with the phone constantly ringing, three issues create serious problems that threaten this precarious community. First is a violent argument between Youngblood, who is working three jobs in an effort to make a new life for his family having returned from the Vietnam War, and office gossip Turnbo who accuses him of having an affair with his girlfriend's sister. Second is the reappearance of the taxi firm owner Becker's disowned son Booster, after 20 years in jail for murdering his white girlfriend who falsely accused him of rape, whom Becker blames for the premature death of his wife. And finally, the station itself is due to be demolished as part of urban regeneration that endangers all their livelihoods.
Jitney is very much a play about African-American men at work – with only one female character making brief appearances. Wilson brilliantly creates a believable atmosphere where the men have to collaborate as a team in order to sustain a living in hard times. But there is also plenty of banter between them within what is to some extent a sanctuary where they can freely express themselves. When a dispute arises between two individuals the others try to defuse it as everyone is involved with common interests. The writing is empathetic showing different points of view that each have their weight.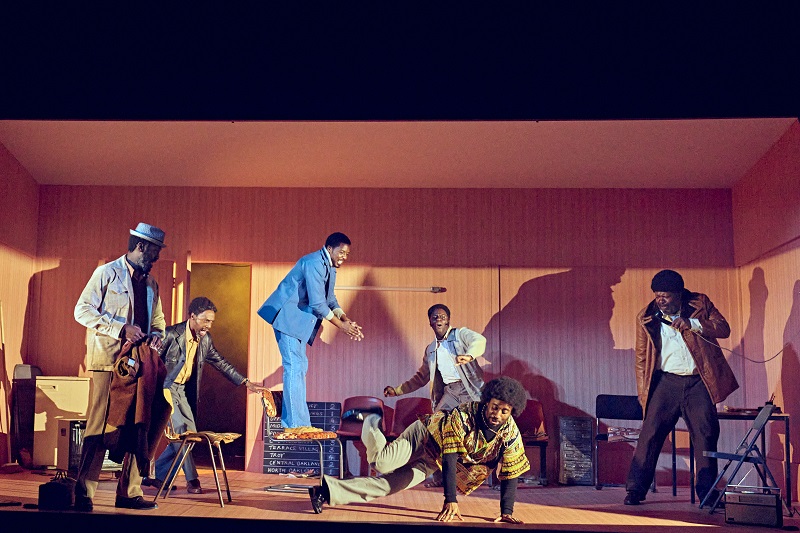 The company. Photo credit: Manuel Harlan.
While racism inevitably rears its head in many of Wilson's plays, here apart from Booster's back story that is not the case, with the focus on the relationships between the men set against the challenges of a changing urban environment. It raises questions of cooperation versus competitiveness, and reconciliation versus conflict, showing sensitivity and vulnerability among men who have had to be tough to survive. Although it is uneven in places (reflecting the fact that Wilson revised it twice) and as always with Wilson on the verbose side, Jitney avoids the pitfall of becoming overwrought. This can be a fault of later plays in the cycle as they strain for mythic significance. The writing always stays grounded in gritty realism.
This Old Vic co-production with Headlong and Leeds Playhouse is superbly directed by Tinuke Craig, who finely balances poignancy with humour in a lively show that fully realizes a particular group identity while remaining universal. The Seventies ambience is convincing without being overdone in Alex Lowde's set and costume design, including beige colouring and Afros, with the taxi station enclosed within a box on which photos and video of Pittsburgh are projected by Ravi Deepres, while Max Perryment's jazz and funk composition evokes the period well.
There is terrific ensemble playing from the all-black cast. Wil Johnson gives Becker an impressive depth of feeling as an even-handed man who exerts a natural authority over the drivers, while inwardly being torn apart by corrosive emotions stemming from family tragedy. Solomon Israel's aspirational Youngblood is determined to forge ahead despite the unwanted interference of troublemaker Turnbo who is given a highly entertaining turn by Sule Rimi. Geoff Aymer plays a peace-loving Korean vet and Tony Marshall an alcoholic constantly on the edge of being sacked. Understudy Blair Gyabaah makes a solid professional stage debut as Booster, and Leanne Hanlon's Rena raises some laughs with her scepticism about believing all the stuff that men say.