"King Lear" – Globe Theatre
Neil Dowden on the South Bank
26 June 2022
Kathryn Hunter played King Lear in a landmark production directed by Helena Kaut-Howson in 1997 at Leicester Haymarket, which transferred to the Young Vic. Now they reunite (with designer Pawel Dobrzycki) at the Globe Theatre for a further exploration of Shakespeare's epic tragedy. The cross-gender casting originally garnered a lot of attention (it was the first time Lear was performed by a woman professionally in Britain) in what was seen as a feminist statement. But since then this has become a common practice for Shakespeare (Hunter herself has played Richard III at the Globe and Timon of Athens for the RSC). So in this new production we can concentrate on other aspects of the play, with the show emphasizing the process of ageing – with its inevitable decline in physical and mental capabilities – and mortality.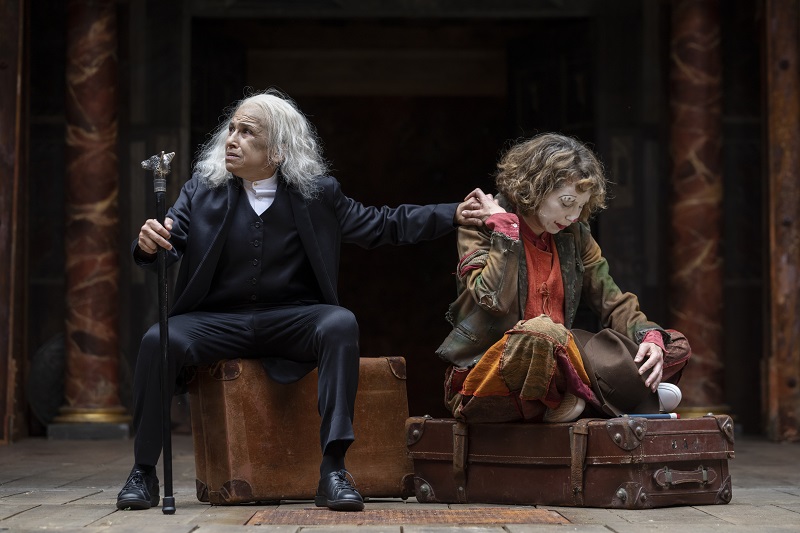 Kathryn Hunter and Michelle Terry. Photo credit: Johan Persson.
The evening begins impressively with the court scene in which the retiring Lear fatally disinherits his favourite, faithful daughter Cordelia and divides his kingdom between his older daughters Goneril and Regan who falsely flatter him as he demands. Lear makes his entrance in a wheelchair pushed by Cordelia, before sitting on the wooden throne which seems too big for the diminutive Hunter, who brandishes a walking cane and whose long white hair beneath the crown contrasts with her all-black three-piece suit. It is clear from the start that this Lear is frail not just in his bodily strength but in his ability to make sound decisions.
After this, Dobrzycki's red and gold curtain depicting the Globe stage wall is pulled aside to reveal rusty scaffolding representing a decaying modern society – behind the elaborate courtly façade lies a nation about to disintegrate into civil war. The mixed-period costumes – which vary from Jacobean to Victorian and contemporary – do not help in giving a consistent impression of a particular social context for the play but perhaps represent a Britain divided through the ages.
This memorable production itself is rather uneven (possibly affected by the fact that Kaut-Howson missed the last two weeks of rehearsals as she was recovering from an injury sustained in a car accident). Showing Lear as suffering from dementia early on means that his ensuing "madness" in the storm scene and beyond loses some of its impact – it is caused as much by cognitive malfunction as intense suffering. Also, because Lear's desire to hold on to the privileges of power without its responsibilities (including riotous behaviour with his knightly retinue) is portrayed simply as the difficult behaviour of a senile parent, it makes Goneril and Regan appear more reasonable when they restrict him. But their moderation makes their subsequent cruelty in turning him out of doors (not to mention their involvement in blinding Gloucester for helping him) seem strangely out of character.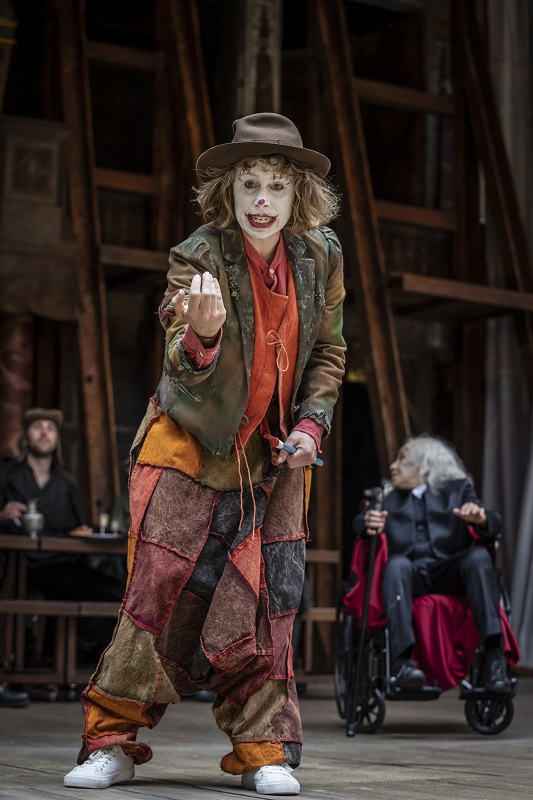 Michelle Terry as Fool. Photo credit: Johan Persson.
Although the show has powerful moments, overall it doesn't cohere as a sustained account of Shakespeare's grand vision, or rise to the heights and plumb the depths of emotion. The scenes on the heath are touching with the bedraggled Lear showing concern for his Fool and "Poor Tom" as his belated compassion for the impoverished and homeless is stirred through his own misfortune. But Lear's reunion with Cordelia is underwhelming as is his later grief on her death, though it is a clever touch of role reversal when he brings on her body in a wheelchair.
Hunter (who brilliantly played all three witches in Joel Coen's recent film The Tragedy of Macbeth) may be of small stature, but she has a large stage presence, informed by an extraordinary physical performance style. Here she movingly conveys Lear's vulnerability, as well as capturing a surprising amount of humour, but vocally she is underpowered and short on "authority" (to use Kent's word), with her king more crotchety Aged P than wayward tyrant. It's a highly individual interpretation that accentuates the character's unpredictable eccentricity (even if this sometimes strays into mannered quirkiness), which stays in the mind long after the show has finished.
The Globe's artistic director Michelle Terry doubles as Cordelia and the Fool, and steals her scenes as the latter in clown-like make-up and motley garb, using her licence to repeatedly drive home her message with trenchant comedy that her master is making a terrible mistake. Ann Ogbomo cuts an imposing figure as Goneril but lacks viciousness, while Marianne Oldham (with her arm in a sling) is a rather blandly sensual Regan. Gabriel Akuwudike is a younger-than-usual, staunchly protective Kent (in a role originally due to be played by Hunter's partner Marcello Magni, who remained as a creative collaborator in the show). In the subplot, Diego Matamoros gives a poignant portrayal of the gullible, betrayed Gloucester, Kwaku Mills skilfully transforms the bookish Edgar into the manic "Poor Tom", and Ryan Donaldson as his treacherous brother Edmund delivers his soliloquies well in his interactions with the "groundlings".