"The Crown Jewels" at the Garrick Theatre
Simon Jenner in the West End
7 August 2023
Restoration panto meets The Comedy About a Bank Robbery? Based on events in May 1671, Simon Nye's The Crown Jewels is even more enjoyable for being true, if creatively told. Though it'd be difficult to find a greater romp for summer, this play with songs might enjoy far more acclaim in the festive season, where it rightly belongs. That's because producer Simon Friend, director Sean Foley, and Nye have assembled a cast around which the work seems to have been built: the script plays to their exuberant strengths, including ad-libbing from Al Murray and Mel Giedroyc. It's a classy frolic.
Carrie Hope Fletcher.
Photo credit: Hugo Glendinning.
Some of us know the tale from Andrew Marvell's "Epigramme Upon Blood's attempt to steale the Crown". Colonel Blood (Adrian McArdle), an Irishman disinherited at the Restoration, wants to repair his fortunes. He's been involved in notorious kidnap attempts on the Duke of Ormonde, whom he held responsible for his land being confiscated. Now he decides the Crown Jewels will repair them at one daring swoop.
After Purcell's Abdelazar as recorded intro there's cod-Purcell songs composed by Grant Olding, who with Nye also supplies the lyrics. Carrie Hope Fletcher soars effortlessly with gleaming top-notes. As a singing Lady of the Bedchamber performing every duty from bed-mate to chamber-pot tossing (there is water in it, beware Row A), she adorns the show. This isn't a musical. But Olding's music, including a recorded orchestra with live singing, is an event, both popular and ballad-inflected.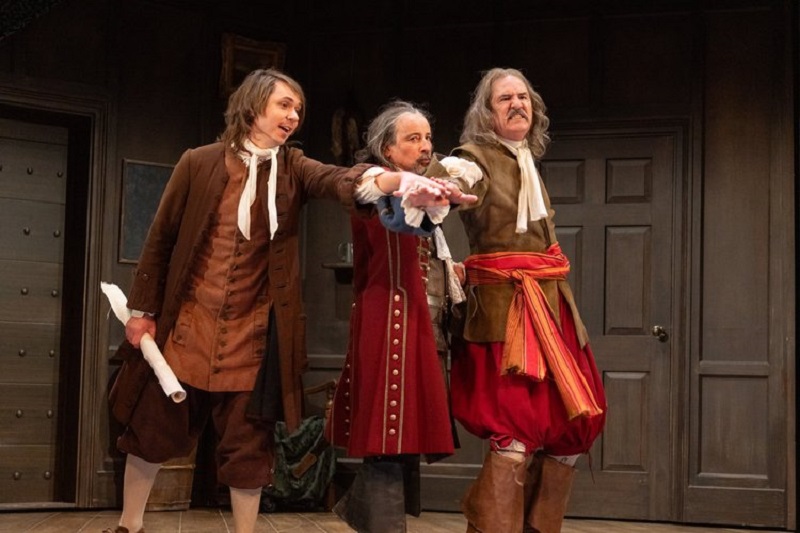 Photo credit: Hugo Glendinning.
It's also a sumptuous one, with Michael Taylor's gorgeous sets and costumes, particularly for the women, straight out of court painter Godfrey Kneller. We move from the king's bedchamber, through a three-set revolve involving two parlours and a keep containing the jewels, with faux-stone tower wings slid on, to the full depth of the Garrick stage like a curated, Ionic-pillared gallery. To add to the luxury, there's a vertically displayed working model with puppets of the protagonists manically whizzing about a mapped maze.
Nye's take is uproariously suited to these actors, but not inaccurate. We're frequently held by gags and ad-libs. Blood press-gangs the support of luckless son Tom Blood Jr (Joe Thomas). Thomas understates in direct proportion to his outré father, a mix of reluctant robber with none of his father's adventurous rage, youthful pathos, and thwarted lust. That's because to add conviction to his benign interest in the jewels, Blood recruits young actress Jenny Blaine (Tanvi Virmani) as his "wife". Virmani impresses as a comic actor, faking orgasms to prove she's been on the Restoration stage.
Fanatical Fifth Monarchist Captain Perrot (Neil Morrissey, playing straight) is far easier to convince. He believes God (the Fifth Monarch) is immanent, so why not filch some temporal jewels to render a little comfort? Morrissey keeps that fanatical vein pulsing in his forehead, at last metaphorically. Supplying a convincing dourness his Perrot enacts the kind of idealistic hangover from the recent Republican epoch, whilst everyone else spits after uttering Cromwell's name, one of those running gags you expect in a show like this.
McArdle makes Blood a driven, almost alarming adventurer, someone whose comic edge might flip over into something self-annihilating, taking others with him. But this serves McArdle particularly well, when his character uses every desperate wile to keep his head with the king; not just literally, but as he confronts the towering Murray, matching him with a playful steeliness.
Murray, as both Charles II and luckless tower keeper of jewels Talbot Edwards, gleams as both a sunny king (he was friends with Sun King Louis XIV) and the polished pate of crown-jewels warden Edwards. Murray is quite blissful in engaging the audience, summoning a "canary"-shirted man, a "pie-man", and a young woman who's hauled off the stalls to a private audience. Murray's in his element, not so much "Pub Landlord" as England's. Switching from easy charm to faux-ferocious absolute monarch and back, he catches audience members off-guard.
In both roles Murray's sometimes matched with Giedroyc as both Charles's French noblewoman mistress (in one glorious ad-libbing scene where Giedroyc is given her head) and principally Mrs Edwards. Here Giedroyc bustles with pride at her absent soldier son Wythe Edwards (Adonis Siddique in straight heroic mode, more frequently and comically as the Footman who must laugh when Charles II does). She's less indulgent to daughter Elizabeth Edwards (Fletcher), who dreams of entrepreneurial things and a handsome lover. Fletcher's superb mix of regal bravura and sauciness sums up the show's ethos.
As do the increasing antics of Footmen Emma Bown, Kieran Brown, Ryan Lane, and Dedun Omole. This is one of choreographer Lizzi Gee's smaller but exquisite triumphs, usually lavished on the musical numbers. At each scene change they exaggerate their movements: ushering on, shifting wings and chairs, with an edgier wink to the audience. By the end they prance like a costumed circus act.
In one oblivious moment, amongst "hysterically funny" paste-ons over the principals displayed outside, someone has decided "fitfully funny" is high praise. The company might wince at that. But they're probably confident this show – unlike some West End confections – knows exactly what it is and revels in its own identity. It's perhaps on at the wrong time, but you'll imagine the right one almost immediately, sinking into your seat.
.
.
~