Kwame Kwei-Armah interview
Kwame Kwei-Armah is an actor, playwright, director, broadcaster, musician, and educator. In short, an incredibly multi-talented person. He has been the artistic director of the Young Vic since 2017 having previously headed up the Baltimore Center Stage in Maryland for six years. He is patron of Ballet Black and the Black Cultural Archives, Chair of Warwick Arts Centre Advisory Board, and a Fellow of Lady Margaret Hall, Oxford University. He works annually with the Shakespeare Schools Foundation and is a former board member of the National Theatre. In Baltimore, he wrote and directed the musical Marley depicting the life and work of the singer-songwriter as well as directing Amadeus and An Enemy of the People. In New York, he has directed The Comedy or Errors and Much Ado About Nothing for the Delacorte Theatre in New York's Central Park.
The season at the Young Vic begins later than many London theatres for reasons that Kwei-Armah explains below. The first play is Changing Destiny, an adaptation of the 4,600-year-old narrative poem "Sinuhe the Warrior King" by Booker-prize-winning author Ben Okri which Kwei-Armah is directing himself.  Changing Destiny premieres in mid-July with Joan Iyiola and Ashley Zhangazha. The set design is by architect Sir David Adjaye. The chronological range of the season is dizzying, with another offering taking us to the present day and beyond with AI which playwrights Chinonyerem Odimba and Nina Segal are writing in collaboration with a deep-learning computer that is expected to generate much of the plot and dialogue. The hottest ticket is Cush Jumbo as the title character in Hamlet for the simple reason that it has been deferred from last year due to the pandemic, and any kind of intelligence, be it human or artificial would have told you to keep your booking.
Kwame Kwei-Armah, Artistic Director of the Young Vic interviewed by Jeremy Malies.
While appearing in a Brecht piece at the Young Vic, Jane Horrocks described it as "the most exciting place to work anywhere in the world." You'd presumably agree. What puts a spring in your step as you walk through Waterloo to the theatre?
I've always known that I've inherited the most flexible space in theatre in London. That adds a spring to my step. When I walk in, and I look at our audiences I realize that they are as diverse if not more diverse than any in London that I have seen. And that the very agenda of the Young Vic conflates with my own agenda in life which is, "How can we make everything that we do accessible? How do we try and make things as transparent as possible?"
This is a quote from you. "The Young Vic is, in my mind, a civic centre and a home-away-from-home for our community. It's a space for us to hear extraordinary stories told by the world's finest artists that help us see the world through someone else's eyes." Regarding being a civic centre, my last interview was with Phyllida Lloyd. She said broadly the same thing – she said that in the future theatres might have to be used in the way that churches and church halls were used 50 years ago. What do you think of that?
l think theatre is twenty-first-century church. I could push the metaphor – the play's the sermon and if you hit the right notes then the congregation go home and they think about it for longer than it took them to get out of the pews, and then hopefully the reflection will incrementally make you and the world, or more importantly you and the community that you're in, a better place. I also think that you can't just plop institutions in the middle of communities and say, "Listen it's only for the people who come between 7 and 10 in the evening." It has to be a place where everybody feels, "I don't just have to do a play there. I can do thinking and discussion there." I totally agree with Phyllida. It's one of the ways that we can validate our very essence in any community that we're placed in.
Chelsea Mitchell, Allison Semmes and Mari Andreas Travis in Soul. Photo credit: Bill Geenen.
My editor Dana Rufolo interviewed your predecessor David Lan about Brexit's effect on the Young Vic for the Autumn 2016 issue of this publication, and I interviewed David Lan ten years ago almost to the day. He told me that a wonderful thing about the spaces at the Young Vic is that you can come at a production almost totally afresh each in terms of stage and seating configuration. You can ask, "Where shall we put the playing area?" I even saw a piece [Kursk by Bryony Lavery] set in a submarine and could walk around the submarine. And Lan most certainly wasn't talking about social distancing in terms of layout. That flexibility will help you recover after the pandemic. You're well placed to observe social distancing rigorously but still get people in. Could you expand on that?
I said it right at the top. One of the joys of this theatre is knowing that you can place the stage almost anywhere. I think that has helped us in that we can play in the round and probably that will help us in the social-distancing world that we're now living in. l think however that I shouldn't get too drunk on my own gin. It helps us in terms of social distancing, but it also sets up an expectation among audiences that every time they walk into a show, the space will transform. And there are economic ramifications of that. During a period of reduced box office, reduced income, we have to take seriously how often we flip, change, and transform. Right now, it's a bonus to have a huge theatre but it's also a massive inheritance when one begins to think, "Can I afford to do the thing that my previous administrator did?"
Might it be almost Darwinian? The Young Vic is well equipped to adapt to change. That will surely contribute to your revival?
l'm always worried about Darwin as an example, though I do believe profoundly in accelerated evolution as opposed to revolution. I tell you what it does do. The fact that the space is one that we can adapt as and when we please can only aid art, and the aiding of the artistic mind will assist our recovery not just as a sector but also, if I can say it, as a community. Art will be used as a healing tool and being as flexible as possible in the way that you present your art can only be a bonus.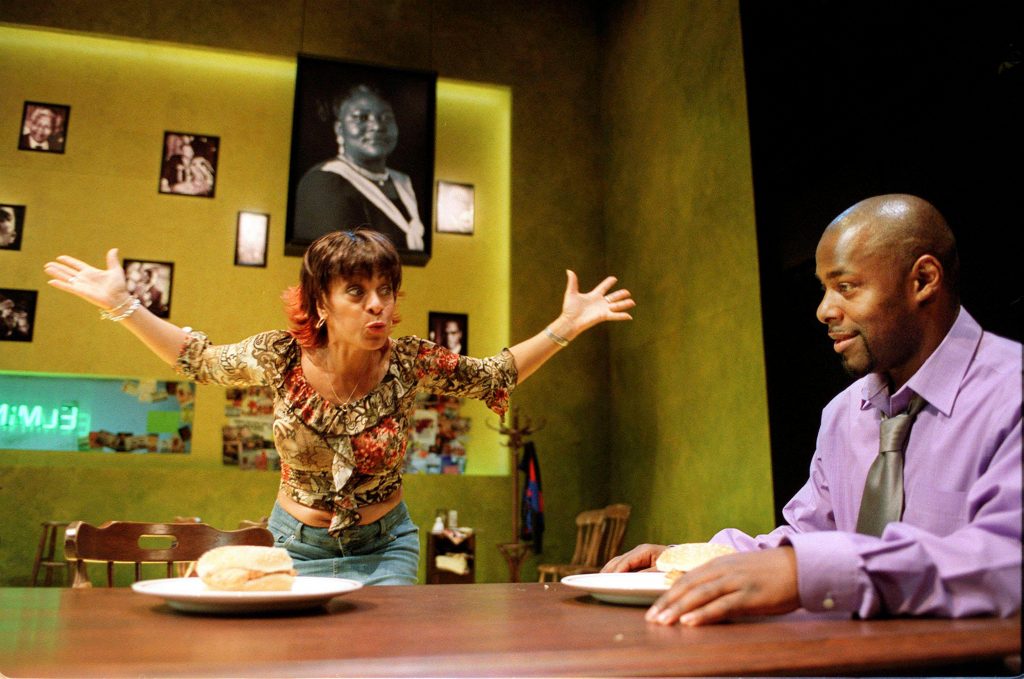 Doña-Croll and Paterson Joseph in Elmina's-Kitchen at National Theatre, Cottesloe.
Photo credit: Geraint Lewis and Alamy.
I'm looking forward to Changing Destiny. What is it about Egyptian civilization that still speaks to us so strongly?
I think that we're very fond, are we not, as a species of calling that which is tribal "universal"? When we talk about the root of European theatre then it sits in Greece. But it is not the only civilization that created theatre nor is it the only civilization that valued it. We know that in Egyptian civilization – actually remove even the word "civilization" and just say in Egypt, The Book of Coming Forth by Day was performed annually. The Egyptian mystery plays were done 4,000 years ago. And the play that we're about to do, Changing Destiny about the warrior king Sinuhe, is a performative poem also written 4,000 years ago that speaks to Syrian refugees. I don't know how to make it sound more contemporaneous than that!
Changing Destiny is a two-hander and it's in the round. That tells us something I suppose. There's much speculation about the design by architect Sir David Adjaye whose portfolio of prize-winning buildings extends from Whitechapel to Washington, with the campus designs being praised for fostering student-teacher interaction. That element suggests the design will speak to us, the audience members.
I'm really excited about David Adjaye coming to do the design, because I want the Young Vic under me to be an anti-disciplinary space. And what do I mean by "anti-disciplinary"? Some might call it multi-disciplinary, but I believe in erasing that. My own personal career has moved from behind the screens to in front of the screens to music to installations. Artists like Steve McQueen move from installations to art to photography. We're living in anti-disciplinary times, and I think firstly, inviting someone as high-profile as David to create a set for us when he creates some of the most amazing buildings in the world is a really shining example of direction of travel for the Young Vic. And I think what we will see is a space that plays with pyramids and while I don't want to give too much away – the use of pyramids in the space will be beautifully rendered.
Can you give us more of a feel for what we can expect visually?
We're using a really beautiful pyramid hanging from the roof that will be our projection space and which will allow us to move from classic Egyptian to the present day.
You're re-opening in the second week of July with Changing Destiny which is later than many other theatres. Is that out of an abundance of caution?
Throughout the pandemic, I've tried to do something that my West Indian parents would often say which is, "Pump the breaks!" Basically translated, it means don't be risk-averse but always be mindful. We wanted to make sure that we were ready to open and that we could open in a way that would not exhaust our guests coming to see the plays and would not wear out our staff by stopping and starting. This is not an abundance of caution but just being mindful. And I would argue that the Indian variant might be a validation of such an approach. We're trying to ensure that when we open, we are good to go.
In AI we won't just see the result of a deep-learning system being asked to produce a plot and dialogue; we'll see the human writers and the actors collaborating with GPT-3. I could watch for one evening and I'd see a few scenes and the interaction between machine and human mind that produced those scenes. What would I see if I attended multiple evenings? More scenes together with the relevant creative discussion?
We're hoping that day one will be Act One and day two will be Act Two etc. On the final day, we would hope to perform the whole play as created by the deep-learning system and by our live playwrights.
And it's definitely not tongue-in-cheek? It's pushing artificial intelligence to be as creative as possible and to get as close as possible to our capacity to feel?
Yes – totally. It's not tongue-in-cheek in any way. l read an article in the Guardian that was written by such a system and they went through the process in the way that they would normally do. We're going to go through the process – though slightly accelerated – in the way that we would go through the production of a play: creation, notes, another draft, workshop, performance. We're going to cram all of that into three nights but use the rudiments of the system that we employ to create new work.
'Young Vic Unpacked' programme:  Spring Awakening.
Photo credit: Leon Puplett.
What's the overall goal of AI? Is it a warning in any way about responsible use of AI? Stephen Hawking said not long before he died that he considered AI to be the greatest threat to mankind's existence. I once watched (on film) a research scientist spend just one afternoon teaching a leading-edge computer everything he knew about his subject – a lifetime's learning. The scientist walked out looking rather crestfallen. I found it sobering – even depressing. Does AI run that risk?
I perceived that AI was going to eat into the worlds of law, accountancy – into anything that seems quite linear. What we're fearing and seeing now is that AI, whose original meaning I'm told was algorithmic imitation, might be imitating us. If it is, I want to be able to get to the end of the process and if I'm going to be crestfallen and know that the future lies with AI then cool. But during all that I might just find the thing that is uniquely human that AI cannot do. I'm really interested in that. Is there a hole there? And if there is a hole, how do we keep a grip on what is our unique selling point as human beings?
This is relevant to AI.  It's you in an interview with WhatsOnStage a long time ago. The question posed is: "How does your grounding as an actor inform your writing?" And your answer is: "lt allows me to look at the construct of a speech and be able to say: 'That's a real mouthful, that's horrible to say'. When you get a script, there are lines that fall off your tongue quite naturally – and then there are others that don't!" I just thought that was funny and possibly important for AI though I realize it's not your project but one that you will have overseen as artistic director.
Yes, that is totally relevant to AI. This form of intelligence is a challenge to the system, and it is a challenge to us. How do we define our uniqueness? I hope that if AI comes up with something that seems unwieldy then l might be able to look at it through the lens of today and tomorrow. Is that me being caught within the parameters of my dispensation? Do I need to stretch my imagination? I think coming to the project with an open mind, coming to it wanting to celebrate the human voice might allow me to have an opinion on what the future may look like.
At times like these, an interview of this kind needs to focus on renewal and recovery from the pandemic. The Young Vic will soon be having its third taking-part initiative – YV Unpacked. This will see you bring a professional production to, among other venues, care homes for the elderly. They were a focus during the (hopefully) worst phase of the pandemic, so the care sector is a crucial element of recovery. When the care sector is vibrant, we will really have recovered from the pandemic. Talk about that please.
Our last YV Unpacked was one of the highlights of my time at the Young Vic. Going into not just care homes but also community centres for the retired and seeing the openness with which they receive the work and comment on it was an extraordinary experience. We took in a 1696 comedy written by a woman under the pseudonym of Ariadne called She Ventures and He Wins. It was one of the first plays we're told that was published by a female playwright and it was a classical almost Restoration romp. Part of that was aligning art with the attitude of not really giving a hoot about what the world thinks that comes with old age.
Cush Jumbo will play "a new kind of Hamlet". It will open in September. The phrase "a new kind" is from your website. This is Cush Jumbo speaking about it but not giving too much away: "You have to be ready in so many ways. You don't get to choose the play, it chooses you. Shakespeare wrote no other male character like Hamlet. He wrote 'a new man' and I think today we are still questioning what it is to be that man, to be any man in fact". My instinct is that Cush is not going to do it in an androgynous way like Maxine Peake did at the Royal Exchange Manchester seven years ago in a trouser suit and with a Bowie haircut. And she isn't going to be within the brilliant conceit of a women's prison as she was when I saw her as Mark Antony in Phyllida Lloyd's Julius Caesar at the Donmar Warehouse. Can you give me some hint as to the likely treatment?
I can't and the reason is that she and director Greg Hersov are brewing. And here's what I bought when I bought Cush as Hamlet. I bought Cush saying, "I'm going to do it and I'm going to go in and give it all I can in terms of defining the truth of what I think Hamlet is in my body." I bought that investigation.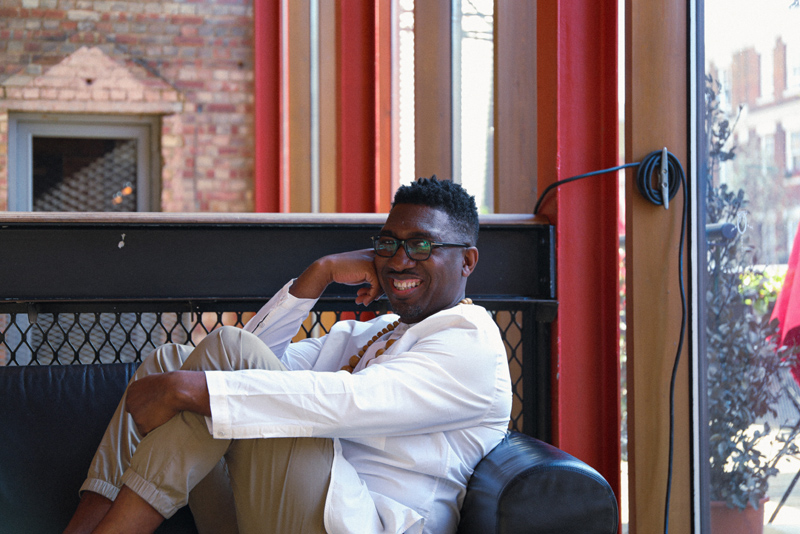 Your play Statement of Regret in 2007 at The National is ultra-topical in that the main character is fighting for reparations for slavery. That has always been urgent, but it's very much in the news at the moment.
There's another play of mine called Beneatha's Place and I went to see a student production of it the other day at Mountview Academy of Theatre Arts. I wrote that play ten years ago. And the politic of that play also seemed to fit our time, now, more than the politic at the time of writing. [Beneatha's Place shows the influences of A Raisin in the Sun and Clybourne Park but is an articulation of black thought that includes global socioeconomics as well as neighbourhood politics and domestic interiors.]
I saw Statement of Regret 14 years ago. It depicts a black think tank whose director goes on the record to encourage division within the black community with disastrous results. Blinkered identity politics of any kind is shocking – surely? There should be a presence of black people right across the Overton window – or even a bit further either side of the window. You've spent a lot of time in the US. Your principal role from 2011 to 2018 was as the artistic director of the Baltimore Center Stage which is the largest producing theatre in Maryland. You will have observed Trump closely. Do you think he has been a polarizing figure in terms of, say, Candace Owens being exactly where she is on the right and the group often known as 'The Squad' – notably Alexandria Ocasio-Cortez – being exactly where they are on the left?
Something similar has happened to us progressives — that's how I would place myself in mainstream politics in terms of Trumpean populism across the West. Some might say not just the West and would include Indonesia, Brazil, India. But the populist movement that we have seen has been again, in my humble opinion, born out of those who feel themselves left behind and not being listened to. This means that we progressives think that we won the argument when all we really won was the silence. And people never really stay silent for long; it comes back. And though it may come back as a foul wind, generationally it comes back and bites us.