"The Winter's Tale", Shakespeare's Globe
Neil Dowden on the South Bank
26 February 2023
Shakespeare's Globe's new production of The Winter's Tale marks the start of their celebration of the four-hundredth anniversary of the publication of the First Folio which collected together Shakespeare's plays. Suitably enough the play itself – probably written just before his last solo work The Tempest – was first published in that edition more than a decade after its stage premiere.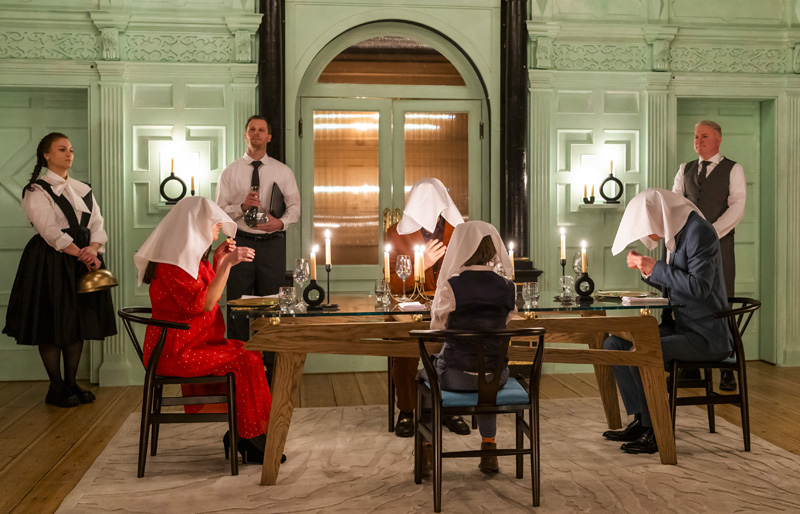 The ensemble in Sicilia. Photo credit: Tristram Kenton.
Director Sean Holmes has had the inspired idea of using both the indoor Sam Wanamaker Playhouse and the outdoor Globe Theatre – the first time this has been done for any single production. It's a good fit for the action of The Winter's Tale which is here divided between indoors for the court scenes in morally corrupt Sicilia and outdoors for the rumbustious fun of rural Bohemia. Unfortunately, the show fails to achieve a convincing balance between the tragic and comic elements of this tricky late romance.
The formal, rather stifling atmosphere of the Sicilian court is well captured in the opening dumbshow sequence of uniformed servants bringing in a succession of dishes covered by a metallic cloche – with the diners eating the invisible food with napkins over their heads. Although this is supposedly a sociable meal – with King Leontes and his heavily pregnant wife Hermione hosting Leontes's oldest friend Polixenes, on a nine-month sabbatical from his own kingdom of Bohemia – the mood quickly turns sour after Leontes irrationally suspects the other two of having an affair and his anger turns murderous, with Polixenes fleeing for his life.
Like Othello's unjustified jealousy of Desdemona and Cassio, it's difficult to convincingly stage such an extreme change of feeling – and it is even quicker in The Winter's Tale. But Holmes skilfully suggests with the blocking how Hermione and Polixenes's easy-going intimacy could inflame the more uptight Leontes – who has failed to persuade his friend to stay on longer while his wife has succeeded, and who now disbelieves his new-born baby girl is his own, so orders her to be abandoned far away.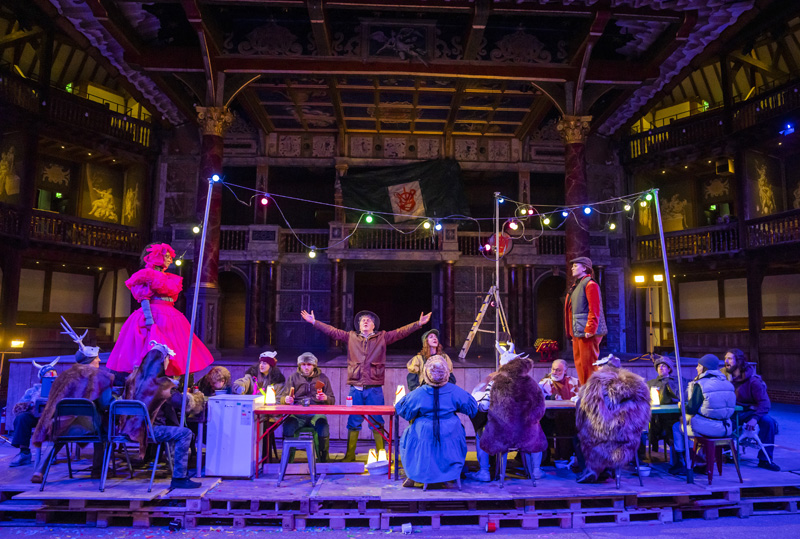 The ensemble in Bohemia. Photo credit: Tristram Kenton.
Worse follows. After disobeying the Oracle's pronouncement that Hermione and Polixenes are innocent, Leontes is punished by the death of his young son Mamillius, and then is told by Hermione's confidante Paulina that his wife too has passed away, leading to his repentance and long penance. But although the catalogue of calamities is clearly conveyed, we don't really feel their full tragic force in a production that is constantly inventive but rarely touches the heart.
After the interval the audience is guided from the subdued candlelit Sam Wanamaker outside to the Globe arena where the air is much fresher (especially on a chilly evening in February!) and the space is more relaxed. The sharp change in tone is signified with the bizarre stage direction "Exit, pursued by a bear" when we see the courtier abandoning the baby girl being chased on two levels of the stage by a rather dapper bear (whom we have already seen fleetingly at the death of Mamillius). Perdita – as the "lost" tot is named – is rescued by a naïve but good-of-heart shepherd and his son who bring her up as their own in the warm embrace of Bohemia.
Sixteen years later Perdita is queen of the sheep-shearing feast, where she becomes betrothed to Polixenes's son Florizel in the guise of a shepherd much to the secretly watching king's anger. The feast (which should feel even jollier later in the run in spring!) is performed with free-wheeling merriment in the Yard rather than on the stage itself, closer to the audience who are mainly seated in the Lower Gallery – with patrons on benches at the perimeter invited to join in with the dancing and everyone taking part in a song. The cast is supplemented by members of the Soldiers' Arts Academy Theatre Company who bring some anarchic energy to this pastoral hooch party which at times has a slightly psychedelic feel.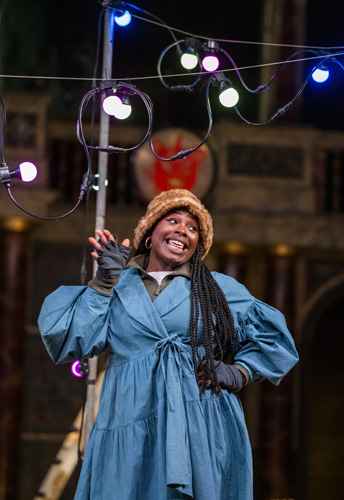 Nadine Higgin as Paulina.
Photo credit: Tristram Kenton.
The final act of reunion, reconciliation, and resurrection in Sicilia takes place back inside. Under Paulina's care, the now-broken Leontes has been watching old projector slides of his family before it was torn asunder by his own actions. But the arrival of the eloped Perdita (whose real identity as yet is unknown) and Florizel, then the angry Polixenes and others from Bohemia, stimulate him into acting as a peace-making go-between to gain some redemption. The "coming-to-life" of Hermione's statue is touchingly done – though there is a sting in the tail with a brief suggestion that Leontes's jealous instincts may not be completely expunged.
Grace Smart's design contrasts the smart Sicilian dining room with its glass table, chandeliers, and pale-green wall with the trestle tables, rustic benches, and coloured fairy lights of the Bohemian festivities. And the two settings are also finely differentiated in the live music composed by Laura Moody which features staccato cello and viola playing for Sicilia and folky acoustic guitars and percussion for Bohemia.
Sergo Vares gives a carefully controlled portrayal of pathological paranoia as Leontes, who in his breakdown strips to his undergarments and munches on takeaway burgers, but his cold distancing makes it hard to share the raw emotions that are eating him up. Bea Segura is impressive in conveying Hermione's righteous anger, but we don't feel too much the hurt that her husband has inflicted on her. John Lightbody does well in showing how Polixenes's amiable urbanity later descends into another example of toxic masculine aggression. Nadine Higgin excels as the impassioned Paulina who boldly defends her friend against unjust accusations but uses her healing powers to effect a peaceful resolution.
Jacoba Williams is a lively Perdita who knows her own mind and heart even if she doesn't know who she really is. Colm Gormley and Samuel Creasey are amusing innocents as, respectively, Old Shepherd and Young Shepherd. And Ed Gaughan steals some scenes (as well as a wad of cash) as a Cockney conman pedlar Autolycus who lives on his wits, in a droll stand-up persona using mainly contemporary English and occasional ad-libbing that engages the audience as complicit in his schemes.