"The Sex Party", Menier Chocolate Factory
Neil Dowden in south London
22 November 2022
The Menier Chocolate Factory has reopened after a six-month refurbishment with Terry Johnson's new play The Sex Party. This does what it says on the tin: it's a comedy drama revolving around a house party for swingers. A year ago the Menier revived Alan Bennett's seventies sex farce Habeas Corpus which had a dark edge but hasn't aged too well in these more politically correct times. Johnson's play is not as densely plotted or as overflowing with double entendres, focusing on the culture wars surrounding gender and sexual identity. Unfortunately, though it boldly meets these hot-button topics head-on, its embrace of the slippery subject-matter is awkward and unconvincing.
John Hopkins, Lisa Dwan and Molly Osborne. Photo credit: Alastair Muir.
Four middle-class couples gather in a smart Islington house for an evening of Prosecco, cheese, and partner-swapping. Liberal host Alex encourages his guests to relax and lose their inhibitions, but while his much younger girlfriend Hetty is happy to satisfy anyone's desires, he keeps strangely aloof from the action. It seems he is still smitten with old flame Gilly, who has persuaded her more conventional and possessive husband Jake to come along as nervous first-timers. Rich American businessman Jeff claims he won his kooky Russian mistress Magdalena in a poker game. Posh druggie Tim is under the thumb of the overtly woke Camilla. When transgender woman Lucy arrives everyone is forced to reflect on their attitudes towards gender and sex.
Johnson has often explored the dubious aspects of sexual mores before in plays like Hysteria (Freud's psychosexual theories come back to haunt him), Dead Funny (a tribute to the late sexist comic Benny Hill by men with failed love lives), Cleo, Camping, Emmanuelle and Dick (the affair between Carry On film actors Sid James and Barbara Windsor), and Hitchcock Blonde (Hitchcock's voyeuristic obsession with blondes). In The Sex Party he tries to tackle tricky topical issues around relations between men and women – in particular how transgender challenges traditional identities – but it feels laboured and a bit out of touch.
This is a fitfully entertaining show with – as expected from Johnson – some witty one-liners, such as Magdalena saying her safe words are "Don't stop!" But the characters tend towards stereotypes, while the dialogue often seems like a social-media-style debate. More tittle-tattle than titillating, the copious chat all happens in the kitchen while the erotic activity happens offstage in the living room, from which we occasionally hear groans of pleasure.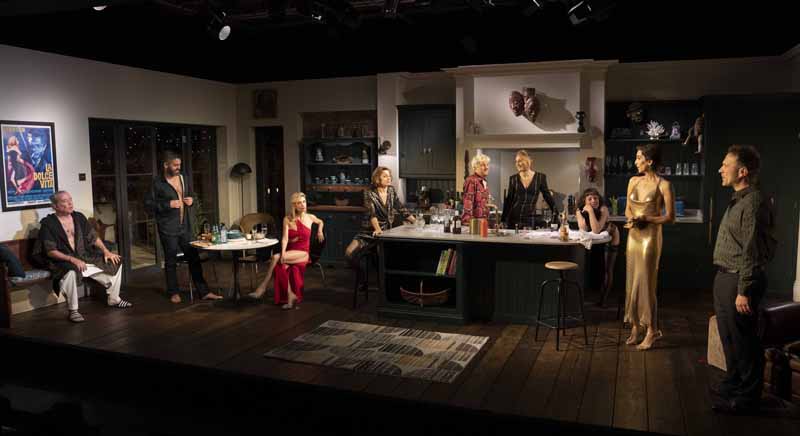 The ensemble. Photo credit: Alastair Muir.
The arrival of Lucy – a pre-operative transsexual – acts as a catalyst for debate including the predictable mentions of pronouns, toilets, and J.K. Rowling, revealing varying levels of transphobia. The lack of diversity in the group (which apart from Lucy is white and heterosexual, plus a bit of lesbianism thrown in) becomes a talking-point in itself. It becomes clear that everyone has their own particular hang-ups as the hedonistic mood turns sour with quarrels breaking out.
The show is directed rather statically by Johnson himself (who had a major success at the Menier in 2007 with the musical La Cage aux Folles which transferred to the West End and Broadway). However, there is a handsome design from Tim Shortall: an upmarket, open-plan kitchen (with a poster for Fellini's La Dolce Vita and some theatrical masks on the wall) plus a glimpse of a leafy patio outside.
The cast does well to suggest simmering tensions in what is an over-talky play. It transpires that Jason Merrells' amiable, commitment-free Alex is haunted by missing out on what may have been a fulfilling marriage to Lisa Dwan's dissatisfied Gilly who feels constrained by her family life. The enthusiasm of Molly Osborne's Hetty for an open relationship masks her insecurity.
John Hopkins' jealous Jake wants to assert his male dominance. Timothy Hutton (who won an Oscar for Best Supporting Actor in Ordinary People 40 years ago) plays the obnoxiously cynical Jeff, while Amanda Ryan's materialistic Magdalena is trapped like a gilded butterfly. Will Barton is very funny as the ageing hippy Tim, with Kelly Price as the self-righteous Camilla. And Iranian-American transgender activist Pooya Mohseni gives a poised, dignified performance as the outsider Lucy who challenges the others' prejudices.