"Rose": Theater Nestroyhof Hamakom
Ludovico Lucchesi Palli in Vienna
14 March 2022
Vienna's Theater Nestroyhof Hamakom has joined forces with the acclaimed stage and TV actress Andrea Eckert to introduce Martin Sherman's one-woman play to Viennese audiences. The actress stars in the title role and serves as co-producer.  It is presented in a German translation by Inka M. Paul. Ruth Brauer-Kvam directs.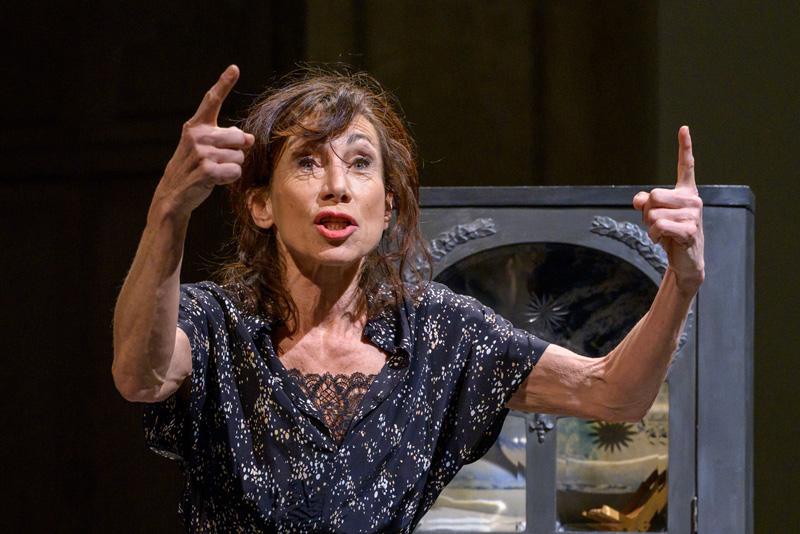 Andrea Eckert. Photo credit: Josef Polleross.
The play, which was last seen in the UK at Manchester's Hope Mill Theatre starring Maureen Lipman, traces the life of the Holocaust survivor Rose, who tells her story from her childhood in a Russian village to fleeing to Warsaw during WWII to eventually settling in America where she starts a family and a new life.
In this production, the actress is already on stage, with a letter in her hand as audience members enter the theatre. There is classical music running in the background which continues even after the lights are dimmed.  She begins to read the letter out loud, with the music still playing in the background, which to be honest is not ideal because you cannot hear her well.
Once the music stops however, we can hear her and are immediately drawn into her world. She begins by explaining that she is sitting shiva which as she explains is a Jewish tradition of mourning the loss of somebody close to you. She reveals that she sits shiva for a little Palestinian girl but instead of saying what this girl meant to her, she begins to narrate her life story.  It is only at the end, when you see her reading out a letter she receives from her son, that the meaning behind the first scene is revealed: the little girl was killed by her grandson. This explains why she sits shiva at the beginning of the play. It's an interesting way to incorporate a full circle moment in the play.
Andrea Eckert. Photo credit: Josef Polleross.
At first, she is low, sad, and fragile, but as she continues to talk about her childhood in Russia, her family and her dreams, her mood gradually changes. At times she is hopeful, at times she is sad, there is anger, there is grief.  Andrea Eckert, who has portrayed many strong female characters such as Maria Callas in Terrence McNally's Masterclass or Dorothea Neff in Felix Mitterer's Du bleibst bei mir, delivers a performance with great depth and manages to take her audiences inside her own world from the beginning of the play to the end.  Eckert's performance makes you always care about the main character.
Ruth Brauer-Kvam's production, despite the difficult subject matter, is lively with the use of minimalistic sets which consist of a white rocking horse which she occasionally sits on, and a small cupboard which once opened comes with a miniature beach designed by Alina Helal.
At times, to illustrate what is being told, projections by Lukas Wögerer are projected on the stage, depicting flowers, the sea or old family photographs. In another instance, a black and white film is projected on the wall to illustrate a cinema.  While all of this works very well, it sometimes feels excessive as the play itself is already strong enough and does not require a lot, particularly when you have a strong actress.
This is a thought-provoking piece which, given the current climate, could not be more timely despite it being set in a different era.  Particularly towards the end of the play, you realize that this piece does not only deal with WWII but also with the refugee crisis and the Middle East conflict. There have always been people fleeing from their own countries and there always will be. This universal play depicts exactly that.
Andrea Eckert. Photo credit: Josef Polleross.