"La Cage aux Folles" at Regent's Park Open Air Theatre
Mark Shenton in north London
15 August 2023 
August 23 marks the 40th anniversary of the Broadway opening night of the original production of the musical La Cage aux Folles, based on a Parisian farce by Jean Poirot.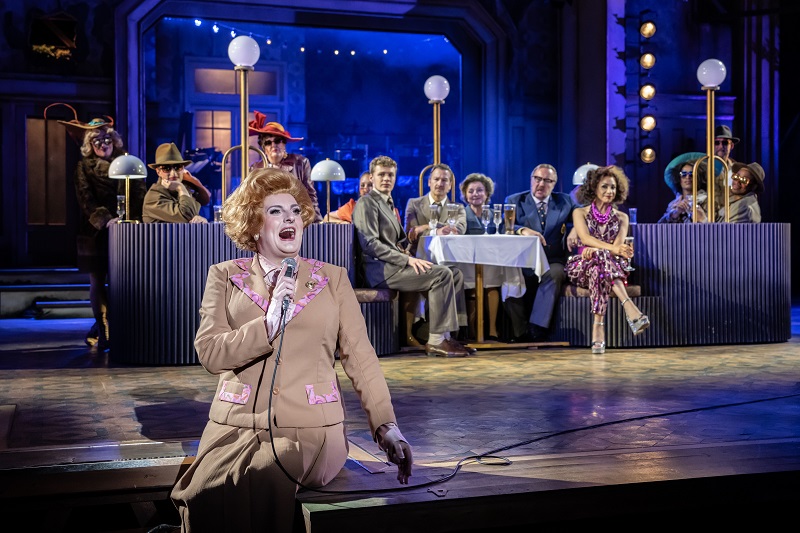 Carl Mullaney as Albin.
Photo credit: Johan Persson.
It was written by two gay men – veteran composer/lyricist Jerry Herman and Harvey Fierstein, who wrote the book and had provided Broadway with one of its most haunting and radical plays about gay life being led unapologetically and authentically in Torch Song Trilogy the year before, putting himself centre stage in his own Tony Award winning play. 
La Cage broke the mould in being a family musical about a different kind of family – one where two men bring up the biological son of one of them – long before such alternative families had become normalized. But given the current attacks on the trans community in America and in Britain too, this show is still another sort of trans entirely: transgressive and boldly confrontational in its direct challenging of bigotry, set in a St Tropez drag nightclub of which Georges and Albin are respectively manager and star.  
Bill Carter as Georges.
Photo credit: Johan Persson.
When Georges's son Jean-Michel, now 24, returns home and announces his plans to get married (to a woman, no less!), a giddy and dizzying farce is set in motion, as the bride's father is the leader of the Tradition, Family and Morality party whose mission is to close down all the drag clubs on the Riviera if and when he gets elected.  
A show that was radically ahead of its time when it first premiered on Broadway four decades ago remains amazingly still pertinent – and thrillingly impertinent too at times – now. An all-queer creative team – led by Regent Park Open Air Theatre's artistic director Tim Sheader, in his final show here before he takes over the Donmar Warehouse next year – truly own it, as do both the gay leads, joyously and unapologetically. While the likes of Graham Norton, John Barrowman, and John Partridge have variously played the role of Albin in the last West End and touring revival (which originated at the Menier Chocolate Factory), this is the first time that both leads are being played by out gay actors in a major production, and it gives it new weight and plausibility to the evening.  
The biggest triumph of the night is Carl Mullaney's Albin, who in full drag looks like a cross between Barbara Cartland and Barbara Cook. His raging and defiant delivery of "I am what I am" at the end of the first act is a heartfelt statement of owning his place in the world.  
Also adding to authenticity is Sheader's decision to have the actors speak in their indigenous accents, so that Billy Carter's suave but impish Georges has a Northern Irish Belfast lilt, for instance, while Debbie Kurup's Jacqueline – who runs a swanky restaurant on the Riviera that bears her name – is pure Geordie.  
But the main accent of this production – and it's no accident – is of celebration and joy in the now iconic story of liberation it presents. Les Cagelles – the drag chorus of pleasingly diverse body types and races in this version – sing of how "We face life though it's sometimes sweet and sometimes bitter; / Face life, with a little guts and lots of glitter. / Look under our frocks: Girdles and jocks, / Proving we are what we are!" 
There's guts and glitter aplenty here, thanks in particular to the slightly seedy glamour of Colin Richmond's visualization of the backstage and onstage life of this drag club, and Ryan Dawson Laight's extravagantly OTT costumes. Howard Hudson lights it with garish colour as day fades to night in this outdoor theatre.  
 Of course, an occupational hazard here is the weather, and the official press performance had to be abandoned about 40 minutes in – just as one of the characters observed, "it's starting to rain", which was possibly testing providence. So I had to return three nights later to see the whole show. Unfortunately John Owen-Jones, who plays the brief but important role of the bride's bigoted father Edward Dindon, had a chest infection which caused him to lose his voice, so he was replaced by the able and very funny understudy Craig Armstrong the second time I saw it.  
 Jerry Herman wrote many anthemic standards for leading ladies in a career that stretched from massive hits like Hello, Dolly! and Mame to lesser flops like Mack and Mabel and Dear World. But his singular signature was always his sheer melodic brilliance and crisp, witty lyrics, and La Cage is like enjoying a warm bath of aural and verbal delight. "We import the drinks that you buy, so our Perrier is Canada Dry!" is an irresistibly playful example.  
 This is a highly affectionate, never affected, but always affecting production of a show that's a true delight to see again.