"Pressure": Chichester Festival Theatre
Jeremy Malies in West Sussex
28 April 2014
Rival meteorologists squabble for 72 hours over the most important weather forecast in history. Forget amphibious landings from the Trojan War, Henry V at Harfleur or the Gallipoli Campaign; more lives rested on predicting the weather in June 1944 than at any time. In a colonnaded manor house near Portsmouth, US General Dwight D. Eisenhower is given two consecutive sets of contradictory predictions about upcoming weather in the English Channel. His advisors are a failed pianist now brash celebrity Hollywood forecaster pitted against a dour Scot raised near the coast of Midlothian. Both times, Eisenhower ignores his compatriot and backs the judgement of the Brit. The drama is described in the play Pressure by actor-writer David Haig which has been revived from 2014 and opened at the Cambridge Arts Theatre.
Haig has seen the massive potential in the story and after initial doubts as to whether he could carry off the accent of the Scottish forecaster, James Stagg, played one of the leading roles. The piece follows almost classical unities of time and place (the action never leaves a planning office) and covers only 72 hours. While we hear aircraft overhead, major events take place offstage and are described to us. The science of weather is made not just palatable but absorbing through oversized isometric maps in Colin Richmond's evocative design.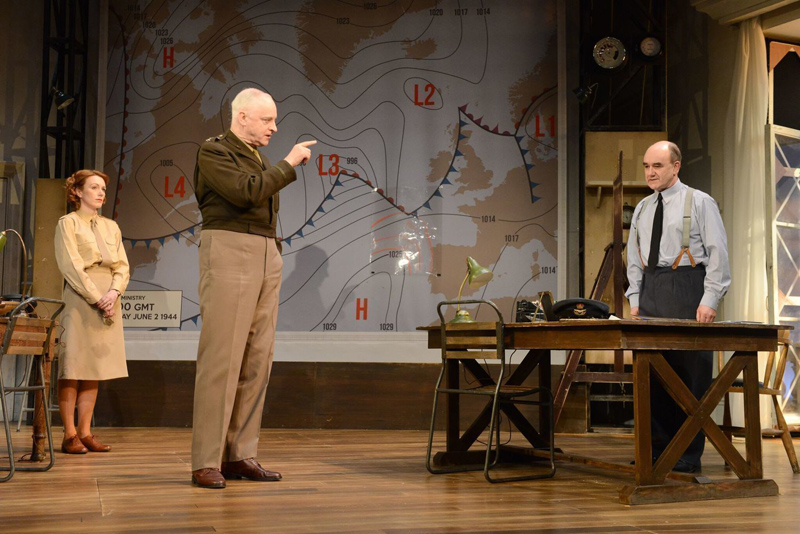 Laura Rogers, Malcolm Sinclair and David Haig in Pressure. Photo credit: Robert Day.
As Stagg, Haig excels when pleading with his rival (Philip Cairns as Colonel Irving Krick) to think in three dimensions. (Intuitively, he understands the Jet Stream though it would not be identified for another year.) The weather intrudes physically at one moment. If he is to be proved right, a storm must break and Haig looks out beseechingly towards the Isle of Wight from a French window until he is finally drenched to the accompaniment of the biggest laugh of the evening. (This is not the only moment of comedy and the dialogue is often riotously funny.) The scene also encapsulates the idea of a single individual having an intense experience against the vast backdrop of a world conflict.
Being both writer and practical man of the stage, Haig can take us from micro to macro effortlessly. Aided by Andrzej Goulding's video design, he soon illustrates how the lives of 350,000 Allied troops are involved. Extra dimensions are not only the audience but other theatres of war including the Pacific. The micro includes the military relationship between Eisenhower (Malcolm Sinclair) and his secretary-confidante Kay Summersby (Laura Rogers) as well as their deep friendship which may have extended to some level of romance.
In a play of literal highs and lows, the dialogue palls only occasionally as Sinclair works his way through some generic speeches that could have been lifted from most wartime dramas. Once the decision about a date is made, 'Ike' absents himself for five hours and takes a car trip to Berkshire. We learn that he feels compelled to speak to paratroopers in the 101st Airborne Division before they board their aircraft. I would defy anybody who has watched Band of Brothers to absorb that detail and not go a little moist and husky.
Be under no illusion; a stubborn often charmless Scottish weather forecaster virtually saved Europe by delaying the D-Day invasion. Haig's brilliant piece, revived from 2014, is a fitting tribute to James Stagg. Making science sexy is hardly unusual as even this hastily assembled list of playwrights will show. Anna Ziegler (DNA in Photograph 51), Tom Stoppard (mathematics in Arcadia), Michael Frayn (nuclear physics in Copenhagen), Caryl Churchill (cloning in A Number) and Nick Payne (quantum cosmology in Constellations). But Pressure can be placed in the highest class for accessibility, integrity and emotional clout. The production has a London run at the Park Theatre in April.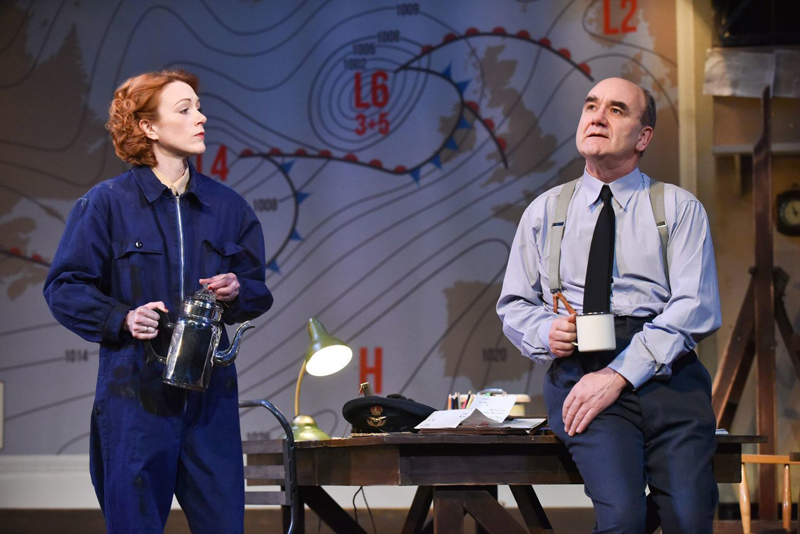 Laura Rogers and David Haig in Pressure. Photo credit: Robert Day.