"Wonder Boy": Bristol Old Vic
Crysse Morrison in Bristol
14 March 2022
'A vision for the future of theatre' is how director Tom Morris sees Bristol Old Vic's world premiere production Wonder Boy, the hugely successful product of their ongoing collaboration between the theatre team and local city schools, scripted by Ross Willis and selected by director Sally Cookson from their season of staged work with the Bristol Old Vic Theatre School.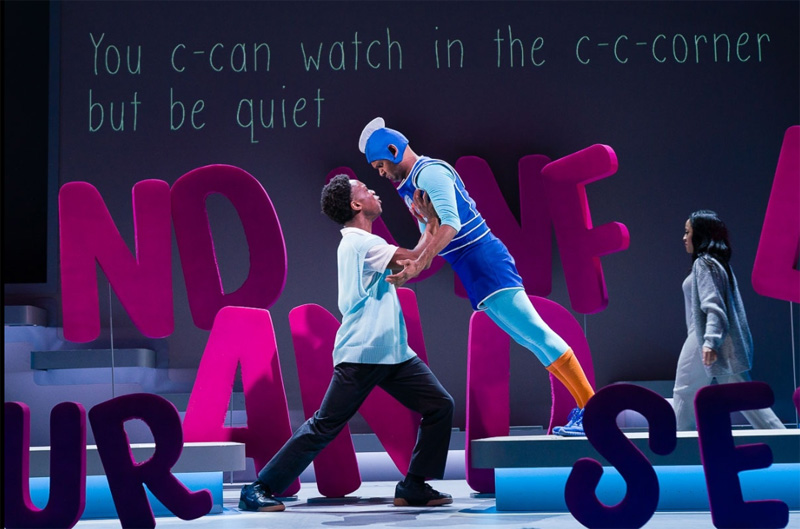 Raphel Famotibe, Ramesh Meyyappan and Jenny Fitzpatrick.
Photo credit: Steve Tanner.
The story of Sonny, who has a chronic stammer, is a response to concerns about the way society stigmatizes those who struggle to communicate, and its presentation brings a whole new concept to performance by literally visualizing every word spoken by projecting the ongoing script in various large, coloured, fonts on the backdrop of the set.
As the dialogue is tersely funky and often very funny, it's easy to read while following the action. This effective captioning created by Tom Newell of Limbic Cinema is a crucial element of the show; it's not only brilliantly effective as visual entertainment buy also represents the way the extended struggle to articulate is also a form of communication and warrants attention.
Twelve-year-old Sonny, played by Raphel Famotibe, superbly blends the mix of social anxieties and ambitions that are the tug-of-war of his life. His friends are an invented superhero Captain Chatter, played by Ramesh Meyyappan, whose comedic support inevitably further confuses the situation, and mouthy Roshi, brilliantly played by Juliet Agnes.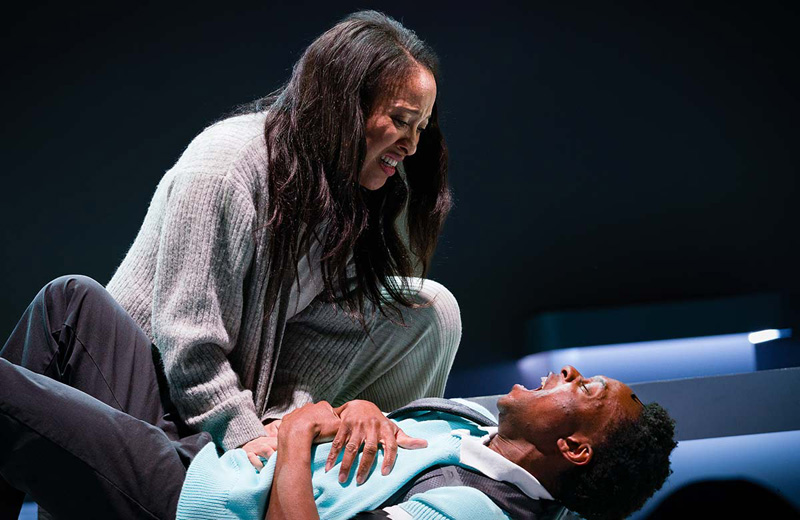 Jenny Fitzpatrick and Raphel Famotibe. Photo credit: Steve Tanner.
Roshi's other ally is Miss Wainwright, the teacher who casts him as Hamlet in the school play. "It's basically the original version of The Lion King", she reassures him. (Roshi tries helpful deconstruction of Hamlet: 'He's like a shocked Pikachu face,' she summarizes.)  Amanda Lawrence is excellent in conveying the brusque but empathetic teacher, repeatedly harassed by the inappropriate requirements of head-teacher Miss Fish, superbly played by Jenny Fitzpatrick.
As well as these powerful prototypes in Sonny's life – mistaken adviser, loyal rough-diamond friend, wounded healer, bullying authority – all showing disparate elements of his struggle, there are small, profound, glimpses of the cause of his speech difficulty in the short scenes with his mother,
The cast is small, but it took a 17-strong creative team to create this impressive show. Benji Bower is responsible for the electronic soundscape, played live above the stage. Katie Sykes designed the effective minimalist set incorporating Aideen Malone's neon light strips while Laila Diallo choreographed the dynamic movement sequences. The cumulative outcome is memorable entertainment, fast-moving and funny with a thought-provoking aftertaste.
Ross Willis wrote this play about a teenager struggling to be heard when he was just 20 before continuing his career with the award-winning Wolfie at Theatre 503 in 2019, also about struggle with social stigma. Artistic Director Tom Morris and the Bristol Old Vic team made an inspired decision when they brought this to the stage. Funny, edgy, and thought-provoking, it works at so many levels to entertain and resonate across a wide age range.
Raphel Famotibe. Photo credit: Steve Tanner.