"Private Lives" at Ambassadors Theatre
Mark Shenton in the West End
14 September 2023
Like productions of King Lear or Hamlet, you never have to wait too long for a new staging of Noël Coward's 1930 comedy Private Lives to turn up on a British theatre stage.
Nigel Havers and Dugald Bruce-Lockhart.
Photo credit: Tristram Kenton.
Back in April, Donmar Warehouse artistic director Michael Longhurst directed a buzzy, busy revival at his home theatre that cast Stephen Mangan and Rachael Stirling as Elyot and Amanda, a formerly married couple who are unexpectedly reunited on the balcony of their hotel overlooking the sea at Deauville, where they are celebrating honeymoons with new partners.
Now this timeless, tireless play is getting another London outing in a production that was originally launched regionally in Bath and then toured the UK, with the casting of two older-than-usual actors Nigel Havers and Patricia Hodge revisiting the play under the direction of Christopher Luscombe. (His director brother Tim Luscombe once helmed a 1990 West End revival with Joan Collins and Keith Baxter that was powered entirely by Collins's star power allure.)
At least Havers and Hodge have real stage chops to do the play justice, even if Havers has a tendency to trade on his smug, now fading matinee idol charms. But as anyone who bears witness to his yearly stage humiliations by Julian Clary in the London Palladium's annual panto outings, where he is a member of the permanent company, there's a self-deprecating knowingness to his persona, too.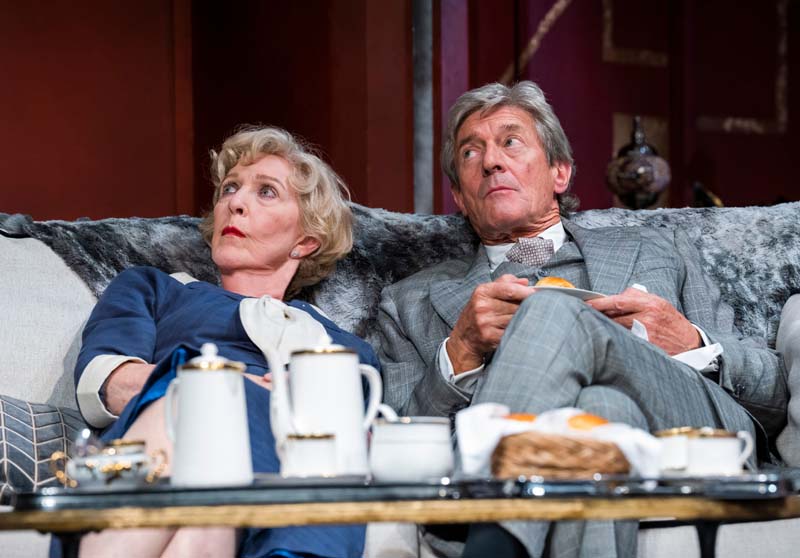 Patricia Hodge and Nigel Havers. 
Photo credit: Tristram Kenton.
That's perfectly suited to Elyot, a shallow man with a performative streak who is endlessly self-obsessed but also waspishly self-aware. He meets his match in the brittle, maddening Amanda, who triggers both his vanity and insanity, and vice versa. As played by the ever-wonderful Patricia Hodge, who exudes style, glamour, and sophistication in equal measures, it's no wonder they drive each other to utter distraction.
Often the actors playing Elyot and Amanda draw all the oxygen out of not only each other but also the room, and the play dips when their new put-upon spouses face down their cuckolded predicaments. But the particular joy of Luscombe's production is that Dugald Bruce-Lockhart and Natalie Walter resemble younger versions of Elyot and Amanda, making it credible why they've been sourced to replace their predecessors respectively.
Both are also skilled comic actors, who mine their desperation with hilarity as well as pathos. It may be bad luck that each have drawn narcissists to them, but they share some of their infallible certainties, too, which makes their predicament understandable.
Luscombe's pacy production – it clocks in at just two hours, including an interval after the first act (of three) – has a handsome pair of sets by Simon Higlett for the hotel terrace and Amanda's Paris flat. Nigel Hess scores the incidental music (and also plays the piano, joined by a cellist and violinist), with Jenny Arnold providing a delightful bit of choreography, while fight director Kev McCurdy orchestrates the eruptions of stage violence with evident glee.
"Women should be hit regularly, like gongs," Elyot says at one point with unreconstructed entitlement. But plays like this deserve to be seen as regularly if they're in productions as effortlessly enjoyable as this one.