"Lemons Lemons Lemons Lemons Lemons", Harold Pinter Theatre
Mark Shenton in the West End
7 February 2023
Words matter, in reviews as in life. But life is more generous: you don't (usually) have to make every single one count. But in writing about Lemons Lemons Lemons Lemons Lemons, you use four more of them than you need to just to list the title. And now I'm going to use more words talking about another play entirely – but bear with me.
Jenna Coleman and Aidan Turner. Photo credit: Johan Persson.
Nick Payne's Constellations was an existential wonder of a play, imagining various different trajectories in the romantic life of a couple, from first meeting to final parting. Michael Longhurst, who originally directed it for the Royal Court in 2012, revived it in the West End in 2021, under the producing auspices of the Donmar Warehouse that he's currently at the helm of, in partnership with commercial producers Eleanor Lloyd and Wessex Grove. The production also upped the ante by giving us superb iterations of different couples acting it throughout the run, of different ages, sexuality, and levels of celebrity, that made it one of the theatre events of that year.
Now Wessex Grove are leading (with different partners) on another boldly experimental two-hander that is clearly partly indebted to Constellations. It was first seen on the Edinburgh Fringe in 2015, then revived – under the auspices of Paines Plough – at each of the following two festivals. Now it finally arrives in the West End as a showcase for two star actors best known for their TV work, Poldark hunk Aidan Turner and Doctor Who's Jenna Coleman, in a glossy new production with Longhurst's Donmar predecessor Josie Rourke holding the directorial reins.
Like Consellations, it is about a couple, non-linear, and experimental in form. It sets up a dramatic paradox: how to illustrate the limits of language in the theatre, since words are precisely what plays depend upon for characters to tell us about themselves. It does so by inventing an (admittedly improbable) dystopian future, in which thanks to an edict of authoritarian control that's called the Quietude or Hush Law, the population finds itself suddenly restricted to uttering a maximum of just 140 words a day. (It's a limit that's a riff on the former Twitter character limit, itself now doubled.)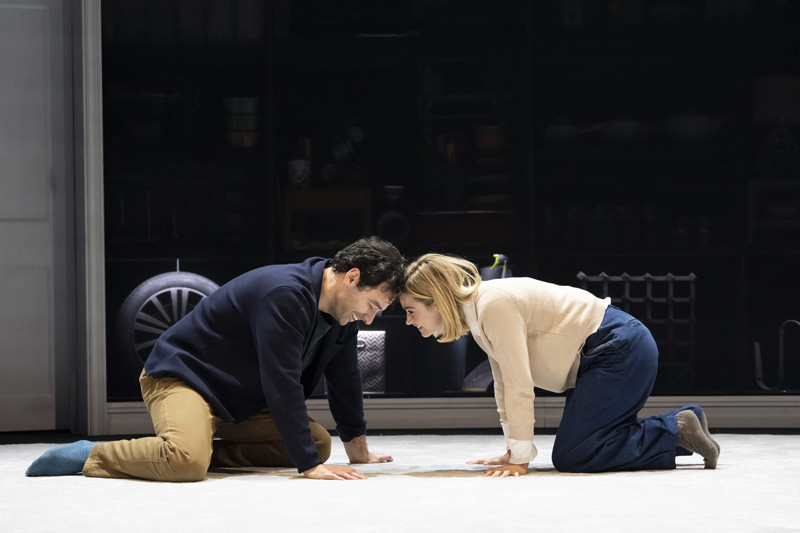 Aidan Turner and Jenna Coleman. Photo credit: Johan Persson.
Playwright Sam Steiner, who was just 21 when he wrote it, has constructed a playful and artful piece, an economically drawn portrait of coupledom with teasing undercurrents about how long-term couples can interact (and ever-live issues of what the true meaning of freedom of speech is, especially in a world today of cancellation culture from the left and "woke" rebellion on the right). But if it is ultimately less satisfying dramatically than Constellations, which conjured a universe of Sliding Doors possibilities to how things might play out differently, this play is more solidly earthbound in showing a couple wrestling with an extreme new world.
But as an acting exercise, at least, Turner and Coleman inhabit it with an easy-going charisma. Turner in particular is effortlessly unaffected; and they have a charming rapport. Rourke's production provides extra bang for your ticket buck with an impressionistic set by Robert Jones that's made up of disparate objects, floating in space; and lighting effects by Aideen Malone to delineate the fast flow of scenes.
While it is refreshing to see a little fringe experiment making the big time in the West End – with prices to match, reaching £150 a ticket – there's also an admirable commitment to playing outside London: after its West End run, it will conclude with short runs in Manchester and Brighton.