"Union" at Arcola Theatre
Jeremy Malies in east London
27 July 2023
Imagine one of Iain Sinclair's psychogeography books about London in a skilful dramatized form with the narrator more hyper and even more socially engaged. I have still not fully captured the tone and content of Max Wilkinson's outstanding new play which is an indictment of how London continues to be gentrified by property developers who now have no fear of craven local councils.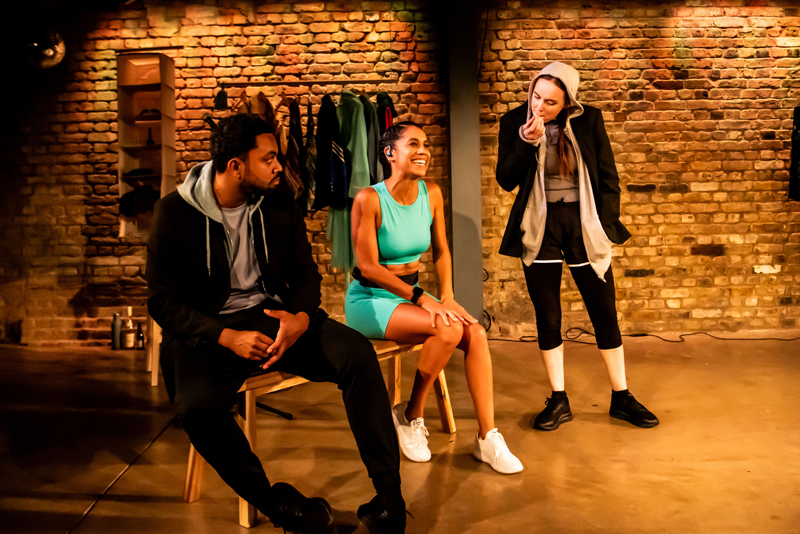 Andre Bullock, Dominique Tipper and Sorcha Kennedy.
Photo credit: Lidia Crisafulli.
The piece follows the writer's successful Rainer in 2022 (about a London delivery rider who is chronicling her work and surroundings) and is a paean to the city in which Wilkinson portrays the now eclipsed true communities. Our focus is Saskia (played by Dominique Tipper) who is a go-getter alpha female property developer on the verge of a directorship at an agency that is about to dismantle and redevelop a swathe of east London.
But there is hope for Saskia if not the demoralized legacy inhabitants of Hackney Marshes whom we see as she compulsively follows an odyssey in which she looks back at her younger self who once ran the breadth of London eastward from Park Royal along the Grand Union Canal. Determined to recreate the run, she is confronted by flatmates, former lovers, passersby with a tale to contribute, and finally her mother. In the background are her senior colleagues at the agency who need her signature on a tender for a project with which they hope to evict poor urban communities around the Lea Valley as they have already done in Brent and south of the river.
Tipper plays only Saskia, the central rite-of-passage narrator while the human chameleons that are actors Sorcha Kennedy and Andre Bullock summon up 16 characters between them. Technically, Tipper is wonderful whether it be rising to major challenges such as suggesting that she is underwater or simply punctuating the taught rhythms of Wilkinson's dialogue with almost musical glottal stops.
Dominique Tipper and Sorcha Kennedy.
Photo credit: Lidia Crisafulli.
Always topical, the script scores well when referencing HS2 and the Elizabeth Line. But it really takes off when Wilkinson allows the entire audience (though I suppose you have to reckon on a few property developers being in the house) to pour collective scorn on the phenomenon of new luxury apartments within gated communities that gain planning approval only after an "affordable" housing proportion is agreed when even the sunniest idealist realizes that such figures will be fiddled. Knowing glances spread through the audience as one of Kennedy's personas berates Saskia for building amenities such as outdoor theatres to win over councils but failing to maintain them. By contrast, elite gyms and barista coffee venues for the affluent can only flourish in such places.
Saskia has been a prolific writer of stories as a child. We believe in her ability to dramatize events but are in no doubt that the monstrous people she encounters on this single night really are threats to a healthy society. The values that she slowly rediscovers as her innate decency surfaces are always under threat elsewhere. Some of the minor figures are pessimistic; one of Bullock's incarnations says that crime is only falling because people have been driven out and overall population is lower! Councils, developers and private landlords come out of this badly but while the precise ending regarding Saskia's possible redemption should be kept under wraps, there is no doubt as to Wilkinson's positive perspective.
Writing style? On the whole it's naturalistic dialogue (and could be totally naturalistic if the technically adept Wilkinson wanted) with occasional half rhyme and assonance as well as a few characters breaking into rap. Kennedy excels with her rap as she becomes a hoodie-wearing mugger complete with cocaine sniff. I could sense that a few cultural references in this sequence were going over my head purely on the grounds of my age.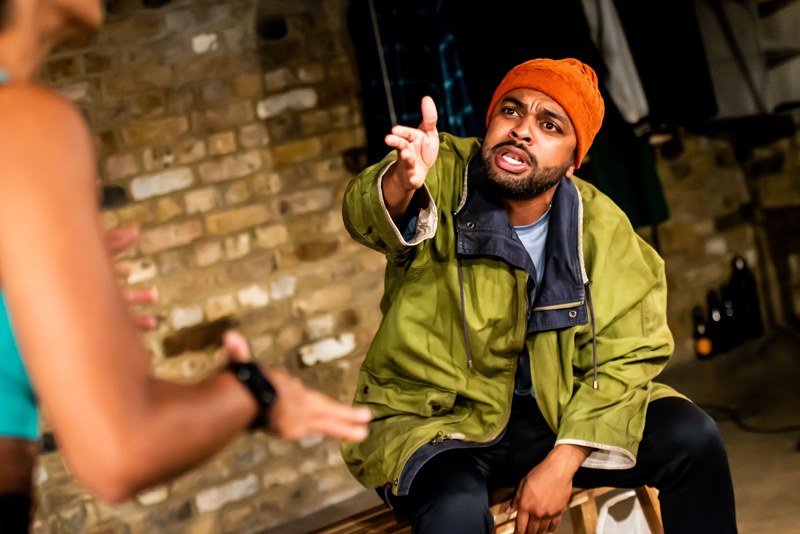 Andre Bullock.
Photo credit: Lidia Crisafulli.
The presentational style is often Brechtian without going the whole hog. Kennedy performs her many costume changes in full view of the audience and the incidental sounds are created by her and Bullock whenever possible. I should have been happy if there had been some damning statistics complete with placards in the Brecht tradition though this certainly is not a criticism.
Director Wiebke Green (who has interned with Katie Mitchell) steers an adept course; she keeps the actors honest with authentic London accents avoiding any trace of Estuary English and knows when to slow the hectic pace in order to let the narrative breathe. Green has invested care in every character however minor and should take credit for making the piece coalesce. Despite the grim subject matter and the disintegration of the central character, the play is loaded with good gags and the direction ensures they all find their mark. Martha Godfrey's lighting design echoes the jolting transitions that Saskia is experiencing whether these be a foggy vista at dusk across marshland leading to the A12, harsh neon strips in a pub or a police car's revolving blue lamp.
Criticisms? Very few; this is a skilful piece of socially aware writing that avoids veering towards polemic and agitprop. I should have liked more consideration of central government policy and the text could be trimmed by 15 minutes or so. Put it in a perspective that includes Steven Berkoff (particularly his East though we empathize with most of the characters here), John Godber's Bouncers and much of David Eldridge's recent work. Wilkinson is in no way derivative but his writing benefits from the major dramatists who have preceded him.
Thirty-five years ago as a young adult, I opted (dipped?) out of living in London and left for the south coast. In the noughties, I began to read stories that made my gorge rise concerning apartment developments with separate entrances for private sector owners and those in the affordable housing component and, worse still, a latter-day apartheid system that segregates children in terms of which play facilities they can use. Seeing Max Wilkinson with the bit so firmly between his socially-aware teeth is encouraging. Sadiq Khan (the subject of one excellent gag here) should be obliged to see the play as should property developers.
Writing like this can create a difference. The piece has a tenacity and social engagement that makes you hope a rearguard action really will be fought against gentrification and it will be replaced with true levelling-up. One of the Kennedy characters gives us a list of places: "Paris, Berlin, Lisbon, Johannesburg. They're not going to stop until the world is one big fucking Pret A Manger!"  I hope there are enlightened creators out of the same drawer as Max Wilkinson in all those cities.
.
.
~