"Trouble in Mind": National Theatre
Neil Dowden on the South Bank
10 December 2021
The African-American actor/playwright/novelist/activist Alice Childress made a significant impact in her richly varied career, but her work is not well known in the UK. Her best play, Trouble in Mind, was first staged Off-Broadway in 1955 (co-directed by Childress), but not produced over here until 1992 at the Tricycle (now Kiln) Theatre, then revived in 2016–17 at the Theatre Royal Bath and Coronet Theatre (starring Tanya Moodie). Now, in a striking coincidence, it is belatedly receiving both its Broadway and its West End premiere – the latter on the National Theatre's Dorfman stage with Moodie once again in the lead.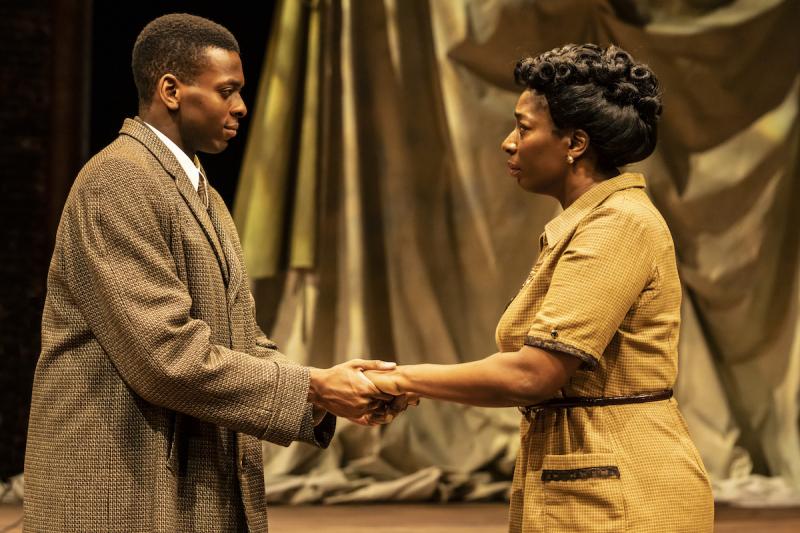 Daniel Adeosun as John and Tanya Moodie as Wiletta. Photo credit: Johan Persson.
Trouble in Mind is a satirical metadrama that not only exposes racist attitudes in American theatre of the 1950s but also contains references to wider society including the civil rights movement just starting with the Montgomery bus boycott, as well as McCarthyist communist witch-hunts. The play is set during the time that it was written so reflects contemporary social problems, but still touches a nerve today in its depiction of racial and gender inequalities.
Backstage on Broadway, we see talented black actress Wiletta Mayer in rehearsal with a mixed cast for the new morality melodrama "Chaos in Belleville" about a lynch mob hunting down a young black man in the 1930s South. But despite its apparent liberal conscience, ironically the play – written by a white man – re-enforces negative racial caricatures, while the "enlightened" white director Al Manners turns out to be riddled with both racist and sexist prejudices himself. Mayer is disturbed by the human untruthfulness of her role as a stereotypically submissive "mammy" giving up her son to the authorities rather than helping him escape and feels passionately that she must make a stand unsupported by her fearful colleagues – even though she risks losing her job.
Rory Keenan as Al and Emma Canning as Judy. Photo credit: Johan Persson.
Although Trouble in Mind deals with some deeply serious themes, Childress inserts a lot of humour, especially ridiculing the absurdities of the play within the play and puncturing paternalistic condescension, as well as sending up some luvvie mannerisms. Nancy Medina's engaging production is thoroughly entertaining while featuring some truly shocking moments, even if some of the comedy seems a bit broad, in particular when the actors are hamming up the parts they play in "Chaos in Belleville". Rajha Shakiry's period design of a rehearsal room behind the Broadway theatre's curtained stage with its various props is lovingly detailed, while Nao Nagai's snazzy, coloured lighting evokes the glamourous veneer of showbusiness.
Cyril Nri as Sheldon. Photo credit: Johan Persson.
As Mayer, Moodie superbly embodies both the moral compass of the play and its emotional centre. We share both her initial enthusiasm at being in a big show and later her doubts about its validity, culminating in an impassioned spotlit monologue looking forward to a brighter, more egalitarian future that invites our applause. Rory Keenan also impresses as the arrogant and manipulative Manners, who refuses to listen to any suggestions by the cast, alternating between flirting with Mayer and humiliating her. It's an icily funny portrayal of bullying in the workplace masquerading as artistic genius.
Daniel Adeosun is a young actor determined to make the most of his big break by imitating the behaviour of established thespians, Naana Agyei-Ampadu is a sassy actress who knows how to play the game and Cyril Nri is an avuncular veteran whose unexpected description of a real lynching has a quietly convincing power. Emma Canning is amusing as an ingénue affecting sophistication, John Hollingworth plays a vain TV star, Joe Bannister is a hapless assistant director and Gary Lilburn appeals as a sympathetic elderly caretaker who is the only one to offer Mayer any moral support.
The production history of Trouble in Mind is full of ironies that echo the content of the play. Childress was forced to change the ending from her original intention – making it more one of reconciliation than self-affirmation – in order to get it staged Off-Broadway. But when she reinstated her ambivalent ending –which is the published version and the one used here – she lost the chance to become the first black woman to have written a play staged on Broadway two years later. Instead, this eventually happened with Lorraine Hansberry's A Raisin in the Sun in 1959. The latter is admittedly a more perfectly realized play, but Trouble in Mind is a pioneering and still powerfully relevant work that is finally getting its due.