"The Politicians": Thalia Theatre
Jakob Hingst in Hamburg
One of the productions of the Thalia Theater's new season, which began in August, truly deserves to be called timely: conceptually altered and adapted during the pandemic, Die Politiker (The Politicians), directed by Charlotte Sprenger, addresses contemporary issues in a modern way and incorporates remnants of the play's production during lockdown. After premiering to an online audience in May 2021, Die Politiker is now a product that can be seen in two formats, One is the stage show in front of a live audience. The second is a live-stream of the stage performance of that evening to an online audience. Both take place at the same time. This is an intriguing consequence of pandemic-induced adaptation, and also it actively makes theatre accessible at a time when online streams from theatres are decreasing now that Corona-related restrictions are disappearing.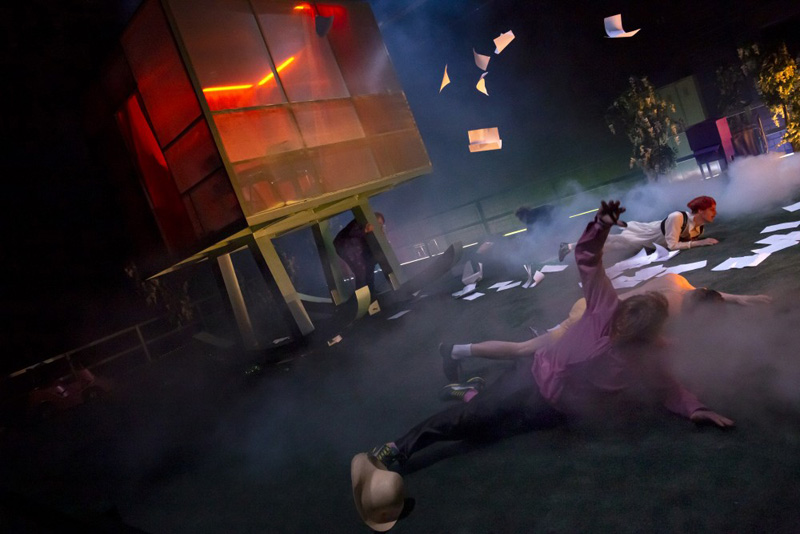 The ensemble. Photo credit: Emma Szabó.
Beside the conceptual intrigue, the play itself offers food for thought. Described as a Theatergedicht ("theatre poem"), Wolfram Lotz's text does little in terms of providing a narrative or story-oriented thread throughout the production but instead conjures a stunning abundance of ideas and themes that are thrown at the audience with force like a theatrical imitation of Jackson Pollock's methods, trusting that some stick. And they do. There are too many thoughts and reactions evoked by this production to acknowledge, and I certainly can't remember them all. But a few ideas stick out, and the play leaves a lasting impression.
"Die Politiker. Die Politiker, die Politiker, die Politiker. Die Politiker, die Politiker". ("The politicians. The politicians, the politicians, the politicians. The politicians, the politicians".) This phrase is certainly one that the audience remembers when leaving the show. One or two could even be heard muttering it to themselves in astonishment after the play ended. The number of times these two words were repeated throughout the approximately 90 minute long production is staggering. It seems almost every sentence starts with it. Die Politiker itself does as well.
The doors opened roughly three minutes before the scheduled start; approximately 50 masked spectators poured into the theatre and quickly found their seats with barely enough time to inspect the stage before the ensemble, already onstage, began. The entire stage is literally fenced in and covered with a large green-greyish carpet. Together with several seven foot high treelike objects, the stage set evokes something between a playground and a garden. In the centre of the stage is a construct that can be described as a rocking room. It is a cubical politician's office with a sliding door at the front and at the back that sits roughly eight feet above the stage floor. It is carried by what looks and functions like an upscale version of a rocking-chair held in place by removable stoppers underneath. Sitting stage left in a circle around a red lamp, as if congregating around a fire, the seven actors yield an eighth of the space in the circle to a television screen which seems to hold their attention.
Once the audience has settled down, the ensemble starts to repeat "die Politiker" for minutes. Speaking in near-perfect unison and in varying bursts of up to three repetitions, no other word is uttered for several minutes. The television screen immediately gains importance through its position within the circle. Additionally, the cameraman Max Schlehuber enters the stage with a live camera. He slowly and quietly weaves through the sitting ensemble, focusing on each performer in turn; everything he is filming appears on a screen. As one of two people who move on stage while the ensemble recites their chant ("die Politiker"), Schlehuber manages to remain a quiet observer and is not intrusive. His presence is noted and thereafter almost subconsciously understood as part of the set design.
The same goes for Matthias Günther, who came on stage when Schlehuber did. The dramaturg of the production follows Schlehuber closely while covered by a bright red umbrella to which red tentacles are attached. Like an oversized jellyfish he floats through the production and films with his phone, gawking at the proceedings and, as one learns when watching online, providing some live commentary via Instagram.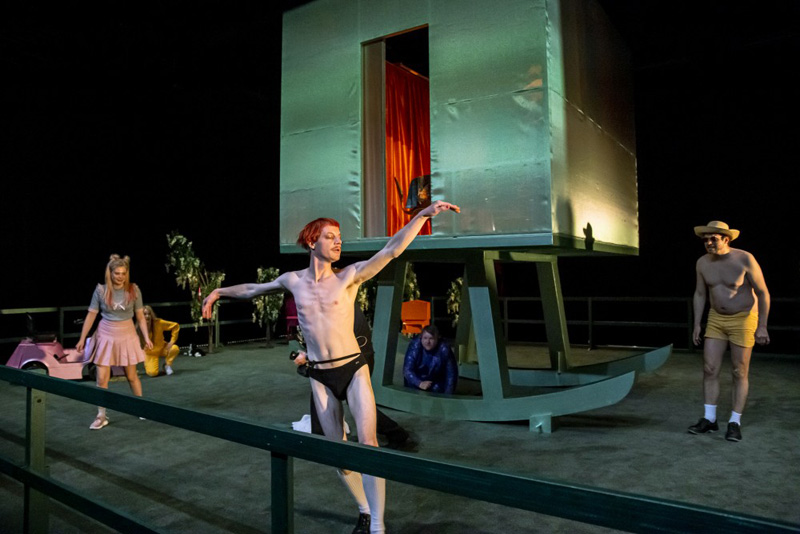 Merlin Sandmeyer, Photo credit: Emma Szabó.
The actors, unperturbed by this, deliver their lines simultaneously with varying and changing rhythm; their collective voices becoming one. Their speeches are so much in unison so often, in fact, that the rare instances throughout the evening when one actor speaks alone seems out of place. And yet several of those instances where actresses or actors spoke alone are among the most memorable, probably because the choir of voices blends into a mass of thoughts and ideas while individuals voice sentences that have more of a narrative structure to them. One of Merlin Sandmeyer's "scenes", for instance, is memorable. Repeatedly warning against sitting in a certain chair and then sitting down in it all the same ("Setzen Sie sich nicht in diesen Stuhl; das ist ein fürchterlicher Stuhl" / "Do not sit in this chair, it is a terrible chair"), he holds an entertaining and peculiarly charming discourse with Schlehuber's camera.
The hesitant and exaggeratedly innocent nature of the character that Sandmeyer portrayed in this scene was in fact recognizable throughout. Through subtle differences of delivery of shared lines as well as in their individual scenes, every actor portrayed a distinct personality. Those were especially clear in some of the songs. Everyone sang; particularly a cappella harmonies were a part of almost every number. Besides Elvis Presley's "If I Can Dream" and Harpo's "Movie Star," the perhaps most memorable song was a rendition of Lesley Gore's "It's my Party". The actor Björn Meyer who sings it was followed by Schlehuber and his camera into the office. Lying on the floor of the messy office with both microphone and camera close to his face and with a voice so broken he seems hardly able to sing, Meyer begins, "It's my party, and I'll cry if I want to."
As a live audience member one needs a second or two to realize where that voice is coming from; the inside of the office is only partly visible. What the audience sees is six actors sitting calmly and scattered around the stage, accompanying the lead vocals with a cappella harmonies. For a time, the most eye-catching object on stage is the television screen. It is one of those moments during the production when the live audience becomes aware they are not seeing the whole show. And it is one that demonstrates the hybrid nature of this production particularly well.
For the online audience is treated to an intimate view of Björn Meyer during the song, because the camera is next to him. And they can see his emotional expressions. There is therefore a closer connection with Meyer in this instant via the screen. The rest of the ensemble, however, is hidden from sight. The voices of the other actors are faintly heard and the fact that two of the singers leave the stage during the song, which the audience can see, is deduced by the online viewers only minutes later. In effect, here as elsewhere on occasion there are several aspects of the production that are exclusive to one or the other viewing experience Sprenger and her impressive ensemble not only palpably demonstrated that it is possible to present more information than can be processed in any one form of theatrical viewing, but also the conceptually hybrid aspect of Die Politiker is within the text itself. The abundance of themes and issues discussed include climate change, disillusionment with politics, political corruption, xenophobia, and prejudice; these themes are always tied in with politicians. "Die Politiker" are everywhere, invading every thought process and every topic.
In the end, there is no clear statement made about any of these issues. Spectators realise that politicians are everywhere, and that to some extent everyone is political. Perhaps the strongest impression I took away from Die Politiker has to do with the actors. The ensemble (Sandra Flubacher, Pascal Houdus, Oliver Mallison, Björn Meyer, Toini Ruhnke, Merlin Sandmeyer, and Philipp Plessmann) almost flawlessly worked their way through the 90- minute production(s) with minutely choreographed movement with and around their cameraman enhanced by the delivery of an exceedingly dense text predominantly in unison. If nothing else, this effort alone is impressive and entertaining.